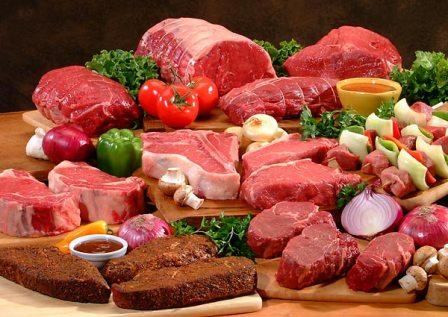 Meat is something a lot of people incorporate into their daily diet. Meat is also a big expense in our grocery budget. It is very rare that you find a coupon for meat. In fact the only meat coupons that are normally circulated are for hot dogs and processed lunch meats. Seeing that meat is one of our biggest expenses it is important to know how to save on meat products.
5 Ways to Save on Meat
Buy Meat on Clearance 
Normally grocery stores will significantly mark down the price of meat on the sale by date. Some grocery stores have a specific date each week that they mark down their meat.  Some stores will also mark down meats at a certain time of the day. At my stores, they tend to mark down meats as the ru Ask your butcher if the store has a specific date they mark meat down on.
It is perfectly fine to buy meat on the sale when it is close to or at the expiration date! In fact, this is a great way to stock up on meat for a fraction of the cost. Just make sure to get in the freezer right away.
Buy in Bulk
Buying in bulk can result in a significant savings! You will have to come home and separate the meat into freezer bags, but it is well worth the time. I have been known to buy 20 - 30 pounds of boneless, skinless chicken or lean ground beef when it is on sale at the rock-bottom price, then separate it in to bags containing exactly the right amount for a family meal.  Not only have I saved money, but when I am looking at my freezer, I just count the bags and know exactly how many meals I have enough meat to prepare, and if it is time to go shopping again!
Go Meatless
I'm not suggesting that you completely cut meat out of your diet, unless you are a vegetarian. However, pick one or two nights a week that you will not incorporate meat as part of your dinner. Skipping meat a couple of nights every week can significantly lower your grocery bill.
Buy Less Expensive Cuts
When you're looking for meat look for less expensive cuts. If your family wants steak one night a week, choice a London Broil over a New York steak. Choosing a less expensive cut can sometimes save you up to 60%! Less expensive cuts of meat can often require more creativity in order to make them to make them tasty, so make sure that you check out your favorite recipe sites or Pinterest for some great ideas.  Simply search by the cut of meat to get some great ideas
Grind Your Own Meat
You can purchase a Chuck Roast  on sale and ask the butcher to grind it into ground beef. You can also grind your meat at home if you have the right equipment. If you own a KitchenAid Mixer you can buy a mind grinder attachment and quickly have fresh ground beef.
Looking for more Extreme Couponing tips? Make sure that you check out all the posts in my Coupon 101 and Coupon Ethics sections!