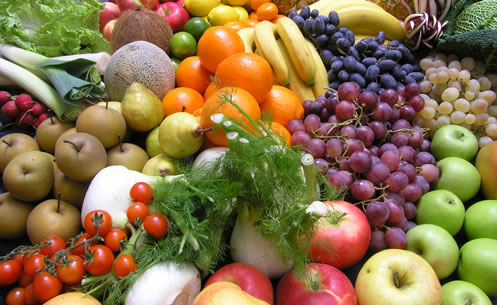 How to Save on Produce:
One of the most common misconceptions is that you can only save money on processed foods because those are the only products for which they see coupons. When you look through your Sunday paper you will mostly find coupons for processed foods and cleaning products or toiletries and rarely for fresh produce. However, there are still several ways you can save on your produce!
Buy in Season Produce:
Buying produce that is in season will drastically the cost. Buying produce that is not in season means, you pay more money.  Take some time to plan your menu around the produce that is currently in season.
Stock up:
When you find a good produce sale, make sure to stock up. You can freeze, can or dehydrate almost all produce. Stocking up at rock bottom will save you money for months to come.
Start a Garden:
This may not be an option for everyone, but if you can start your own garden you can end up saving a lot of money. Having fresh produce is a great way to have fresh produce at a fraction of the cost.
Farmer's Markets:
If you have a local Farmer's Market in your area, this provides the perfect opportunity to save on produce. The produce is normally coming from the farm to the market, which in turn allows the farmer to price the produce lower than store prices. You save money by not paying the overhead costs and you get to support your local farmers!
Health Food Stores:
Stores like Whole Foods and Trader Joe's often have great prices on produce. You can also sign up for their newsletter, sometimes they send out coupons.
Buy Frozen
Often the produce has been frozen within hours of being picked/harvested, allowing the fruits and vegetables to retain most of their nutrients. Bonus: there are often coupons for frozen foods!
Save with Social Media:
If you have a favorite brand of produce make sure to follow them on social media and sign up for their newsletter. Produce companies like Dole, Foxy and several others send out coupons from time to time.
Looking for more Extreme Couponing tips? Make sure that you check out all the posts in my Coupon 101 and Coupon Ethics sections!