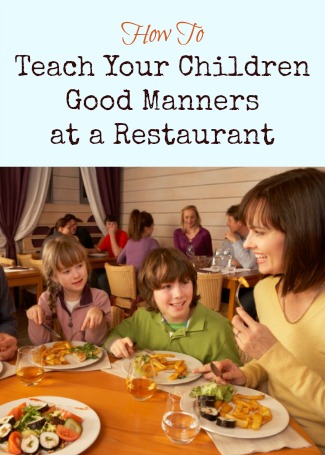 Picture a beautiful couple sitting in their favorite corner of the restaurant in which they got engaged. The lighting was perfect and the lobster divine. As they raise a glass of wine to toast their tenth anniversary, a G.I. Joe comes whizzing by their heads followed by an apologetic mother that looks like she has been through boot camp herself. As they return to their moment, a screaming, kicking four year old is quickly whisked away begging for his army man.
Folks, the moment is gone.
There are many thoughts on this subject floating around out there and I have heard them all. Here are some I have heard most often along with a quick thought on each:
"Those kids have no business being in the restaurant if they don't know how to behave."
Though there is an element of truth in this, it is much easier said than done for most parents.
"Parents should learn how to tame them before bringing them out in public."
Says the man or woman who clearly never wants kids and has no clue.
"Kids would act better if they had a better example."
Again, it is clear to me that this person has no kids. Yes we have to give them a good example, but the reasons kids act out are deeper than that. You can give the perfect example and still have a kid that acts like they have lost their mind when they go eat.
"I should be able to take my kids anywhere I want. People can ignore them."
Can people ignore them? That is the real question. If you your kids are polite enough that this is possible, then you are absolutely right.
"People should mind their own business."
This is true as well as long as you are allowing that to be possible. If your kid is disrupting their meal, you are making it their business.
So, what is the answer?  How do we get these little stinkers to go out to eat and act like little ladies and gentlemen? That is the magic question, right?
Here are some tips:
Start teaching them manners early and follow through when you say you will remove them if they act up. You will be inconvenienced a few times at first, but have a much better chance at well mannered kids long term.
Never, ever bring your kids to eat when they are starving or tired. Doing so is basically begging for trouble.
Always bring along a small toy or something to occupy their attention. Bored children lose manners quickly.
Don't use eating out as a test to see if they like new things. Stick to old favorites that are easy to eat and you know they love.
Embrace the family friendly restaurants and wait until they are established before you try the more expensive places.
Avoid rush hour eating because it will make it much harder to keep them calm. You also will have far fewer people to get upset and a waiter that is relaxed and attentive.
Sit them near the window so that they have something to watch outside. Kids love to observe but you don't want them staring at the people at the next table.
Park near the exit and sit near the exit. This makes a quick attitude adjustment simple and quick.
Sit outside if the weather permits and enjoy the freedom of not worrying about every little noise.
Praise outstanding behavior. Kids respond to positive compliments far better than negative ones. Sometimes you have no choice, but try to hang out in the positive end of the pool.
Be fully prepared to leave if necessary. In fact, having an exit plan that results in a doggy bag is important. Kids need to know early on that bad behavior has consequences.
Team up for the best results. Having both parents or an adult friend along can make all the difference in the world. One parent trying to handle an unruly child is not a good idea. Lord forbid if they have several.
Finally, always remember to tip well. No night out with kids at the restaurant is easy on the waiter, so be fair when you decide the tip. Even if the kids are well mannered, they usually leave a bigger mess.
Eating out with the kids can be a pleasant and easy going experience if you follow these tips. Most of all, understand that some folks will be impatient and difficult regardless of how your kids act. Those folks are not worth your time and should simply be ignored.
What are some of your tips for teaching children how to behave at restaurants?