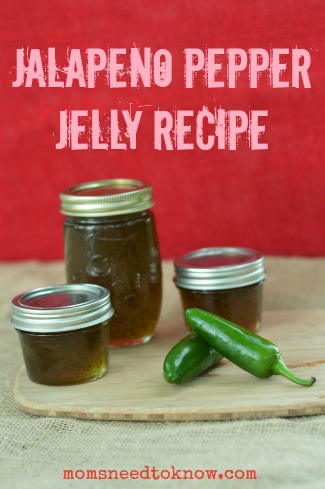 When it comes to making your own spreads and condiments, you probably think of more common recipes like ketchup recipes, homemade ranch recipes, or this Apple Butter recipe, but have you ever thought about trying a Jalapeno Pepper Jelly recipe? This recipe definitely isn't for the faint of heart, but if you love jalapenos, this hot and sweet jelly is one you will definitely want to try. It uses the water bath canning method, so it's really easy to make, and the results are one of a kind!
To make it, start by removing the seeds and veins from the jalapenos and then pureeing them in a food processor. This will help you achieve just the right consistency. Then, combine the ingredients on the stove and bring to a rolling boil. Once you have finished all the steps of the recipe below, your Jalapeno Pepper Jelly recipe will be ready to eat or store.
Just a note:  I strongly suggest that you wear gloves when chopping and seeding your peppers, especially if you have any cuts or even a hangnail on your fingers.  Even if you don't and you wash your hands later, the oils in the peppers can stay on your hands for a while and you don't want to take a chance on rubbing your eye if you still have the pepper juice on your fingers.....just trust me on this - I speak from experience!
Do you have men on your list that are difficult to buy for? Why not give them a jar of this Jalapeno Pepper Jelly along with this Easy Bread and Butter Pickle recipe for your next gift-giving occasion? They will love the thoughtful gift, and you won't have to worry about them getting duplicates or wanting to return it. Food is one gift that anyone would love. Plus, you could even make several jars and knock out all of your Christmas shopping early this year in a single afternoon. Up for an adventure? Give it a try today!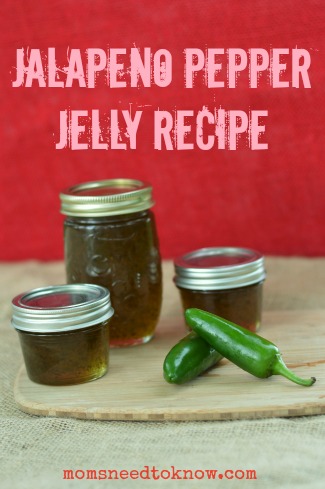 Ingredients
12

medium jalapeno peppers

2

cups

cider vinegar

6

cups

sugar

1

box Ball Liquid Pectin

2 packages

Green Food Coloring

if desired

5

half pint jars

lids, and rings
Instructions
Wash jars, lids, and rings with warm, soapy water. Place lids in small saucepan filled with simmering water until ready to use.

Fill a water bath canner and bring to a simmer. Place clean jars inside to keep heated until ready to use.

Slice the jalapeno peppers in half and remove seeds and veins. Puree the peppers and 1 cup of the cider vinegar in a food processor.

In a saucepan, combine the pepper puree, remaining vinegar, and sugar and bring to a rolling boil. Boil for 10 minutes, stirring regularly.

Add pectin, stirring immediately. Boil hard for one minute and remove from heat. Stir in food coloring (if desired).

Remove jars from simmering canner and ladle hot jelly into them, leaving ¼" headspace. Wipe the rims clean with a damp cloth and affix lids and rings.

Lower jars into canner and bring to a boil. Process for 10 minutes. Remove from canner and allow to cool. Check lids for sealing by pressing down in the center. If the lid flexes, the jar has not sealed. Reprocess or refrigerate for immediate use.