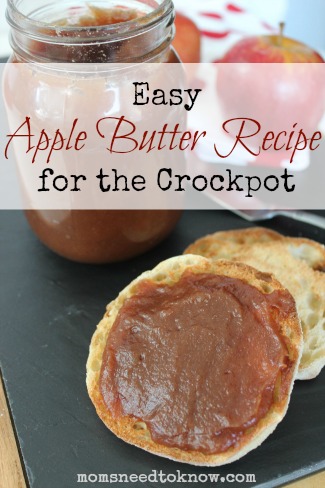 If you've never tried making your own apple butter recipe, you don't know what you are missing. It's got all the yummy deliciousness of apples paired with cinnamon, sugar and nutmeg, and the creamy texture is absolutely perfect for spreading on your morning toast or english muffins. As much as I love regular butter, this Apple Butter really takes things up a notch.
Now that apple season is upon us, you've probably already learned how to make applesauce or even tried your hand at making my homemade Crockpot Apple Crisp. I urge you not to stop there, though! This is one recipe you'll want to make time and time again.
One of my favorite things about this Apple Butter recipe is the fact that it is so much healthier for you than traditional alternatives like margarine, jelly and cream cheese. After all, it's hard to get healthier than a fruit that is known for keeping the doctor away! Plus, this recipe contains little else--just sugar and a few spices to really make the flavor pop. Whether you are on a diet or you are trying to be more choosy about the foods that you put into your body, this is one of the few breakfast spreads that you can enjoy without feeling guilty.
Another great thing about this Apple Butter recipe is that it makes a really thoughtful and unique Christmas, birthday or housewarming gift as well. Instead of just making a single batch for yourself, make a double or triple batch and can the extras for later (to can it, you will use the water bath canning method and process pint jars for 10 minutes). Combine a couple jars of this Apple Butter, a loaf of fancy bread and a bottle of wine, and you've got a gift your recipient is sure to love.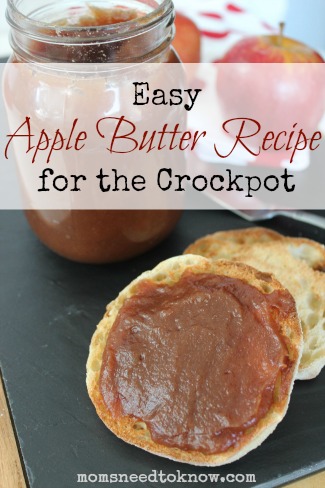 Ingredients
3

lb

Apples

Gala or McIntosh are best

1

cup

Sugar

2

tsp

Cinnamon

1/4

tsp

Cloves

1/4

tsp

Nutmeg

1/8

tsp

Salt
Instructions
Peel, core and chop your apples and place them in your slow cooker

Mix together remaining ingredients and pour over apples.

Cover and cook on high for 1 hour.

Reduce to low and cook for 10-12 hours until mixture turns dark brown.

Use immersion blender to remove lumps or process in blender in batches.

Remove the cover from your slow cooker and continue cooking for 1 to 2 hours or until mixture thickens.

Allow to cool.

Transfer to airtight containers and store in refrigerator,