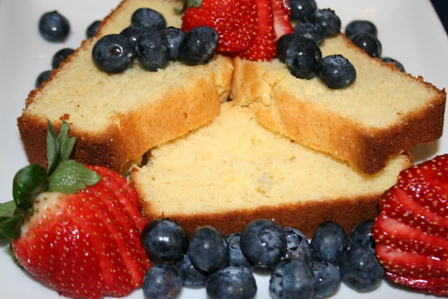 I love pound cake and it so easy to make with this lemon pound cake recipe that there is no reason to ever use a boxed mix again! The best thing is, aside from possibly the lemon, you probably already have everything you need to make it right in your pantry or refrigerator!
Now, I happen to love the taste of lemon, so I added that flavor to this recipe. If lemon isn't your "thing", simply omit the lemon juice, extract and zest and increase the vanilla extract to 1 tsp.
I actually like to make a few loaves of these whenever I decided to have a "baking day" and just freeze the extras.  I will either wrap the entire loaf well in clear wrap and then place it in a freezer bag....or slice it down and wrap the individual slices (or both).  Freezing it in slices makes it easy to just pull out the right amount of cake for dessert or to use in a trifle like my 4th of July Trifle dessert!
Anyway - on to the pound cake recipe...
Recipe: Lemon Pound Cake
Summary: a simple yet delicious twist on an old classic
Ingredients
6 tablespoons butter
2/3 cup granulated sugar
4 egg yolks
1 1/4 cup flour
1 1/2 tsp baking powder
dash salt
1/3 cup milk
4 tsp. lemon zest
2 tsp fresh lemon juice
1/2 tsp lemon extract
1/2 tsp vanilla extracj
Instructions
Preheat oven to 350. Butter and flour a bread loaf pan
Cream the butter and sugar together. Add egg yolks and blend thoroughly until it forms a creamy mixture.
In a separate bowl, mix together the flour, baking powder and salt. Alternating with the milk, add the flour mixture to the creamed mixture. Mix until completely combined.
Add the lemon zest, lemon juice and extracts and mix.
Spread the batter into the prepared bread pan (batter will be very thick). Bake for about 45 minutes or until an inserted knife comes out clean. Remove pan to cooling rack.
Cool for 15 minutes then remove from pan.
Serve with blueberries, strawberries and/or a dusting of powdered sugar
Preparation time: 15 minute(s)
Cooking time: 45 minute(s)
Number of servings (yield): 8
Culinary tradition: USA (Southern)
My rating 4 stars:  ★★★★☆ 1 review(s)