This red, white and blue trifle is easy to make and sure to be a hit at any summer party! Making it as "mini desserts" is a great way to control portions!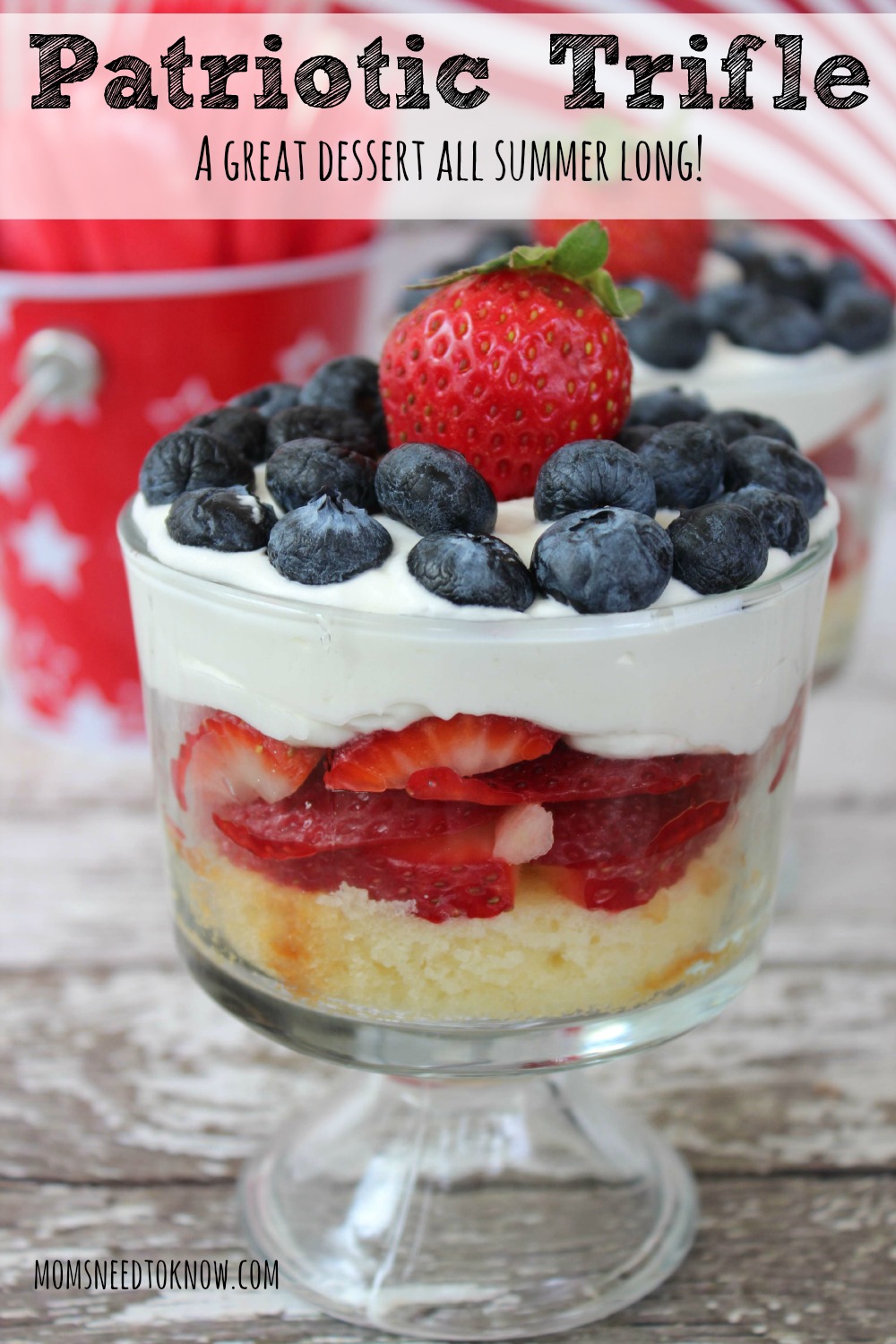 If you are looking for an easy recipe for your 4th of July or Labor day party (or even just dinner with the family), this Red, White & Blue Trifle lets you take advantage of in-season strawberries and blueberries to create a fresh dessert that everyone will love!
Of course, you can use store bought pound cake and whipped cream if you want, but you can just as easily whip up a batch of my homemade whipped cream recipe as well as my easy lemon pound cake recipe (if you don't want a lemon-flavored pound cake, simply omit the lemon zest, extract and juice and increase the vanilla extract to 1 tsp).
One of the reasons that I like to toss the strawberries with the sugar is because the sugar and strawberries will react together to form a syrup that will soak in to the pound cake. This is just a personal choice of mine and you can certainly skip that step if you are trying to cut down on your sugar!
Anyway - to make this Red White & Blue Trifle, you will need
Ingredients:
Directions:
Wash blueberries
Wash, stem and slice strawberries (set aside 4 whole strawberries for decoration).  Optional: Toss with the sugar and set aside for at least an hour until a syrup starts to form

Cut pound cake in to slices
Using a cookie cutter or a glass, cut each pound cake slice in to a circle that will fit at the bottom of your trifle glass.  Place a circle in the bottom of each trifle bowl.
Place a layer of strawberry slices (with the juice/syrup if you tossed them with sugar) on top of each pound cake circle.

Top strawberries with whipped cream and gently tap the trifle bowl on the counter so that the whipped cream settles down in to the strawberries.
Top whipped cream with blueberries and whole strawberry.
Serve and enjoy!
You might want to try these other easy dessert recipes: