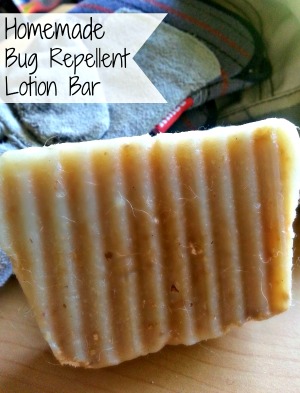 If your family lives in a wooded area or near a lake, then you know all about critters like ticks, chiggers, mosquitoes and the like. Having bug bites all over your arms and legs after a day out hiking is no fun. This simple Homemade Bug Repellent Lotion Bar is a great substitute for the chemical laden-sprays you find in stores. Not only can you use this to moisturize your skin but it will help repel all the pesky critters outside that try to bite you when you are out playing with your kids.
Homemade Bug Repellent Lotion Bar
INGREDIENTS
DIRECTIONS
Place beeswax pellets, coconut oil and castor oil in large heavy bottomed sauce pan and melt on medium heat.
Once all butter, oil and wax has melted remove from heat and allow to cool slightly (3-4 minutes)
Mix in essential oils until well incorporated
Pour into jar or preferred mold. (We use a basic soap mold and cut the bars into chunks but you can also use a tin, jar or any empty container that can tolerate the warm wax.)
TO USE:
Rub bar between hands to heat and help melt and rub gently over exposed skin to prevent bugs and insects from stinging or biting while you are out.
One of the biggest problems we have found with the store bought bug repellents is that they contain a lot of chemicals we either don't know anything about, or that sound dangerous. Never feeling comfortable with having our kids skin absorbing those products we much prefer using a homemade bug repellent lotion bar to combat the problem. The bonus of this bar versus a spray is that it allows you to add a bit of extra moisture to your skin at the same time. It also smells much more pleasant than the traditional sprays we have purchased in years past.