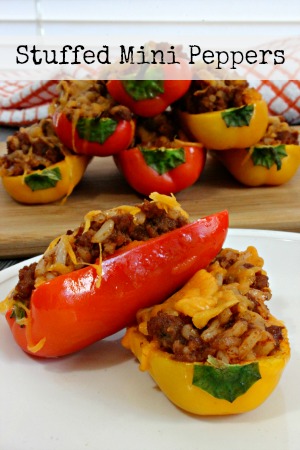 I love stuffed peppers (have you tried my Santa Fe Stuffed Peppers recipe yet?), but sometimes I am just not in the mood for a big pepper stuffed with rice and meat - I just want a little taste! Mini stuffed peppers can also be a great appetizer to serve at your next family dinner or party (just make sure that you have plates for them - they aren't exactly what you would call "finger foods").
You can make the filling for these mini stuffed peppers ahead of time - just make sure to bring it to room temperature before filling your peppers. Since the peppers are smaller, they will obviously cook faster and you want to make sure that they filling gets heated through to the middle! This recipe can also be frozen if you want to make them in advance but, once again - make sure to thaw them completely before sticking them in the oven!
To make them, you will need:
Ingredients:
1 lb mini sweet peppers
1 lb ground beef
1 cup cooked rice
2 tsp garlic powder
2 tsp onion powder
1 tbsp Worcestershire Sauce
1/2 cup ketchup
1/2 cup shredded cheddar cheese
Making them is easy!
Split peppers lengthwise and remove seeds and pithy material.

In a large skillet, brown the ground beef and drain excess fat. Return the beef to the pan.
Add garlic powder, onion powder, Worcestershire and ketchup to skillet and stir to combine. Cook until heated through
Add rice mix well.

Preheat oven to 350.
Spray baking sheet with non-stick spray.
Place split peppers on baking sheet and fill with meat mixture.
Top each pepper with shredded cheese.
Bake for 20-25 minutes or until cheese is melted.
Enjoy!
Do you have a favorite stuffed peppers recipe? Share your variation in the comments!