These steamed mussels are made in a delicious broth made with wine, garlic and tomatoes. Perfect as an appetizer or cook up some pasta for a complete meal!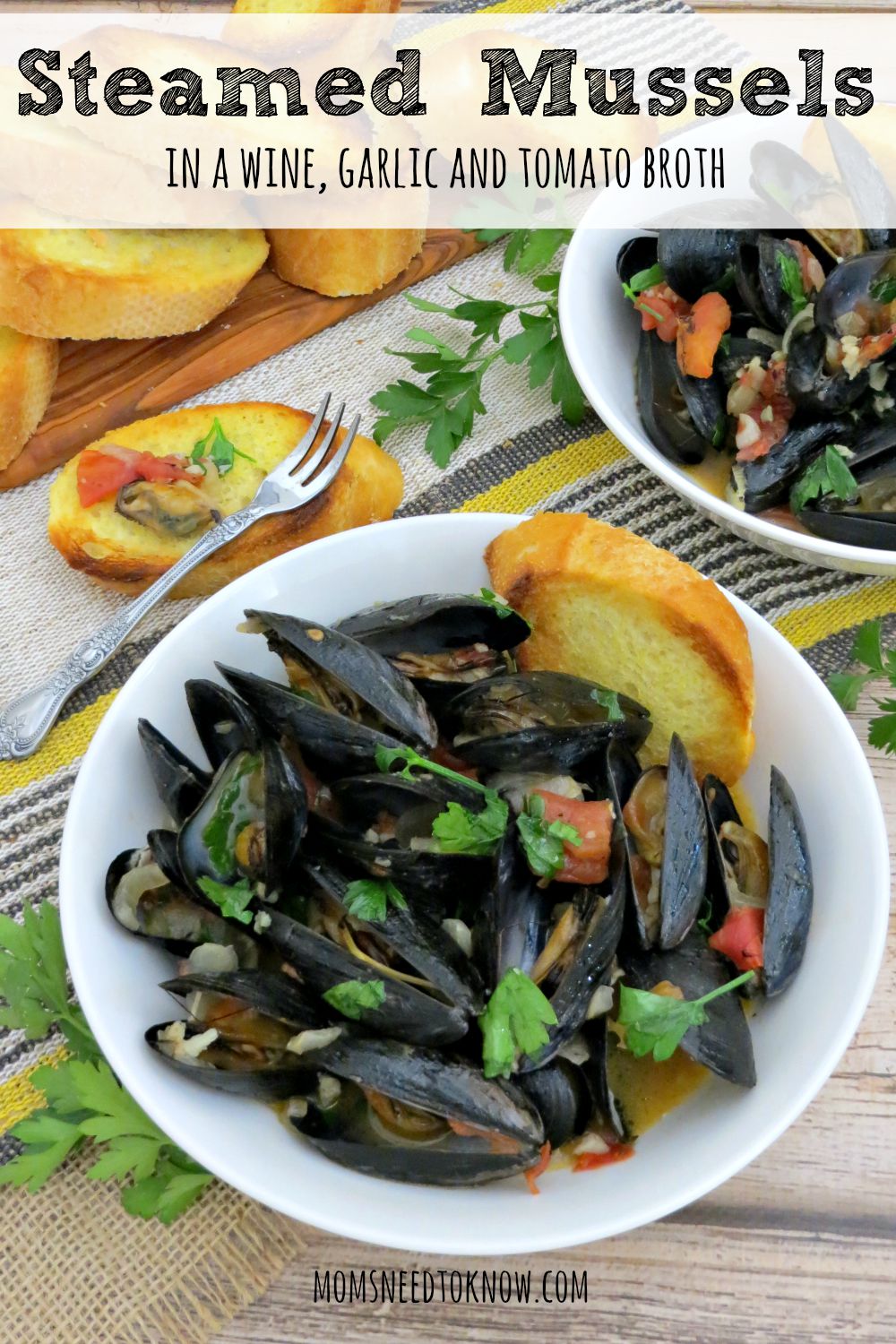 I didn't start liking steamed mussels until later in life.  Growing up, we really only ate shellfish in restaurants and clams always seemed to be on the menu.  Then one day I was in an Italian restaurant and ordered linguine pescatore and it included mussels and I absolutely loved it!
About a week later, I was in the grocery store and realized that mussels are about half the price of clams (at least, in my area) and I loved them even more.  Funny how that works, eh?

I don't make these steamed mussels that often because the only people in my house who like seafood are me and my younger son (and he doesn't like clams OR mussels), but sometimes I just decide to make them as a treat, even if it means that I have to make 2 separate dinners (these for me and something for the rest of the family.  Since these are pretty much an Italian dish, I will usually make the family my Chicken Caprese recipe!)
Anyway.....
This can be a meal on it's own or you can serve it as appetizer.  If you want a meal with a little more "bulk", this recipe makes enough sauce to coat a serving  of spaghetti as well as the mussels (but if you know that you are going to serve it with pasta, just double the sauce ingredients to make a little more sauce!)
I used fire-roasted tomatoes in this recipe because I think that they have a great flavor, but you can use any diced tomatoes (fresh or canned) that you like.  I also typically add more crushed red pepper flakes than I list in the ingredients, but I REALLY like spicy foods and I always try to "tone down" the amount of "heat" when I post recipes on this site.
If you don't usually cook mussels at home, there are a few things that you should know:
Be sure to thoroughly clean your mussels just before preparing them. I run each one individually under cold water to be sure all of the sand is removed.
Most of them will already be closed, but if you find one that's open, tap it a few times against another one or squeeze it. If it's alive, it will slowly close. If it's dead, it will stay open, and you'll want to toss it. Mussels are very inexpensive, so don't take the chance on eating a bad one.
Mussels are also extremely perishable. I buy mine the day I'm cooking them. You'll want to keep them cold, so make this your last stop before heading home. When you get them home, keep them cold but also give them air. I store them in the refrigerator covered with a damp kitchen towel.
Please - be careful not to get yourself sick.  Discard any mussels that have not opened before serving.  Don't think of it as wasting money to do it....think of saving yourself from a horrible 2 days of being sick from food poisoning!
Scroll down for the recipe!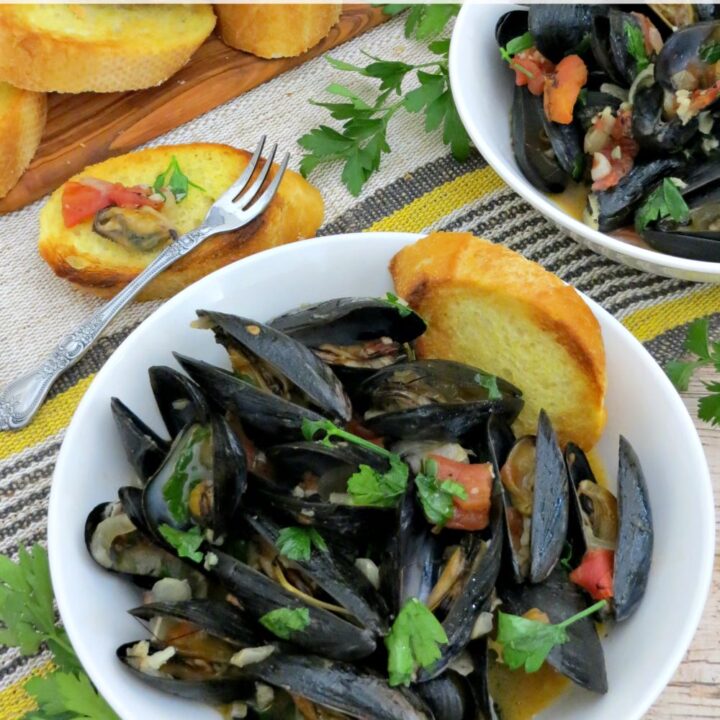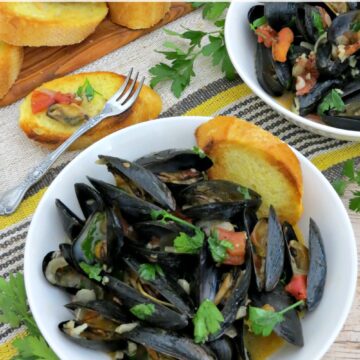 Mussels Steamed in a Wine, Garlic and Tomato Broth
These mussels are steamed in a delicious broth made with wine, garlic and tomatoes. Perfect as an appetizer and cook up some pasta for a complete meal!
Print
Pin
Ingredients
1

pound

mussels

washed thoroughly

3

tablespoons

butter

3

tablespoons

olive oil + additional olive oil for brushing the bread

1

cup

chicken broth

1

cup

dry white wine

1/2

cup

fire-roasted diced tomatoes

1/2

teaspoon

salt

1/2

teaspoon

pepper

4

garlic cloves

finely chopped

1

medium onion

finely chopped

1/2

cup

Italian parsley

chopped

For serving: 1 one loaf of Ciabatta or French bread
Instructions
Slice and toast your bread by brushing it with olive oil or butter and broiling it for 2-3 minutes or until golden brown. Set aside.

You'll want to use either a pan that is 4 to 5 inches deep or a 4 to 5 quart pot for this, so you have room to toss the mussels around as they cook.

Heat the olive oil over medium-high heat and sauté the onion for 4 to 5 minutes or until soft.

Add the garlic and cook for 1 to 2 minutes or until fragrant.

Deglaze the pan with the white wine and cook for one minute.

Add the broth, tomatoes, salt and pepper and bring to a boil.

Add the butter and allow it to melt into the sauce.

Add the mussels, toss to coat in the sauce and cover. Boil for 3 minutes, stir them around, cover again and cook for 3 more minutes.

Remove the pan from the heat, add the parsley and toss to combine.

To serve the mussels, pour them into a large, shallow serving dish alongside some crusty bread for dunking in the sauce.

Garnish with additional parsley before serving (optional)
Steamed Mussels in a Wine, Garlic and Tomato Broth