This Chicken Caprese recipe is a lighter version of traditional Chicken Parmesan. Packed with flavor, it is a great way to use up the fresh tomatoes and basil from your garden!
Chicken Parmesan is always a big hit in my house, but now that I have a bumper crop of tomatoes and fresh basil in my garden, I wanted to be able to use that to create a lighter and fresher version. This Chicken Caprese recipe does exactly that!
This recipe serves 4 people, but you might notice that it only uses 2 large chicken breasts. That is not a typo. We have been trying to be more mindful of portion sizes in our family and, as most people know, a "portion" of chicken (as well as most meats) is considered to be 4 ounces. Over the years, the boneless skinless chicken breasts that you buy in the store have been getting larger and larger...to the point where 1 breast is anywhere from 8 - 10 ounces! If you really want a larger piece of chicken, you should adjust the the ingredients list accordingly, but I say it would feed a family of four nicely with a vegetable or salad added to your meal
I tossed the pasta with the juices from the pan for a light sauce. That said, we prefer our pasta to be simple and not swimming in sauce. You could add additional broth and/or extra tomatoes if you wanted it to be a little saucier. If you eat gluten-free or low-carb, this is also delicious over spaghetti squash!
I find the easiest way to cut the chicken is to lay my hand over the entire breast and gently press down as I cut. Let the knife do the work as you cut through, making sure to keep the thickness as even as possible. I actually bend down so I can clearly see where I'm cutting. If one end of the chicken is thicker than the other, you can just pound it out to ensure even cooking.
You can really make this your own by adding more or less of whatever you want. If you want more tomatoes, cheese or garlic, feel free to add it! You can even replace some of the chicken broth with wine, which is also delicious. My husband likes crushed red pepper in his, while I add lots of extra basil and Parmesan to mine.
Tearing the basil gives it a more rustic look, but you can also do a chiffonade, which looks pretty sprinkled all over the dish. To do that, just stack the leaves up, tightly roll them, and then cut into long, thin strips.
Note about the basil: Heat will almost instantly turn fresh basil dark brown, so I like to wait until the last minute to sprinkle it on. Plus, not exposing it to heat will keep the bright, fresh flavor, which is what Caprese is really all about!
Scroll down for the recipe!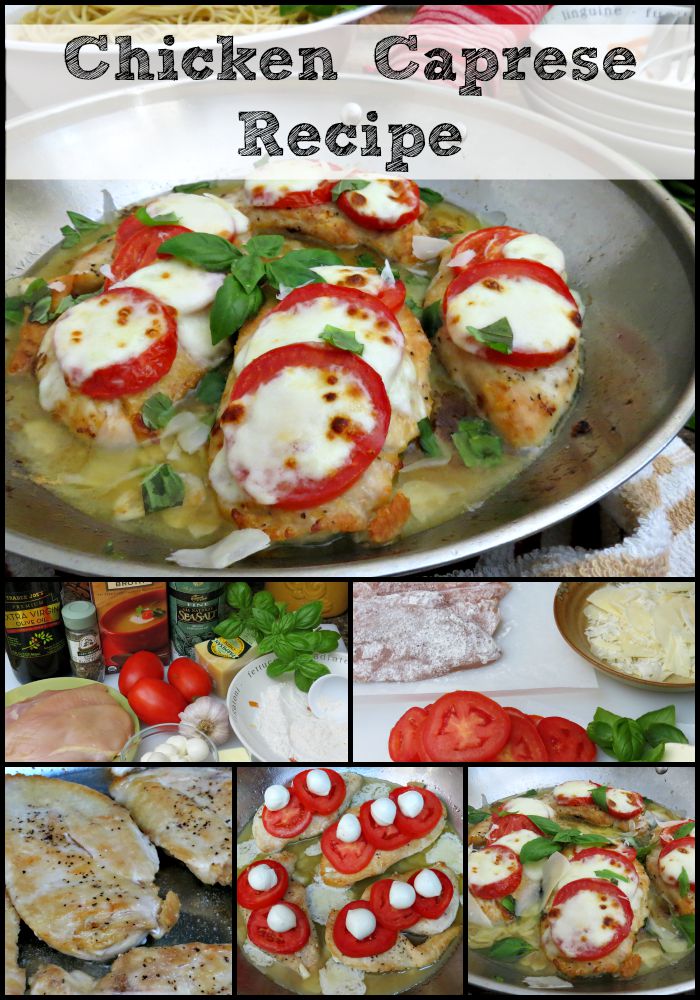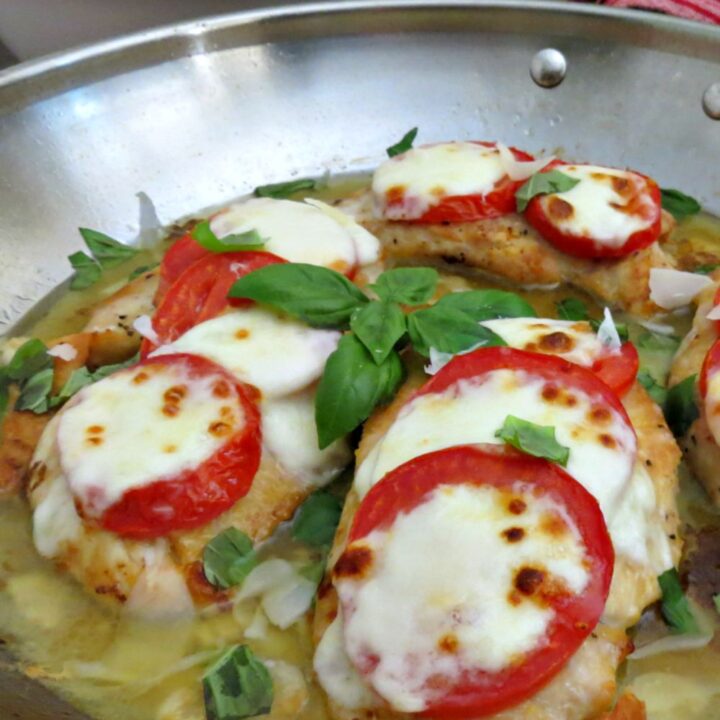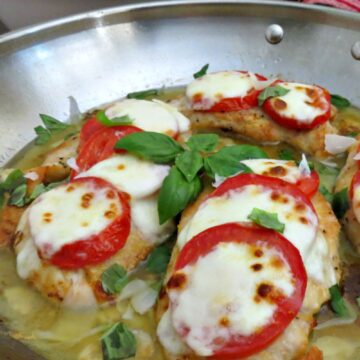 Chicken Caprese Recipe | An Easy One-Pan Dinner!
This Chicken Caprese recipe is a lighter version of traditional Chicken Parmesan. Packed with flavor, it is a great way to use up the fresh tomatoes and basil from your garden!
Print
Pin
Ingredients
2

large boneless skinless chicken breasts

8 - 10 oz each

2-3

plum tomatoes

sliced thin

2-3

garlic cloves

thinly sliced

3/4

cup

chicken broth

1/4

cup

flour

1/2

cup

mozzarella cheese

or 9-10 small balls

3

tablespoons

olive oil

2

tablespoons

butter

1/2

teaspoon

salt

1

teaspoon

pepper

1/4

cup

fresh basil leaves

torn

1/4

cup

freshly grated Parmesan

plus extra for serving.
Instructions
Preheat your oven to broil.

Using a sharp knife, slice the chicken in half horizontally to create two, thin cutlets.

Lightly sprinkle both sides of the chicken with salt and pepper and then dust with flour, shaking off the excess.

Heat three tablespoons of olive oil in a large skillet over medium-high heat.

When the oil is hot, place the chicken in the pan and don't move it for 2-3 minutes. You should hear it sizzling, and that's good. If it appears to be cooking too hot, you can turn your heat down a bit.

After 2 minutes, flip the chicken over and cook on the remaining side for two more minutes.

Turn the heat down to low and add the garlic to the pan, sprinkling it all around the chicken. After about a minute, add the chicken broth followed by the butter. Use a spatula to scrape the bottom of the pan and incorporate all those drippings into the sauce.

Remove the pan from the heat and top each piece of chicken with 2-3 tomato slices. Sprinkle the tomatoes with a pinch more salt and pepper, if desired.

Add the mozzarella on top of the tomatoes.

Place the pan on the middle rack of the oven. The chicken is nearly cooked at this point, so you're just browning the tomatoes and cheese to your liking, which was about 5 minutes for me. Since you're broiling, you'll need to watch it close so it doesn't burn.

Remove it from the oven and sprinkle with basil and Parmesan right before serving.
Chicken Caprese Recipe