These homemade Crunch bars are very easy to make and really delicious! Make a big batch and store them in your freezer (or add them to your cookie trays!)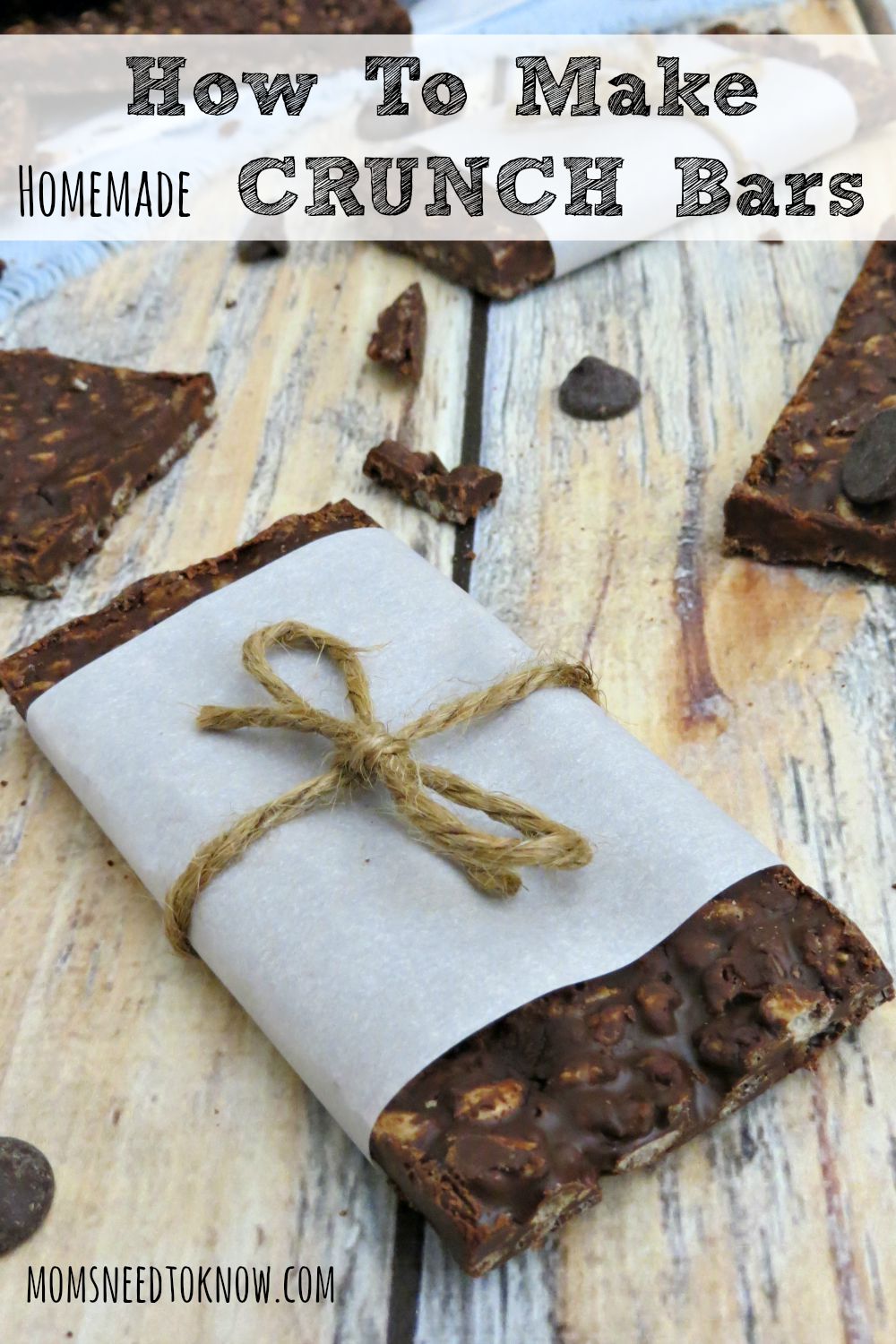 Crunch bars are my husband's absolute favorite candy bar and my 12-year old loves them as well.  I don't buy them that often, mainly because I don't buy candy bars that often.  But when I do, my husband and son will practically inhale them!
Because we are trying to make more and more things from scratch, I figured it was time to give making homemade Crunch bars a try and the results were fabulous!

They were really simple to make - just 3 ingredients.  The key was finding the right "crisp to chocolate ratio".  A traditional Crunch bar has less crispy cereal than what I used in this recipe. Feel free to use less than what the recipe calls for if you want it to be closer to the real thing.  For a more traditional "crunch bar taste", I used semi-sweet chocolate chips, but feel free to use milk, dark or even white.
If you are wondering why I used coconut oil, it is to help make the melted chocolate smoother and more manageable.  If you don't want to use coconut oil, you can easily substitute butter or even vegetable shortening!
This recipe will not fill a large baking sheet, but I find it's easier to work on a large pan when I'm forming them into a rectangle.  You can double or even triple the recipe easily. If you make the bars a little thicker, just be sure to refrigerate them longer so they completely set.
Please don't skip using parchment paper.  If you don't, there is a very good chance that your homemade crunch bars will stick to the pan, making cleanup (and cutting) a pain in the you-know-what.  I am a huge fan of parchment paper and when I say to use it, there is a reason!  I have a thumbprint cookie recipe where I stress the need for parchment paper several times, and I still get emails from people complaining that the recipe didn't work.  When I ask them if they used parchment paper, they usually say that they skipped that step.  Grrr!!!!!!!
To get a cleaner cut, I used a serrated knife and let the knife do the work. Try not to press down too hard while you're slicing, or the bars will crack and break. Wrap them in some parchment paper and tie with a ribbon or cording for a fun addition to any cookie tray!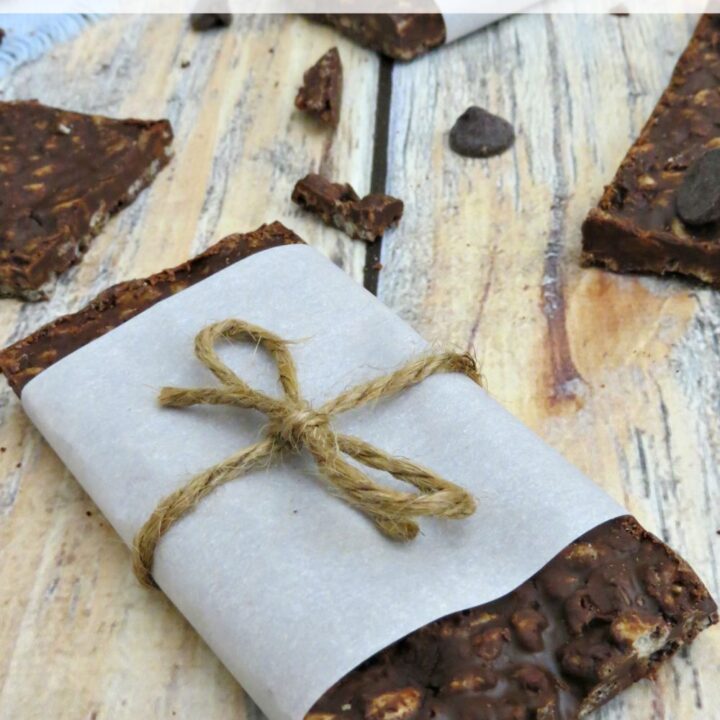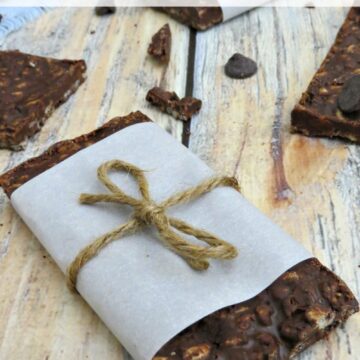 Homemade Crunch Bars
These homemade Crunch bars are very easy to make and really delicious! Make a big batch and store them in your freezer (or add them to your cookie trays!)
Print
Pin
Ingredients
2

cups

crispy rice cereal

1.5

cups

semi-sweet chocolate chips

1/2

teaspoon

coconut oil
Instructions
Line a large baking sheet with Parchment paper and set aside.

Add the chocolate chips and coconut oil to a large, microwave-safe bowl.

Microwave for 20 seconds and stir to coat all the chocolate chips with the coconut oil. This will be very thick, so you'll have to work with it a bit.

Once all the chips are evenly coated with the melted coconut oil, microwave for 15 seconds, stir and repeat until the chocolate is completely smooth. Do not microwave for longer intervals thinking that it will be faster. It's necessary to stir the chocolate frequently to prevent scorching.

Add the puffed rice cereal and stir until it's completely coated and you don't see any more white on the cereal.

Transfer to your prepared pan and use the back of a spatula to press it into a thin rectangle.

Refrigerate until set, which was about 45 minutes for me.

Remove from the refrigerator and lift the entire bar out of the pan using the Parchment paper. Allow to rest on the counter for about 5 minutes before cutting.

Using a serrated knife, cut into small, rectangle size bars.

Store in a covered container at room temperature or in the refrigerator if you prefer a firmer texture.
Homemade Crunch Bars Recipe