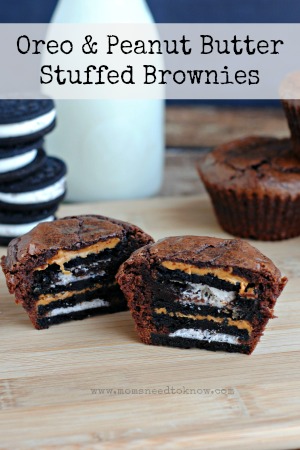 Ok - this brownies recipe is not for the faint of heart....or at least, not for someone who doesn't seriously like chocolate. The good thing is that they are so rich and decadent that they are the ultimate on portion control. One of these brownies is enough for anyone!
For this recipe, I am just using my standard from-scratch brownies recipe, but you can also use any boxed brownie mix that you find at the store. I highly recommend making these in these silicone cups instead of a cupcake tin. The silicone cups tend to be slightly bigger and they really make it so easy to pop the brownies out without the chance of them breaking.
Don't forget, if you don't want stuffed brownies, you can just leave the Oreos and peanut butter out and use this recipe to make "normal brownies". Just pour the batter in to a greased 8x8 pan (or 9x13 pan for less-thick brownies) and bake at 350 for about 30 minutes.
Anyway, to make this Oreo & Peanut Butter Stuffed Brownies Recipe, you will need:
Ingredients:
For the Brownies:
¾ C. flour
2 C. semi-sweet chocolate
2 tbs cocoa powder
4 tbs. butter
3 eggs
1 ½ C. sugar
½ C. packed brown sugar
1 tsp. Vanilla extract
1 tsp. Baking powder
½ tsp. Salt
Other Items Needed:
24 Oreo cookies
½ C. Peanut Butter
Directions:
Preheat your oven to 350 degrees and lay out your silicone baking cups on a baking sheet.
Combine the flour, cocoa powder, baking powder, salt and set aside.
In a small microwave safe bowl, melt the butter and chocolate in 15-20 second increments, stirring until completely melted. Let cool 2-3 minutes.
In another bowl, combine the eggs, sugar and vanilla. Add in the melted chocolate mixture and then slowly add in the flour and cocoa mixture and mix well. Set mixture aside.
Take two cookies and spread 1 tbs of peanut butter on top of each then stack them (you can always add a little bit more if you like peanut butter). Place the 2 cookies into silicone baking cup. Repeat this step with the rest of the Oreos.
Once all of your Oreos are in place, spoon a few tablespoons of brownie batter directly on top. It will run over the edges filling the liner. This part goes a little slow but don't rush as you don't want brownie batter spilling over the sides.
Bake the cookie cups 20-25 minutes. Insert a toothpick in the side at around 20 minutes and if it comes out clean they are done.
*Makes 12 servings. 1 Peanut Butter Oreo Brownie Bite = 1 serving.
Enjoy!
You might also want to try these other recipes: