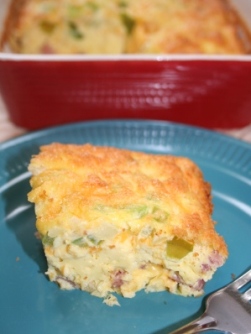 I just love omelettes, but standing over the stove while making each one? Not for me! This recipe for an oven baked omelet will allow you to get everything together, pour it in to a casserole dish and then just walk away for a bit to get other things done, while your yummy breakfast bakes!
This is one of my favorite church morning breakfasts! I just get up, pad downstairs to the kitchen, put everything together while my coffee is brewing and then stick it in the oven. Breakfast cooks while I am busy drying my hair or yelling at my children to brush their teeth!
One of the best things about an oven baked omelet (or any omelet) is that you can customize it to your own tastes. Add whatever you want (although don't add salsa - that will make it too runny and it will never truly "set"). I tend to be more traditional with my omelettes and this recipe passes the "picky eater test" in my family!
One of my best tips for making an oven baked omelet? Skip the wire wisk and blend the eggs in your blender (I use a Blendtec, but any blender will work well). It will whip so much air in to your eggs and your finished product will be nice & fluffy!
To make it you will need:
8 eggs
1/3 cup heavy cream, half & half or milk (obviously, the heavy cream will work best, half & half will work 2nd best and nilk should only be used if you can't use the other 2)
1 cup finely chopped ham
3/4 cup shredded cheddar cheese
1/3 cup finely chopped green pepper
1/3 cup finely chopped onion
1/2 tsp salt
1 tsp black pepper
See the complete directions below (if you are reading this in an email or Reader, click here to see the directions)!
Ingredients
8

eggs

1/3

cup

heavy cream

half & half or milk (obviously, the heavy cream will work best)

1

cup

finely chopped ham

3/4

cup

shredded cheddar cheese

1/3

cup

finely chopped green pepper

1/3

cup

finely chopped onion

1/2

tsp

salt

1

tsp

black pepper
Instructions
Preheat oven to 400. Spray an 8x8 casserole dish with olive oil or vegetable oil spray.

In a large bowl, whisk eggs, salt, pepper and cream

Add cheese, ham, onion and green pepper. Stir to mix

Pour mixture in to prepared dish

Bake for 30 minutes or until completely set