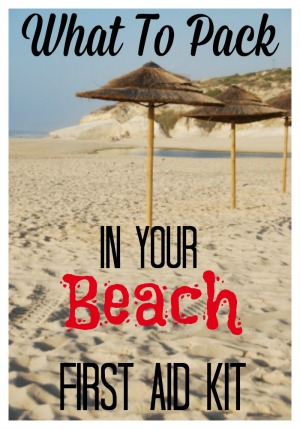 It's the time of the year when we start thinking more and more about heading out to the beach as the temperatures begin to rise! Of course, we make sure to pack towels & toys, but getting caught without necessities if an accident occurs is a stress that can easily be avoided.
Below is a quick list of what to pack in your beach first aid kit that will help you be prepared for any incidents along the way.
Get a waterproof box to keep everything in: Keeping your first aid kit dry is very important. Make sure to invest in a air and water tight container so if it accidentally ends up in or near the water your supplies won't be damaged.
Basic First Aid Supplies: Pain Reliever (Tylenol or Ibuprofen), Antihistamine (Benadryl), Variety of bandages, gauze, cloth tape, alcohol or alcohol swabs, triple antibiotic ointment, anti-itch cream, cotton swabs, hand sanitizer, and any specific anti-allergy medications for family members as needed (Epi-Pen or similar).
Sunscreen and Aloe Vera Gel: You will likely prepare before you arrive by slathering everyone well with sunscreen but you need to reapply every few hours with some types so make sure to pack plenty of high SPF. Aloe Vera gel will sooth any burns that happen to come up. (oh - and don't forget that you can get both of these items pretty cheaply in the summer by working the drug store deals!)
Bug Spray: While the beach may not have bugs (although I have had quite a few trips to the , surrounding areas can so it is a good idea to have on hand to protect yourself from bites. You could even take along your own homemade bug repellent lotion bar to keep the bugs away while you keep your skin smooth!
Instant Ice Packs: If not already included in your first aid kit, these are a great addition for those bumps and bruises or even sunburn pain.
Extra Ziploc Bags: They are great for tossing wet suits into so you don't make a mess in the car, but also great for wrapping around cuts or injuries to protect from sand, dirt and other elements until you can make it home.
Lip Balm with Sunscreen: If I had a nickel for every time that I forgot to pack this....well - I wouldn't be rich because I NEVER forget to pack this! Many forget about protecting their lips from the sun, but if you've ever experienced the pain of blister lips you won't soon forget to pack a lip balm with a high SPF in it as well.
Along with the above items you will of course wish to pack any other beach essentials like towels, chairs, mats, balls, goggles, snorkle gear, change of clothes and of course snacks. This list of what to pack in your beach first aid kit is a great reminder to go prepared for any event that might happen. While you don't plan on needing to use the supplies for an emergency, you will feel safer traveling to the beach with your family with this kit in hand.
Note: Water safety is of utmost importance, so don't depend on this kit to save you. Make sure you and everyone in your group know basic water safety and are always aware of their surroundings and the needs of any children with you.
What else would you add to your beach kit?