Making a pan seared steak come out right is easier than you may think. We cover this steak in a delicious sauce made from butter, wine and cilantro!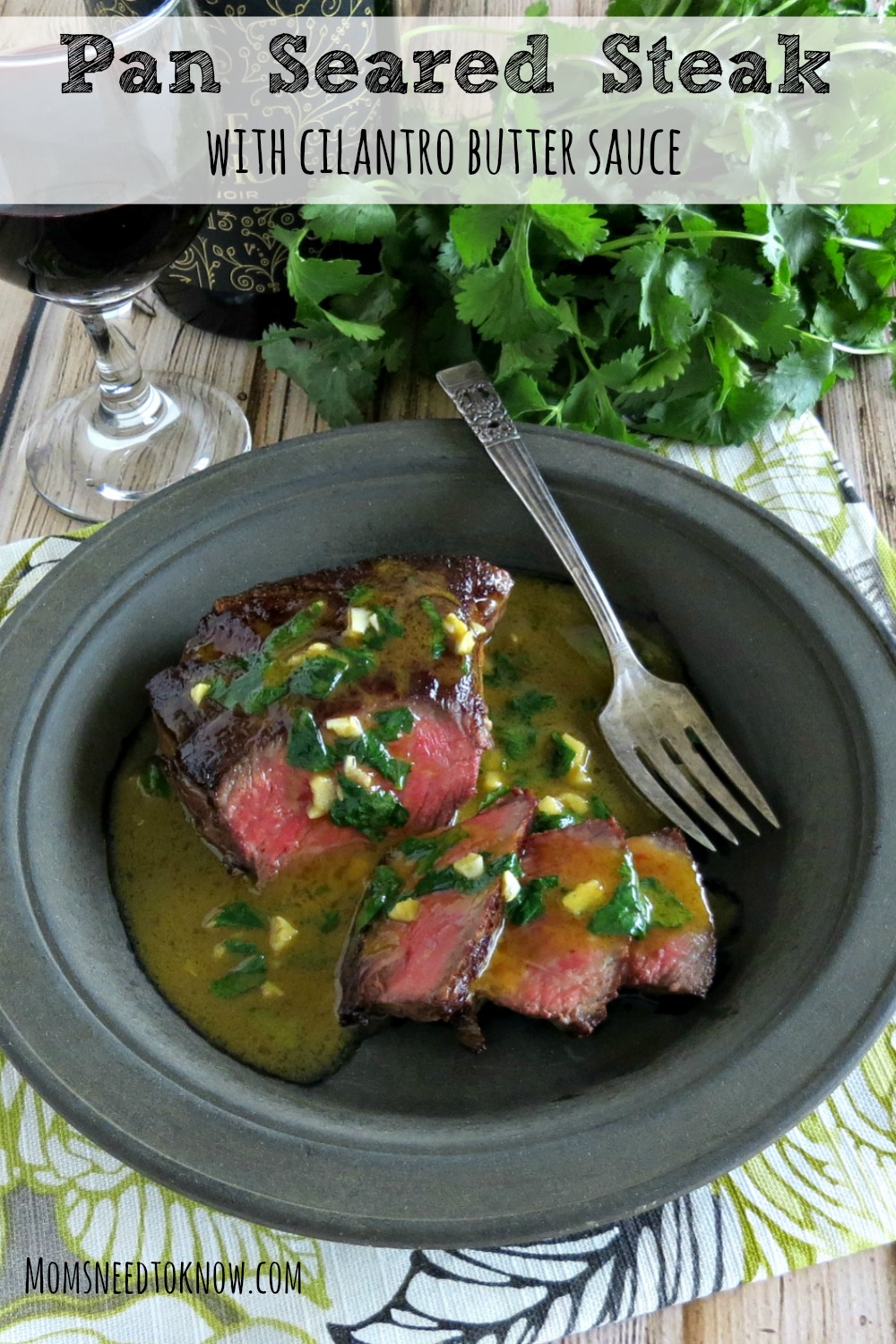 It's a well-known fact in my neighborhood that my husband can't grill a steak to save his life. I love the man dearly and he has made several wonderful things on the grill (bacon-wrapped cheeseburgers anyone?), but he just can't cook a steak on the grill.  He always ends up over-cooking it and it tastes like shoe leather.
If you watch many cooking shows, you will see that they often will cook steak on the stove, not on a grill. Done correctly, a good pan seared steak can be more delicious than anything you can do on the grill!
The key to success when cooking a steak on the stove is using a good quality pan. I have tried this with cheaper pans, and it does not work. Your steak will burn before it's cooked. A good quality, heavy-bottom pan will evenly distribute the heat and prevent burning. That being said, if at any point it appears that your steak is cooking too high, turn the heat down a little. You want to hear a nice sizzle the entire time it's cooking, but it will be fairly obvious if the heat is too high.
If you have time, I suggest salting the steak 24 hours in advance. I'm not a food scientist so I don't know exactly why or how it makes it better, but my steaks always have a better flavor when I salt them the day before.
We used grapeseed oil because it can withstand high temperatures, but you can use any kind of oil you want as long as it has a high smoke point and a neutral flavor. Some others would be peanut oil, sunflower oil, or corn oil.
We like our steak medium-rare, so this is cooked for exactly three minutes on each side and allowed to rest. This is almost foolproof when cooking a 1" steak, but using an instant-read meat thermometer will ensure you get the steak done exactly to your liking. Medium-rare should register at 135, medium at 140, and medium-well at 150 degrees.
Scroll down for the recipe!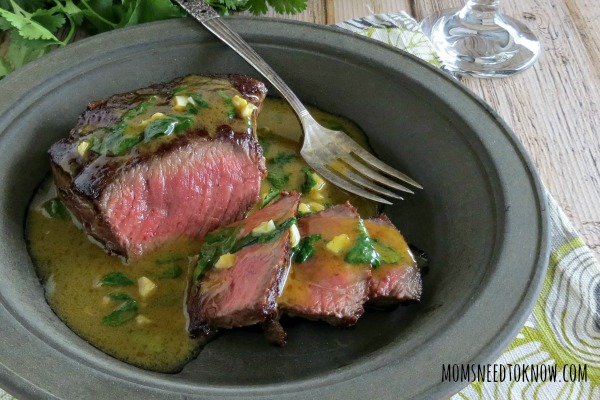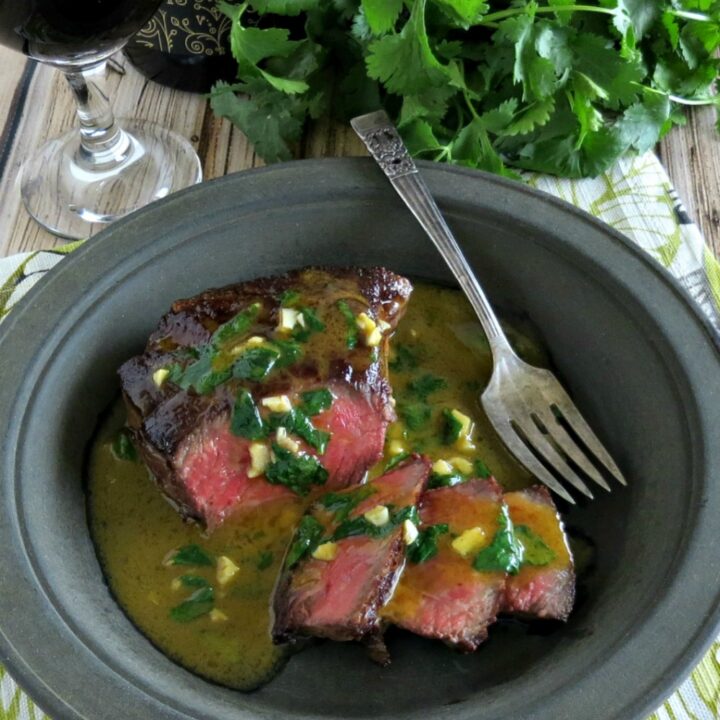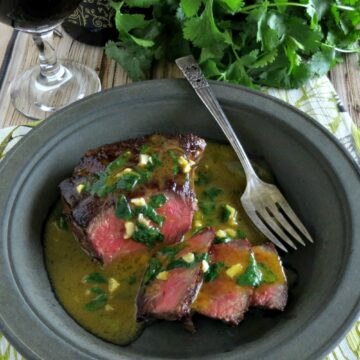 Pan Seared Steak with Cilantro Butter Sauce
Making a pan seared steak come out right is easier than you may think. We cover this steak in a delicious sauce made from butter, wine and cilantro!
Print
Pin
Ingredients
1 14-

ounce

steak

we used a top sirloin steak

1

tablespoon

grapeseed oil

Pinch

of salt and pepper

2 - 3

tablespoons

chopped cilantro leaves

1/2

cup

dry white wine

1

garlic clove

finely minced

2

tablespoons

butter

Crushed red pepper to taste
Instructions
Remove the steak from the refrigerator 20 to 30 minutes before you're ready to cook it.

Place a cast iron pan or good quality stainless steel pan on the stove over medium-high heat.

When the pan is hot, add the oil.

When the oil is smoking, lay the steak in the pan and leave it alone for one minute.

After one minute, wiggle the steak around to make sure it's not sticking.

When the steak has cooked for exactly 3 minutes, go ahead and flip it over to the other side.

Let it cook for three minutes exactly the same way as the first three minutes. If at any point it appears to be cooking too hot, turn the heat down a bit. (see notes)

Remove the pan from the heat, and place the steak on a cutting board to rest.

Immediately pour a half a cup of white wine into the pan to deglaze it. Add the garlic.

Use a wooden spoon to scrape up all of the bits at the bottom.

When the wine has reduced by half, remove the pan from the heat, and add the butter along with a pinch of pepper.

Shake the pan vigorously back and forth to emulsify (or combine) the sauce.

When the butter has completely melted and the sauce has thickened, add the cilantro and stir to combine.

When the steak has rested for 5 to 10 minutes, cut it thick slices and arrange it on your plate.

Drizzle the sauce over the steak and enjoy!
Pan Seared Steak with Cilantro Butter Sauce