This chicken piccata recipe is sure to be a hit in your house. A delicious blend of lemon, butter, wine and herbs, it is easy to make any night of the week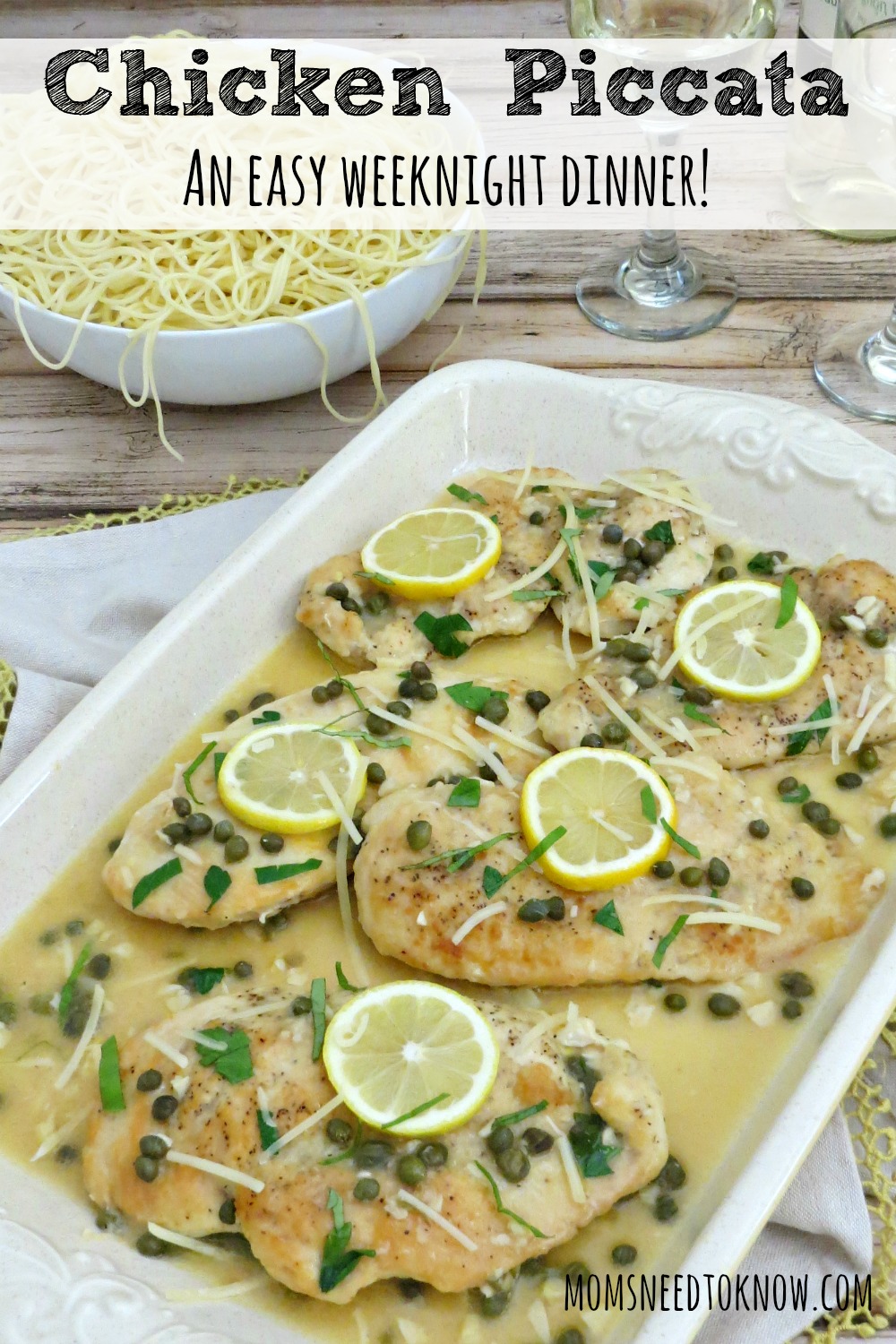 Growing up, Chicken Picatta one of my favorite recipes and was something that my mother made about every 8 weeks, and I always wished that she would make it more often. To me, it was "exotic" - probably because of the capers. I don't remember my mom using them for anything other than when she made her chicken piccata recipe, so I guess I figured she was always saving them for my "special" dish.

Little did I know how easy it is to make! Now it is on the menu about once every other week in our house (and honestly, I only use the capers when I am making my chicken picatta recipe - wonder if my children think it is "exotic" like I did?).  Like my Chicken Caprese recipe, it is an easy 1-pan meal that packs a ton of flavor!
My recipe includes basil and Parmesan as part of the garnish, which is a slight departure from a traditional chicken piccata recipe. We love the freshness of the basil and the salty, savory flavor that the parmesan gives the dish. It also makes it look pretty. That being said, if I don't have fresh basil doing well in my container herb garden (and don't want to spend $3 to buy it at the store), I just skip the basil and use a little additional parsley for garnish.
This chicken picatta recipe will make quite a bit of sauce, but we like to eat it over angel hair pasta, so the sauce from the chicken coats the pasta nicely.  It's still a very light sauce, so I recommend buttered noodles. To do this, just toss your cooked pasta with a couple tablespoons of real butter and seasoning with a pinch of salt and pepper. You don't need a lot, just enough to give the noodles a little flavor of their own.
It's also delicious with rice pilaf or couscous!
About the wine:
You'll want to use a very dry white wine for this recipe. A wine that's too sweet will yield a sauce that's way too sweet. I LOVE cooking with wine (have you tried my Mussels Steamed in a Wine, Garlic and Tomato Broth yet?) I almost always go with Chaardonnay, but Pinot Grigio would work well.
And speaking of wine, you should always cook with wine that tastes good. If it doesn't taste good out of a glass, it's not going to taste good in your food. I suggest talking to someone at your local wine store and asking them for their recommendation. If you live near a Trader Joe's that has "Two Buck Chuck", it's a perfect wine for cooking, and it only costs $2.99!
Scroll down for the recipe!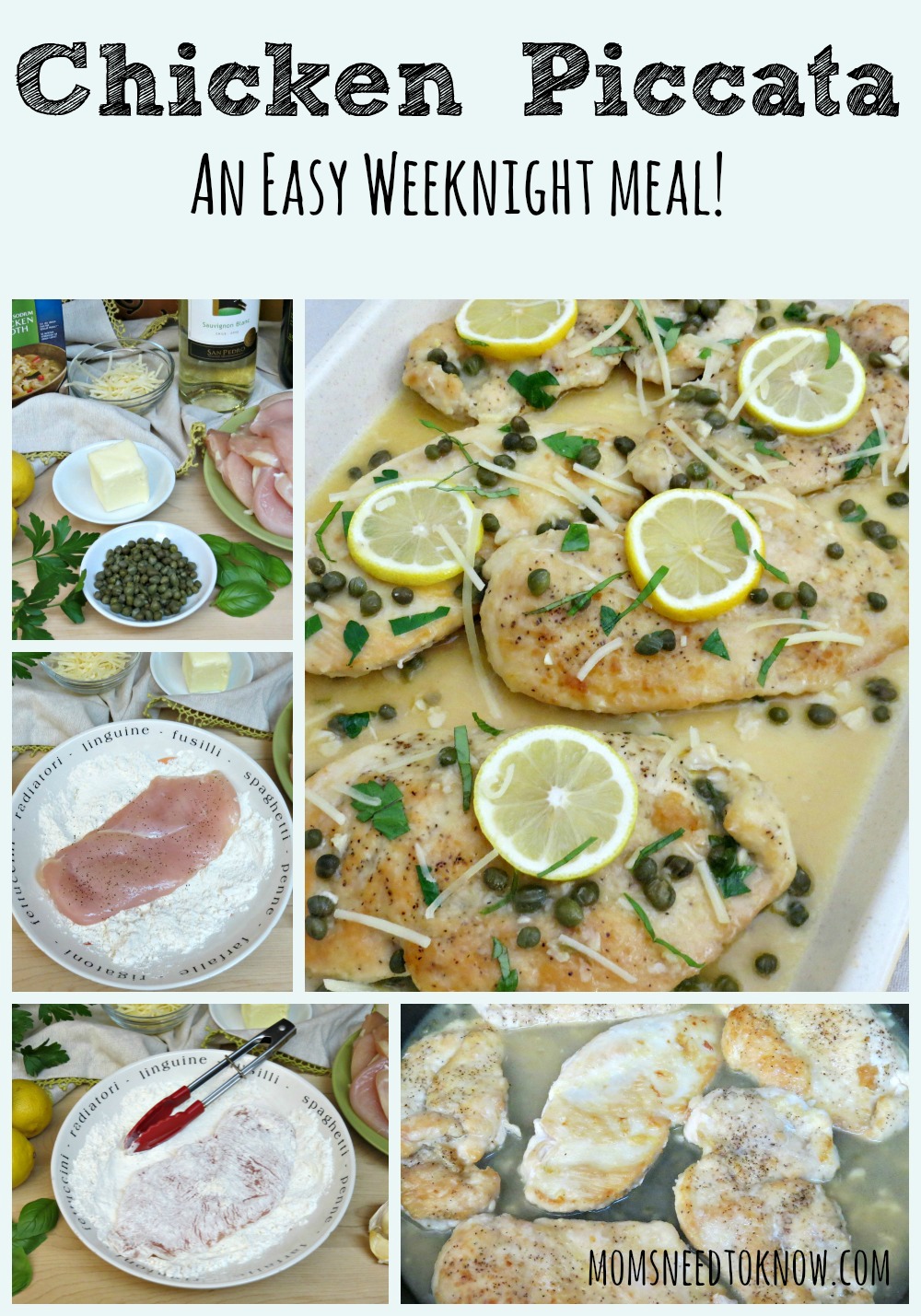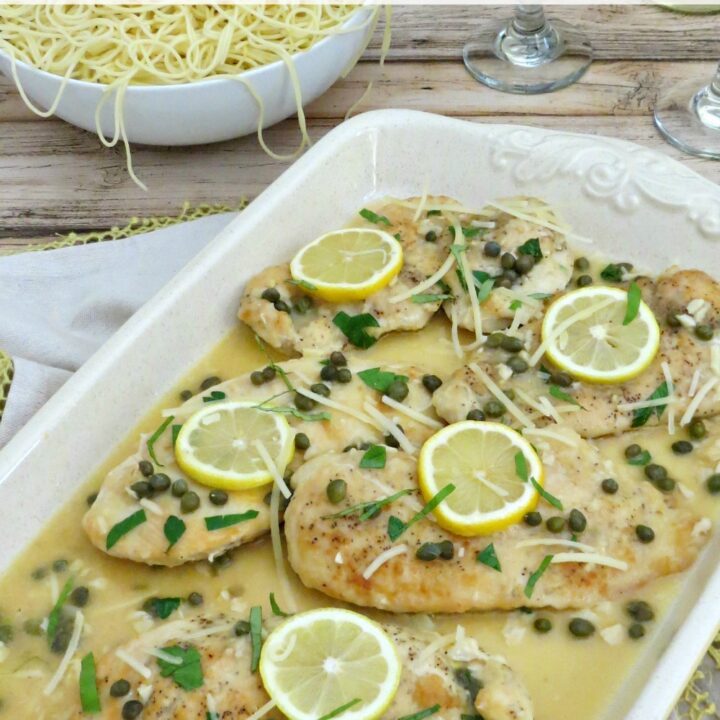 Chicken Piccata Recipe
This chicken piccata recipe is sure to be a hit in your house. A delicious blend of lemon, butter, wine and herbs, it is easy to make any night of the week
Print
Pin
Ingredients
3

boneless skinless chicken breasts

1/2

cup

flour for dusting

3

tablespoons

olive oil

3

tablespoons

butter

divided

2

garlic cloves

minced

1

cup

dry white wine

2

cups

chicken broth

2 - 3

tablespoons

capers

3

small lemons

Salt and pepper

3

tablespoons

Italian parsley

chopped

Freshly grated Parmesan cheese

for garnish

5-6

fresh basil leaves

thinly sliced, for garnish
Instructions
Add the olive oil and 2 tablespoons of the butter to a wide pan and heat over medium-high heat.

Using a sharp knife, slice the chicken in half horizontally to create two, thin cutlets.

Lightly sprinkle both sides of the chicken with salt and pepper and dust them with flour, shaking off the excess.

When the oil and butter are hot, add the chicken and cook for 2 to 3 minutes per side, or until lightly browned.

Remove the chicken from the pan and set aside.

Turn the heat down to medium, and add the garlic. Cook for approximately 30 to 60 seconds, stirring constantly.

Add the wine and use a spatula to scrape up all of the bits that are on the bottom of the pan. Simmer for two minutes.

Add the capers, broth and remaining butter to the pan and stir to combine.

Return the chicken to the pan and simmer for three to four minutes.

Turn the heat off and squeeze the juice of two lemons all around the pan. Stir to combine.

Taste the sauce and adjust the salt and pepper to your liking.

Sprinkle in the parsley just before serving.

To serve, arrange the chicken on a platter and pour all of the pan sauce over the chicken.

Thinly slice the remaining lemon and top each piece of chicken with a slice of lemon.

Sprinkle the entire platter with finely sliced basil and a few shavings of fresh Parmesan.