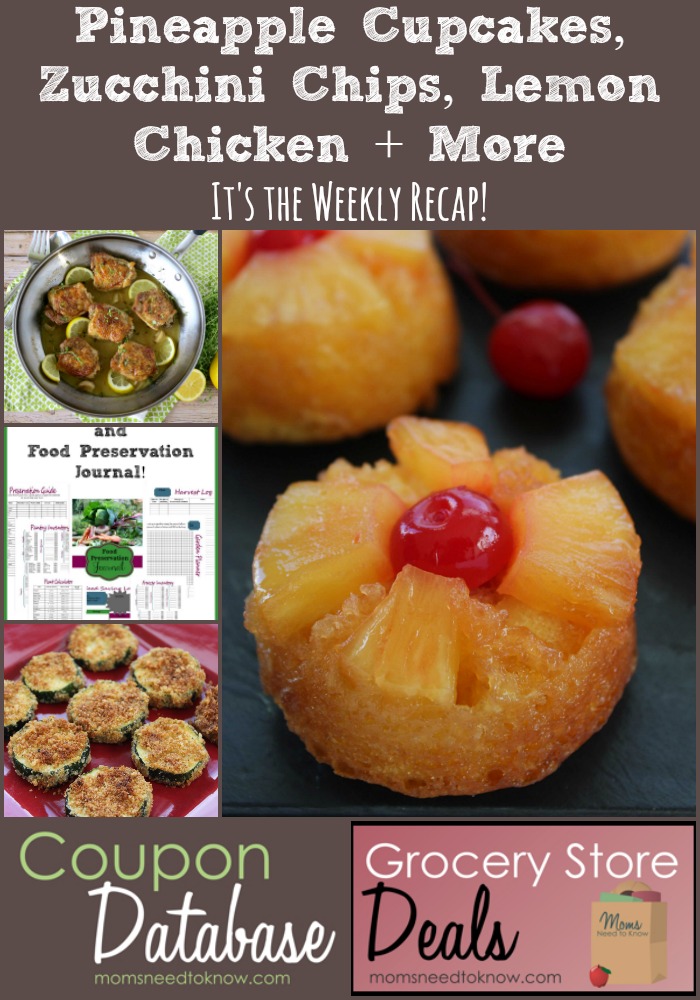 We had kind of a light week here at Moms Need To Know. Easter was spent in Maryland with my sister and then with the kids off of school, I didn't get much done on Monday. But it was nice to have a few days of "down time" to snuggle with my children!
I am still looking longingly at my garden beds, itching to get to planting. We have had such a warm spring, I am thinking I might be able to get them done in the next 2 weeks. I envy the people who live in the southern states who are already seeing their gardens starting to grow!
Anyway....
Welcome to the weekly recap of everything that you may have missed on our little corner of the Internets! If you would like to get this weekly recap each Sunday - just subscribe to our weekly email list!
Weekly Recap for March 27 - April 2, 2016!
Latest Recipes:
Pineapple Upside Down Cupcakes recipe -  These pineapple upside down cake cupcakes will take you back to your childhood! I don't know why these aren't served as much these days - but they SHOULD!
Baked Zucchini Parmesan Crisps Recipe -  Perfect as an appetizer or a side dish, these are a great way to take advantage of cheap zucchini this time of year. You are going to want to serve these fresh out of the oven!
Crispy Chicken Thighs with Lemon and Thyme -  Lemon, thyme and butter make these crispy chicken thighs so moist and flavorful. Start them on the stove and finish them in the oven!
Featured Posts
FREE Printable Garden Planner and Food Preservation Journal -  Everything you need to plan ut your garden including graphs, canning needs, and more!
Saving Money
Coupon Insert Preview for the Week of April 3, 2016 - Find out what coupons will be in the newspaper this Sunday so that you can decide if you will want to purchase additional copies of the paper!
Grocery Deals and Coupon Matchups Updated - Week of April 3, 2016 - find all the best deals for the upcoming week at CVS, Rite Aid, Walgreens, Kroger, Wegmans, Giant of PA and more!
Did you know that you can get the weekly recap by email? This will be great for you current subscribers who get the daily emails because they don't want to miss anything, but would prefer to receive fewer emails. It's really simple! Just head to my subscribe page and complete the form. You will have to confirm your subscription but, once you do, you can expect to get an email with everything you missed every Sunday morning!