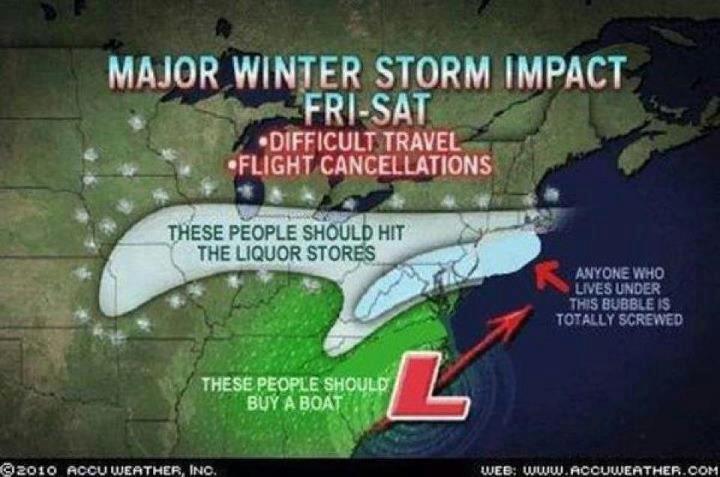 If you live on the East Coast, you know that Hurricane Sandy is planning on heading straight for us and possibly putting a damper on our Halloween! Typically, I can say that I live far enough inland that we will only have some minor flooding and extra high-winds, but this one looks like it might be worse. Of course, there are also the rare blizzards that we get in the winter that strand us for a day, but overall, we are lucky in that we don't live where we have to be TOO concerned. My mother-in-law, on the other hand, lives in Savannah, GA and hurricane evacuations are fairly common to her.
Being ready for a hurricane, snowstorm or natural disaster is about so much more than making the "French Toast run" to the grocery store (milk, eggs & bread).  If you are a regular to this site, you are able to stock up on many of these things on the cheap and are already better prepared than most!
So what are the absolute basics that you have in your emergency kit? (more tips in the links below)
Bottled Water:  we keep a few cases of bottled water in the house, even though the only time we use it is for road trips or to have "just in case".  If you watch the sales, you can get a 24-pack of store-brand bottled water for about $3.  Buy a few extra and designate them as your "emergency" bottled water.
Flashlights and batteries:  if you have the kind of flashlight that uses a rechargeable battery, make sure that you have extra batteries constantly charged!
Toilet paper:  do I really need to give you a reason why?
Canned goods and pantry staples:  if your power is out for more than a day or 2 and you can't out of your neighborhood for a few days because of snow, ice or downed trees, the extra milk & eggs  in your fridge will likely go bad and the bread will be long-gone.  Having things like peanut butter, canned tuna or chicken, crackers, canned soup, etc will get you through those rough times (and if you have people in your house with food allergies, make sure that you have food for them as well!)
An extra FILLED propane tank for your gas grill:  If you lose power for more than a few days, the meat in your freezer is going to start to spoil. If you have an extra tank for your grill, you can cook up that meat and not have it go to waste (Hey!  Instant Atkins Diet!) or even heat a pot of water on your grill.
Medicines:  if you can (and I know that this can be difficult depending on your insurance), make sure that you never have less than a 2-week supply of any life/health/sanity saving prescriptions on hand.  You may be able to get out & about after only a few days, but storms in your area may CRIPPLE other areas, affecting trucks and deliveries to your pharmacy.
Candles:  for when you want to see the other people in your house after 5:00pm
Wine:  that may just be me!
A Generator:  If you are reading this 3-7 days before the projected storm hits, please know that you have almost NO chance of finding one.  But I urge you, in the strongest of possible terms, to consider saving up the $500-$1000 to buy one, especially if you live in an area prone to blizzards or hurricanes.  It's not going to help you for THIS storm, but please be prepared for the future.  The 2012-2013 winter is projected to be a harsh one and there will be many areas where the power will go out for days.  Once this storm passes, consider asking neighbors if they want to "go in" on a generator for the winter.  That could give you the cash to have it for this season and then you can always "buy them out" later (or continue the sharing agreement for YEARS). But once again - PLEASE don't wait until the storm is on its way to buy one. Be pro-active...buy one when there is NO snow or hurricane in the forecast!
I put out a call to some of my fellow bloggers to see if they had any tips for emergency preparedness and got some great posts!  Please check out their tips:
What are your best tips for preparing for a hurricane, blizzard or natural disaster? Leave them in the comments!