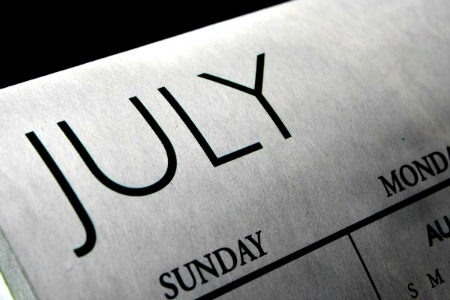 July is a hot month in more ways than one. This month is all about enjoying the warm summer weather. Vacations, cookouts, fireworks, and outdoor fun are on the menu. You may not want to spend a lot of time shopping, but the deals you can catch this month make it worth getting out of the bathing suit and into the store!
Here is what is on sale in July:
:: Grocery and Drugstore Deals in July
In- season produce: apricots, blueberries, cantaloupes, cherries, corn, Crenshaw melons, cucumbers, green beans, figs, nectarines, peaches, plums, strawberries, tomatoes, watermelons yellow squash, zucchini. Farmer's markets are overstocked during July and you will find wonderful deals.
July 4th Sales: Charcoal, hot dogs, hamburgers, burger and dog buns, corn on the cob, chips, sodas, patriotic décor, citronella candles, paper plates and red Solo cups as well as anything else that will be used for cookouts, Fourth of July and being outside.
Summer Fun: swim rings and water wings, sunscreen, bug spray, lawn darts, Frisbees, swimming diapers, sun hats.
:: Other July Sales
Mid-Summer: look for low prices as stores try to get rid of summer products before marking them down for clearance after Labor Day. Since July is considered the peak of summer, all kinds of things will be considered seasonal and holiday-related. Take advantage of these great opportunities to shop on seasonal items. Food products, sunglasses, and bathing suits are often on sale during the month of July.
In the Home: kitchen gadgets (ice cream maker, ice pop molds), food storage, and cleaning products. Retailers know that you aren't spending much time in the house, so they aren't offering a lot of in the home sales during July. You'll find the biggest savings on anything related to the holiday and being outside.
Gym Memberships: Since so many folks are out and about during the summer, gym attendance drops. You can get great deals on memberships when gyms are actively recruiting!
Fireworks: If fireworks are legal in your state, you can get great deals for next year during the week after the 4th of July.
Garden Clearance: Springtime is when most people buy seeds to plant in the garden, so you can find great clearance prices on seeds, seed starting kits, and other garden supplies in July.
Camping Equipment: This is the season when vacations and camping are most popular. Retailers know that unless they want to mark down these items for clearance after Labor Day, this is the month to offer good deals and sell as much as possible.