Whether you serve them as an appetizer or as a main meal, these sausage stuffed mushrooms are sure to be a hit! Ricotta cheese gives the filling added creaminess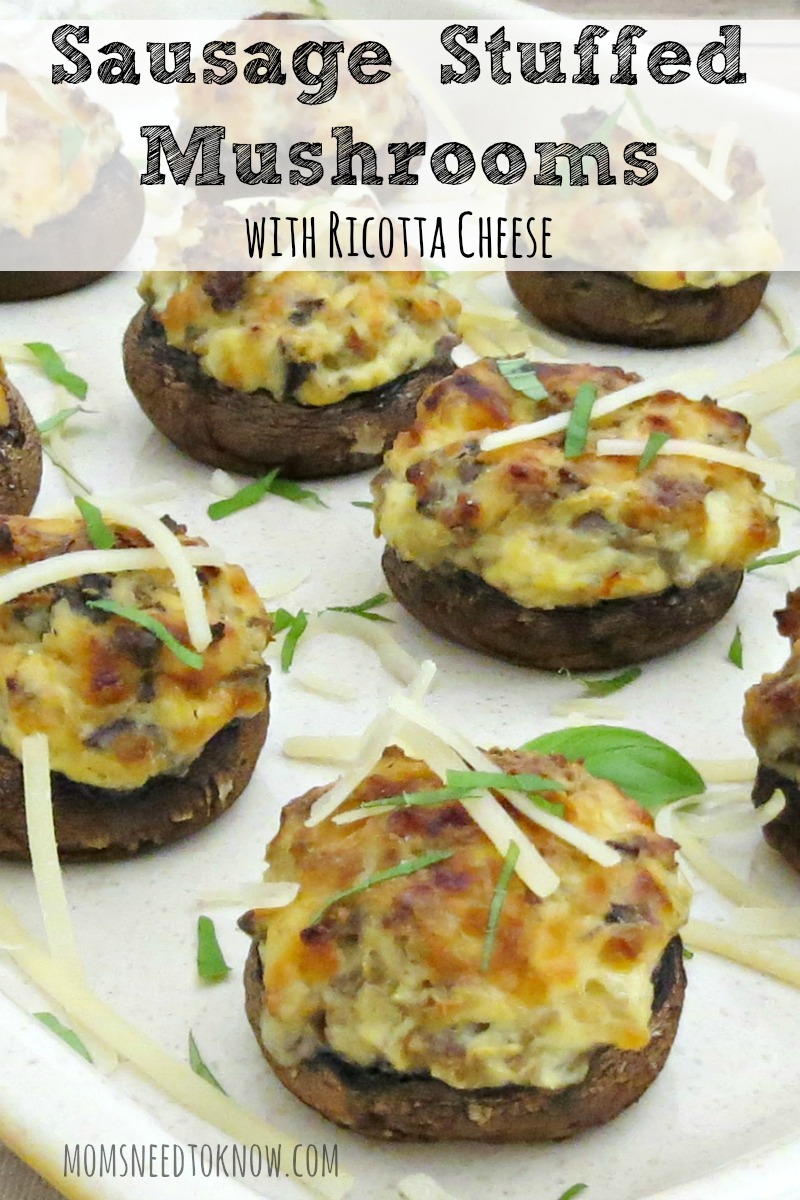 I've mentioned before that I have a sort of Love-Hate relationship with mushrooms. I can stand eating raw mushrooms, but I do like them when they are cooked properly, as does my husband (like with my pork chops with creamy dijon mushroom sauce).
While I much prefer a crab stuffed mushroom, my husband doesn't like fish or shellfish and I wanted something that he would eat - so we went with these sausage stuffed mushrooms!
Stuffed mushrooms seem fancy, but they're one of the easiest appetizers you can make, and the variations are endless! You can add pancetta, olives, and any kind of cheese you like. You could also make them can make them completely vegetarian if you prefer.
For this recipe, we use ricotta for an extra creamy, delicious filling. And the Italian sausage gives these tons of flavor and texture.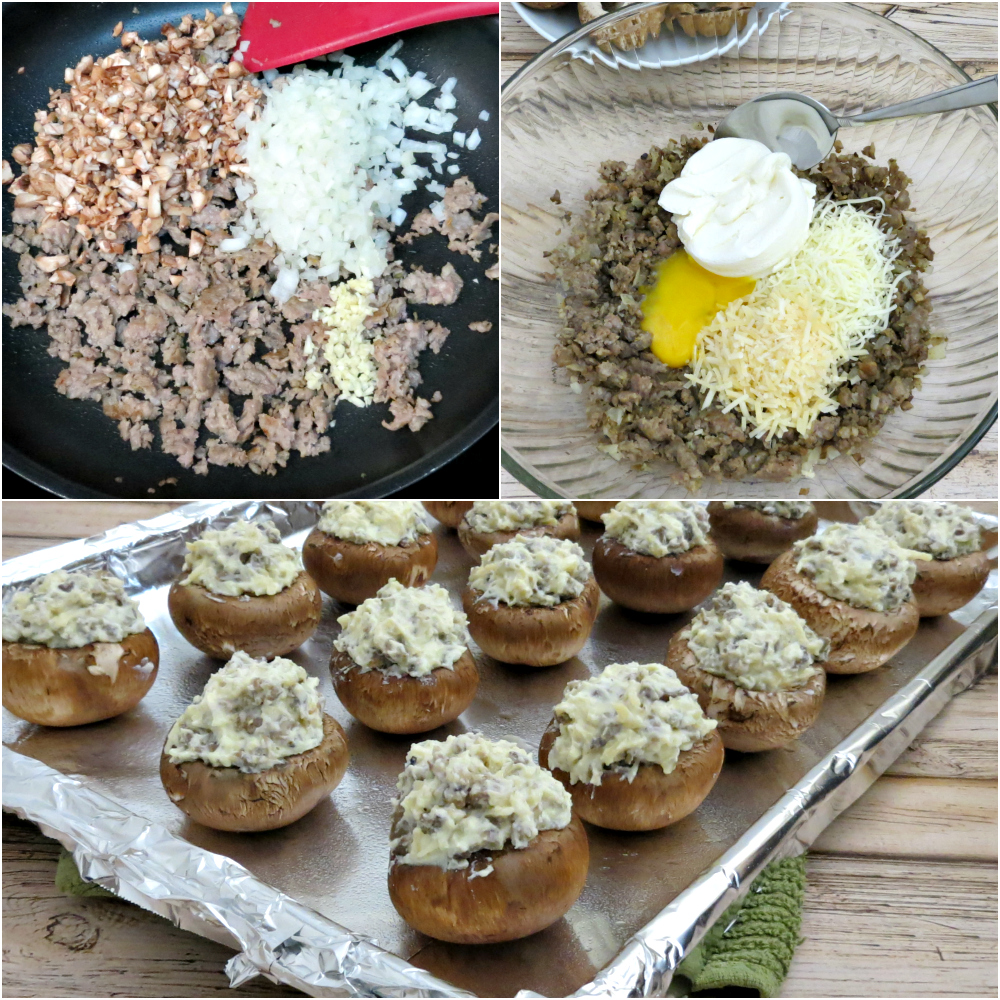 All mushrooms are different in size, so you may have a little too much or a little too little filling. I suggest starting with one tablespoon per mushroom as instructed in the recipe, and then going back around and distributing any extra as needed.
Since there are no breadcrumbs in this, they are low-carb and gluten-free. That said, you could sprinkle some seasoned breadcrumbs over them before baking if you wanted an extra crispy top.
We used full-fat Italian sausage which released enough fat to cook the mushrooms stems, onions, and garlic. If you use a low-fat sausage, you may need to add some olive oil.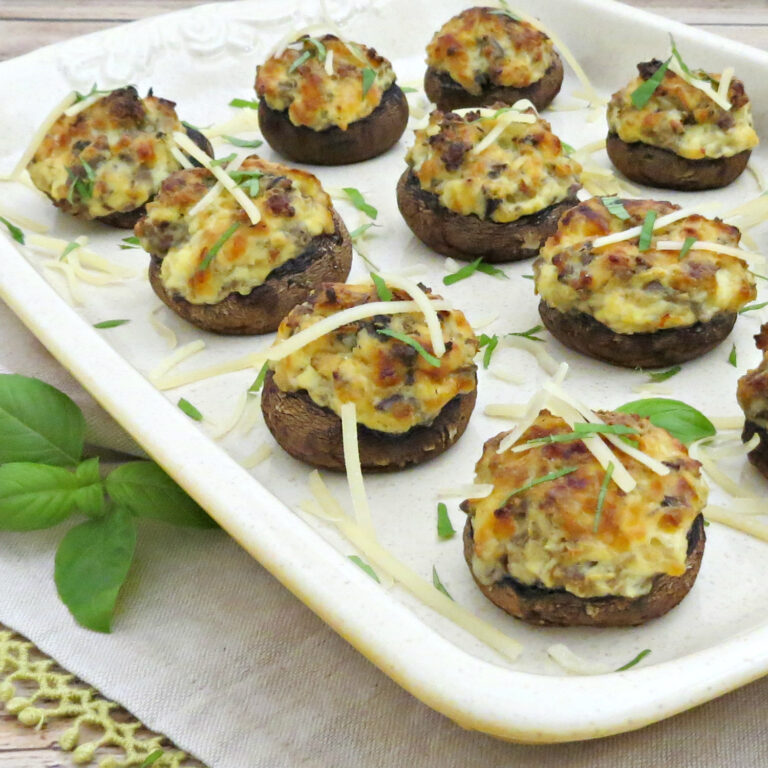 Sausage Stuffed Mushrooms with Ricotta Cheese
Whether you serve them as an appetizer or as a main meal, these sausage stuffed mushrooms are sure to be a hit! Ricotta gives the filling added creaminess!
Print
Pin
Ingredients
16

baby bella mushrooms

2

links Italian sausage

1/2

cup

finely diced onion

2

minced garlic cloves

2/3

cup

ricotta cheese

1

cup

mozzarella cheese

1/4

cup

freshly grated Parmesan cheese

1

large egg yolk

1/4

teaspoon

salt

1/4

teaspoon

pepper

Fresh basil for garnish
Instructions
Preheat the oven to 375°F

To prep the mushrooms, clean them with a damp washcloth and remove the stems.

Finely chop the mushroom stems and set them aside.
Prepare The Filling
Add the Italian sausage to a skillet and sauté for about 5 minutes or until cooked through. As the sausage cooks, use a wooden spoon to break it up into small pieces.

Add the chopped mushrooms, onions, and garlic to the sausage. Turn the heat down to medium and cook for five minutes.

Transfer the mixture to a large bowl too cool.

When the mixture has cooled for about 10 minutes, add the egg yolk, ricotta, mozzarella, Parmesan cheese, salt, and pepper. Stir to combine.
Assemble the Dish and Bake
Add a tablespoon of the filling to each mushroom, and then evenly distribute any leftover filling between them.

Place the mushrooms on a large baking sheet lined with aluminum foil or parchment paper.

Place the pan in the oven and bake for 25 to 30 minutes or until the top is golden brown.

Allow the mushrooms too cool for a few minutes before serving.

To serve, arrange them on a platter and sprinkle some sliced fresh basil on top.
Sausage Stuffed Mushrooms with Ricotta Cheese