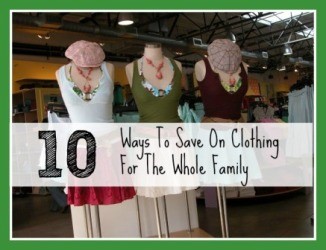 Ways To Save On Clothes for the Whole Family
With a new season quickly on it's way, you may be on the hunt for a deal on clothing for your whole family that fits your budget. Clothing can make up a huge expense on a family's budget if you don't know where to go to get the best deals.
Let's look at some ways you can save on clothes that will leave you some money left in your budget.
Thrift stores. You would be surprised by the deals you can find in thrift stores if you know how to look. Many thrift stores offer daily deals on the already low prices for seniors, students and military members. You can also get in on daily tag sales of up to 75% off the already low prices. One word of caution: always try before you buy as these clothing items can have stains, tears and be stretched out/ worn out and unless you try them on, you may not notice that on the hanger. Lastly, if you have any hangups about buying clothes "second hand", just remember that all of the clothes can be washed. Think about when your children were babies and they had "diaper explosions". Did you throw out the clothes or did you just wash them and move on with life? It's the same thing with buying clothes at the thrift shop!
Shop Online. You can save on clothes with coupons from your favorite stores that can only be used online. For instance, if you sign up with Old Navy, they send deals that are only good for 1-2 days online and not in-store and let you know ahead of time when deals will happen in store as well. Make sure to check my Online Coupon Database for coupons to shop at 1000s of your favorite stores!
Be careful in outlet stores. Many of the items sold there are what's known in the industry as "cut ups". This is where the company takes the fabric from the last season's designs and makes something new from it, but often of a lesser quality. Also, many of the items in outlet malls are not actually at a discount and are the same price or even more than the original store.
If you love name brands, check out consignment shops. A consignment shop is kind of like a thrift store in that the items there are gently used, but the styles are usually very trendy and name brand. You can snag some high price tagged items at a great discount in these types of stores. There are some stores that are specialty such as Children's, Juniors or even Outdoor clothing.
Shop eBay. Many people sell their gently used high ticket clothing on e-bay. Just be sure to read descriptions and return policies carefully before you buy and make sure you agree with the shipping price. Some eBay sellers even allow you to get a combined shipping discount when you buy more than one item from them.
Ask for a discount. Sometimes, you will come across a pair of pants missing a button or a great shirt with a small tear that can be easily repaired at home. Make sure you ask if you can get a discount on these items. The trick is to ask to speak to the department manager, be friendly and become a regular at a place.
Accessorize! If all you can afford to do if just get a couple pieces, buy accessories. A new scarf can add a lot of flare to a great blouse.
Shop end of season sales for next season. This is one of my favorite ways to save on clothes.  Get yourself a cute summer dress on a discount and make it fit for fall by adding a sweater over it and a pair of leggings. You can often find some fabulous deals on clothes for your children by doing this.  Buy them shorts in a size larger in September at 90% off and hold on to them for the following summer!
Be careful with store credit cards. They will seem like a great deal when the cashier tells you can get 10% off when you sign up, but they often carry high interest rates and make it way to easy to get into debt.
Alter something you already own. There are tons of DIY tutorials on how to make a T-Shirt from boring to amazing and make a pair of jeans have that distressed look. Get crafty and save yourself a bit on the side.
What are some of your best tips to save on clothes?