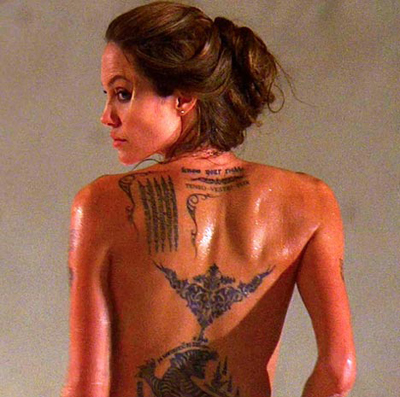 If you watched Extreme Couponing last night (October 19, 2011), you may have had the same initial reaction to Perry that I had.  She is using coupons so that she can afford ANOTHER tattoo?  Really? Doesn't she have enough?
I sat and felt superior for about 2 hours, while continuing to work on writing posts for this site.  Because nothing else was scheduled in my DVR, TLC just remained on the TV while I was working, and what seemed like an endless loop of Extreme Couponing shows were aired.
And then the Perry episode was re-aired and all of a sudden, I was ashamed of judging her…both for her tattoos as well as her reasons for saving money.

My feelings for the Extreme Couponing show aside, Perry has NO reason to apologize or explain for the reasons that she is using coupons (although she should be ashamed for paying $0.20/bottle for mustard.  If there is one thing that every couponer knows – it's that you NEVER pay for mustard…not when you are shopping at a store that doubles!)
The "tagline" of Moms Need To Know is "helping you stretch your dollar so that you can have more fun".  To me, that has always meant that you save money on the things that don't matter to you so that you can spend the money on the things that DO matter to you.
A few months ago, I went in to the Coach Outlet and spent approximately the same amount of Perry's tattoo on a few purses.  I am sure that Perry would look at my purchase and think "What a WASTE"! (I don't know this personally, but from looking at her, I am thinking that a fire-engine-red Coach purse is not on her "must-have" list).  Just as I initially looked at her and though "Seriously? She wants to put MORE ink on her body?"
The point is – you don't need to explain why you are using coupons!
You could be using coupons to:
Help your family survive through a very rough time
Save money on toiletries and cleaning products so that you can buy more organic foods
Save money so that you can afford to take your family on a sensible vacation
Save money on a variety of things so that you can take an incredibly frivolous trip a Bora Bora
Save money so that you can buy a (completely awesome) fire-engine red Coach bag
Save money so that you can afford a new tattoo
Save money so that you can afford (insert your reason here)
Your reasons for saving money with coupons are YOUR reasons. You don't need to explain them or justify them to anyone.
So be proud of your savings (as long as you aren't being a shelf-clearing hoarder like most of  the people on Extreme Couponing).  If you wouldn't tolerate someone coming up to you in the store asking why you are putting "X product" in your cart, why would you tolerate anyone questioning why you are "bothering" to clip coupons?
What are your goals for your coupon savings?
Looking for more Extreme Couponing tips? Make sure that you check out all the posts in my Coupon 101 and Coupon Ethics sections!