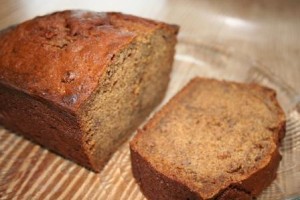 This recipe is a tweak of the Heavenly Banana Bread from MomAdvice.com. I didn't intend to tweak her recipe, but I had the bananas all mashed and then realized that I was out of brown sugar for the first time in my adult life and needed to improvise. I'm usually not a fan of banana bread because they always seem to turn out dry no matter what recipe I use. Thanks to Amy at MomAdvice.com, I have finally found one that is moist!
Slice of Heaven Banana Bread
2 1/4 cups all purpose flour
1 t. baking soda
1/4 t. salt
1/2 cup butter, softened
3/4 cup sugar
scant 1/2 cup unsulphered molasses (I measured out 3/8 cup)
2 eggs, beaten
1 t. vanilla
1/2 t. cinnamon
2 1/2 cup mashed bananas (about 4 medium to large bananas)
Preheat oven to 350 F. Butter 2 8."x4.5″ loaf pans (9″x5″ is fine, but the loaves will be "shorter")
In a separate bowl, combine flour, baking soda and salt.
Cream together butter, sugar and molasses. Add vanilla, eggs, bananas and cinnamon. Add flour mixture and mix just until combined. Do not overmix!
Divide batter between the 2 loaf pans. Bake for 40-50 minutes or until an inserted toothpick comes out clean.
Remove loaves from oven. Allow to cool for 10 minutes in the pan before turning out on to a wire cooling rack.