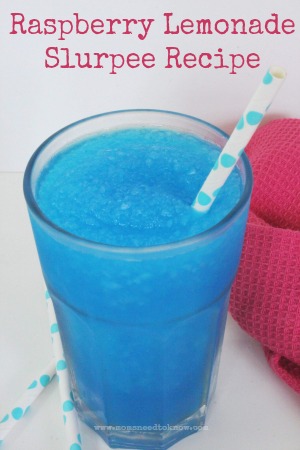 Free Slurpee Day at 7-11 should be coming up soon (it's every July 11th, although they haven't officially announced it yet for 2014) but if you don't want to wait until then or don't live near a 7-11, then you need to try this copycat slurpee recipe!
This can really be made any flavor that you like, simply by switching up the Kool-Aid flavor! Adding the food color is also optional, but it sure does make it more fun for the kids.
For best results, chill the club soda in the freezer for at least 15 minutes before making this slurpee recipe. If you don't, then when you add the ice to your blender, it may melt too much and you won't get that "slurpee consistency" that we all know & love! I would even chill the club soda to the point where it is just about to start freezing!
Ingredients:
2 cups very cold Club Soda
1/2 cup sugar
1/2 tsp Blue Raspberry Lemonade Kool-Aid Drink Mix (or flavor of your choice)
3 cups crushed ice
8 drops bright blue food coloring
Directions:
Chill club soda in the freezer until it is very cold (if you start to see some ice crystals form, that is the perfect temperature!)
In a high-powered blender (like a Blendtech), blend together club soda, sugar, food coloring and Kool-Aid powder.
Add the crushed ice and pulse until smooth.
Pour into glasses.
Serve and enjoy!