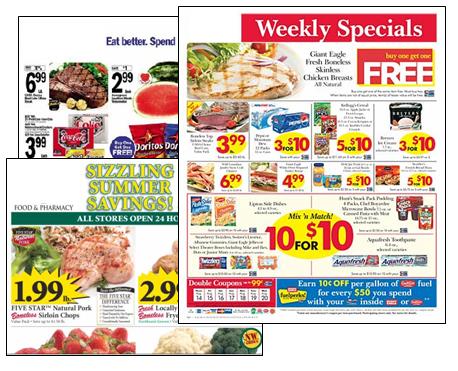 Ahh – the grocery circulars….those geniuses of marketing designed to get you in to the stores! We often think of the weekly mailings that we get as notifying us of the sales…and in many cases that is true. But in many cases that is not! Here is a quick list of what you need to know:
The front and back pages usually have the true sales for the week. The best prices can be found there. Shop THOSE deals before anything else!
The terms "Save with Card" without telling you how much you are saving usually means no savings at all (or maybe $0.20 savings…woohoo!)
Look for "On Your Next Trip" deals: these can become a huge source of savings for your meats, produce and things for which we normally don't see coupons. Simply put, the store is advertising that you will get a coupon at checkout for a certain amount off your next trip when you buy specific items. But those items (using coupons to bring your cost down) and get "cash money" off your next trip!
Buy One Get One Free sales are not always the best deals: my best example that I can give you is ice cream. I always see ice cream priced at BOGO….but the "regular price" is $4.99. Better to wait for the times that it is on sale for $2-$2.25 and stock up then!
In most cases, if a deal is listed as "10 for $10" or "2 for $5", you can just buy 1 of that item and get the sale price. Look to see if there is wording in your circular like "must buy 10". If there isn't, you don't need to!
What are some of your tips for navigating the circulars?
Looking for more Extreme Couponing tips? Make sure that you check out all the posts in my Coupon 101 and Coupon Ethics sections!