Ok - after the Chocolate Cupcakes with Marshmallow Filling from yesterday, I seriously seem to have issues with chocolate and marshmallows. My children just adore S'Mores, but it is getting a little chilly outside now and these are just so easy to make without buying one of those fancy S'Mores makers (and having one more thing to store in the kitchen). With adequate supervision, this can make for some fun rainy day activities with the kids!
To make these, you will need:
6 Regular Marshmallows
1/2 cup Milk Chocolate Morsels
6 Graham Crackers, crushed (or 1/2 cup graham cracker crumbs)
Directions:
1. Heat Chocolate Morsels by microwaving for 30 seconds stirring and repeating until melted. Allow to cool for 2-3 minutes.
2. Stick a pop stick in to one end of the marshmallow and use it as a handle as you brown the top of a marshmallow over flame. Be careful to not overcook or you will create a shell that will fall off too easily.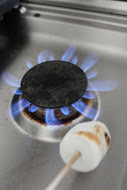 3. Carefully remove the stick and dip un-browned side of marshmallow in melted chocolate, letting the chocolate come up about 1/3 the height of the marshmallow.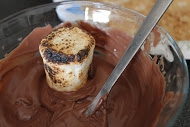 4. Insert stick back in to marshmallow on the chocolate dipped side.
5. Sprinkle chocolate side of marshmallow with crushed graham crackers and lay on wax paper.
6. Immediately place in refrigerator for 10 minutes to set the chocolate.
Enjoy!