I just love this shrimp tacos recipe. With just a little bit of crunch and a lot of flavor, these sweet & spicy shrimp tacos are sure to please!
I fell in love with shrimp tacos the same way that I fell in love with fish tacos - because of a chain of restaurants on the east coast called California Tortilla. I love their fish tacos so much that I even came up with my own copycat blackened fish tacos recipe!
Well - about twice a year, they have have their Bangkok Shrimp Tacos on the menu. The shrimp are VERY lightly breaded and the sauce is sweet and spicy, with just the right amount of heat. They are my favorite, but the problem is, they are only available for about 2 months out of the year and I want to enjoy them all year long!
Challenge accepted!
These are really a variation of my copycat Bonefish Grill Bang Bang Shrimp recipe, but the breading is much lighter. Be sure to get a very light coating of flour on the shrimp. This will create a light and crispy coating!
You really don't need a lot of sauce for this. It should be light enough that you can still taste the shrimp but also the sweet heat from the sauce. You can always make a little more and serve it on the side.  I also don't worry about too many "fixins"...just some Romaine lettuce and some corn.  You don't want too much distracting from the flavor of the shrimp!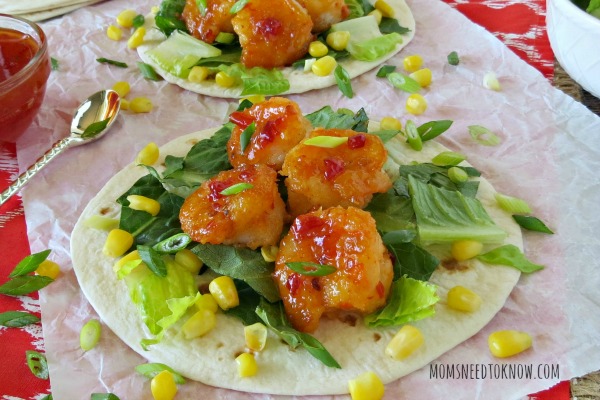 We used medium shrimp for this which is a good size for tacos. Small shrimp would work well too. Shrimp that's too large are actually harder to eat on the small, taco-size tortillas.
The number of tacos this will make for you will vary depending on how many shrimp and how much filling you use. I'd say you could get 6 - 8 nice size tacos!
Scroll down for the recipe!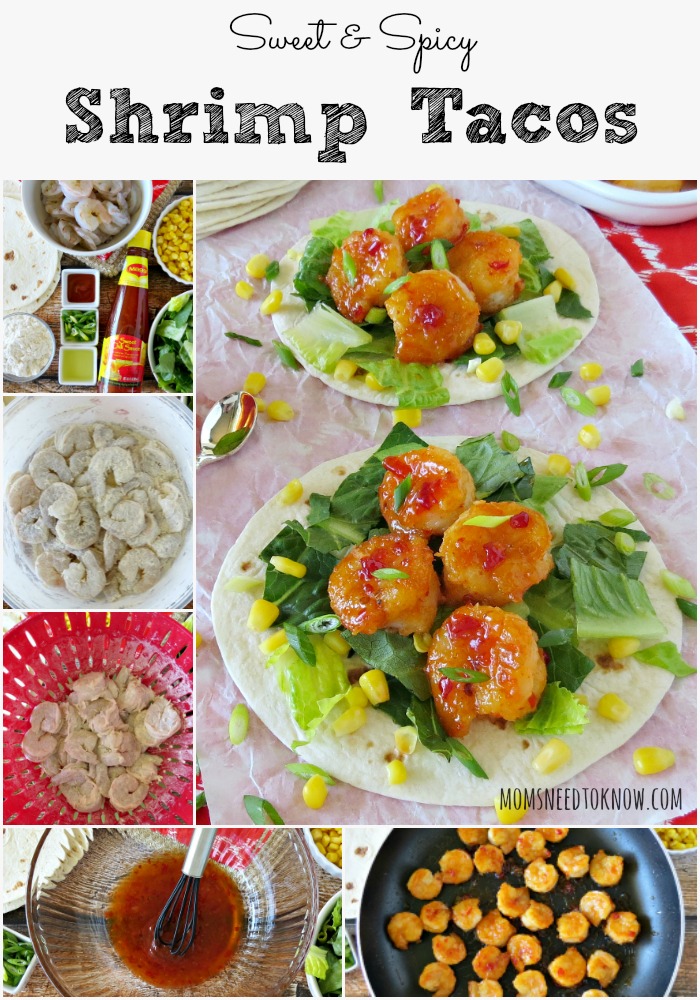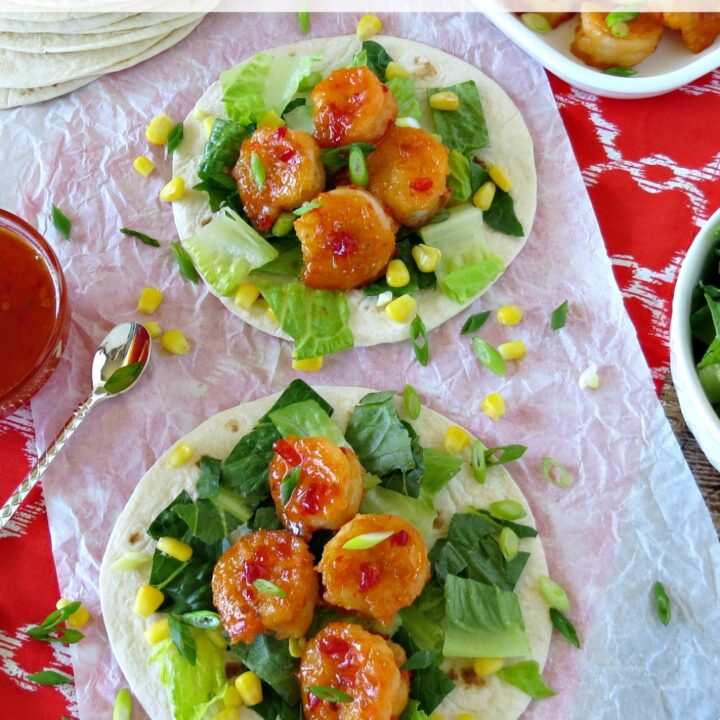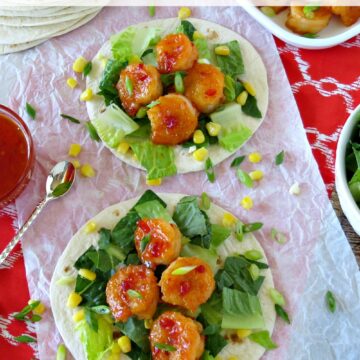 Sweet and Spicy Shrimp Tacos Recipe
I just love this shrimp tacos recipe. With just a little bit of crunch and a lot of flavor, these sweet & spicy shrimp tacos are sure to please!
Print
Pin
Ingredients
1-

pound

medium shrimp

1/2

cup

flour

2

tablespoons

olive oil

1/2

cup

Sweet Chili sauce

2

teaspoons

Sriracha sauce

6 - 8

taco-size flour tortillas

1

cup

corn kernels

2

green onions

sliced

1

cup

Romaine lettuce

chopped
Instructions
Add the chili sauce and Sriracha to a bowl and stir to combine. Set aside.

Peel and devein the shrimp, dry well, and add them to a large bowl with a tight-fitting lid.

Sprinkle the flour over the shrimp, cover with the lid, and shake well.

Pour the shrimp and flour into a strainer, and shake off all the excess flour. You are looking for a VERY light coating - almost a dusting of flour.

Place a large skillet on the stove over medium-high heat.

When the pan is hot, add the olive oil.

When the olive oil is hot, add the shrimp in a single layer.

Cook the shrimp for 2 - 3 minutes on each side or until lightly browned and crispy. Remove the pan from the heat.

Pour the chili sauce and Sriracha mixture over the shrimp, and stir well to combine.

To assemble the tacos, add a little lettuce to the bottom of the tortilla followed by some corn. Top with a few pieces of shrimp and sprinkle with green onions.

Enjoy!
Sweet and Spicy Shrimp Tacos Recipe