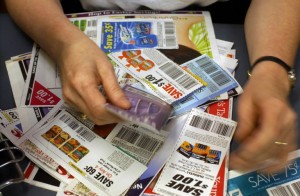 I get this question several times a day from people who aren't able to find a coupon that I (and other sites) mention when we list deals.  I also get regular emails from people asking me to print off the coupon that they can't find and mail it to them (and as much as I love you guys, I simply can't do that).
So what's the deal?  Why do I list coupons that you didn't get, or a different value than you have or that you can't find online?
Insert Coupons
The inserts in the Sunday newspaper (and in some-areas, mid-week newspaper) vary greatly.  They not only are different in other parts of the country, they can be different from newspaper to newspaper within the same area.
When I go to the store each week to buy my newspapers, I have several choices.  I can buy the Philadelphia Inquirer (the largest newspaper in the area) or the newspaper from 2 small cities/large towns nearby.  All 3 newspapers may have all of the scheduled inserts, but the values of the coupons in the inserts are typically different.
Simply put - better newspapers usually get better coupons.
Printable Coupons
There are a few reasons why you may not be able to find a printable coupon
1.  Almost every printable coupon available has a print limit.  Not only are you limited to a certain number of prints per coupon (usually 2 prints per computer), the manufacturer will set a limit on the total number of coupons that they will allow to be printed.  Once that coupon as reached the limit, they pull it.
Update: after personally speaking with high-level representatives at the 3 major printable coupon sites, I have changed my position and am no longer refusing to post zip codes. The coupon companies don't seem to be bothered by it, so I will not be bothered by doing so either
2.  Zip Codes:  Coupons.com, SmartSource and RedPlum all ask you for your zip code when you go on their site.  They do this not only to make sure that any local coupons are made available to you, but because occasionally a manufacturer wishes to make their coupons available to a specific area and not nationwide.  If, for instance, Caribou Coffee notices that sales are low in Philadelphia, Omaha and Phoenix, they may want to just make the higher-value coupons available in those areas as an incentive for those local residents to buy more of their product.  If stores can't keep Caribou Coffee on the shelves in Boston, they may not want to make the coupon available there, since they obviously have plenty of brand loyalty in that area (and at the end of the day, that is the reason why manufacturers release coupons...to inspire brand loyalty!)
Note:  I also get many questions asking what zip code to use, meaning that the person couldn't find the printable coupon.  I always search with my zip code and without my zip code, but I am not a fan of saying "Use zip code XXXXX to get this coupon.".  Long-time readers know what a stickler I am when it comes to coupon ethics, and this is just not something I am comfortable doing.  That being said, if another reader comes along and leaves the zip code to use in the comments, I'm not going to delete those comments.....you just didn't get it from me (I know that sounds like a distinction without a difference, but it's my personal comfort level)