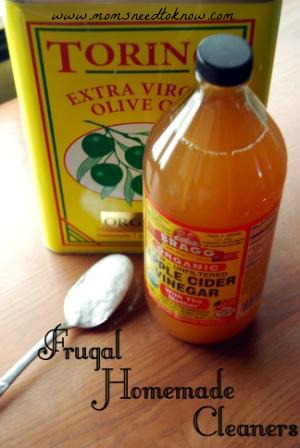 Welcome Saving With 6abc Viewers! I hope that you will find this post useful. For even more DIY cleaner ideas, Make sure to check out my Make Your Own Window Cleaner + More DIY Cleaners! post!

Like what you see here? Don't forget to sign up for my FREE newsletter to get all the recipes, gardening, DIY and savings ideas that I share with you here every day at Moms Need To Know!
Frugal Homemade Cleaners Recipes
We've all seen the basics of homemade cleaners: homemade glass cleaner, all purpose cleaner, etc. But what happens when you need to polish the furniture or scrub a spot out of the rug? Here's how to do all those tasks for less…and more!
:: Frugal Furniture Polish
Ingredients:
1 cup olive oil
½ cup lemon juice
Mix ingredients together in a small container. Make sure to test of a small corner of your furniture first before applying. Rug onto furniture in a circular motion with a rag or towel. This will leave your furniture shining and smelling great!
:: Homemade Spot Shot
Ingredients:
Baking Soda
Vinegar
Brush
Water
Towel
Sprinkle the baking soda over the affected area and then spray some vinegar over the top. Wait for the mixture to have its reaction and then scrub the carpet with a brush to get the deeper part of the stain. After you've done this, wet a rag or towel with water and wipe over the carpet to bring up the baking soda and vinegar. Wipe until all the baking soda is out of your carpet.
:: Homemade Kitchen and Bath Scrub
Ingredients:
Baking Soda
Hydrogen Peroxide
In a small bowl, pour about ¼ cup of baking soda. Add in small amounts of hydrogen peroxide until you've formed a paste. Use this scrub in your kitchen or bathroom areas for tough, stuck on grime. This also works great for tackling those annoying stains in your bathtub and making it look shiny new again.
:: Homemade Clorox Wipes
Ingredients:
Pour a little bit of all purpose cleaner (can be homemade) in the bottom of a container until it covers the bottom. Cut the roll of paper towels in half in the middle of the roll. Place one half of the paper towels into this container and put the lid back on the container. Let it sit for about 10 minutes or until the paper towels soak up all of the cleaner. Pull the cardboard tube out of the middle of the container and you should be able to pull your wipes from the middle of the paper towel roll. Use anywhere you would use Clorox Wipes.
With these easy to make recipes you will have a sparkling clean house in no time! Make sure to check out my Uses for Vinegar and my 15 Unique Uses for Baking Soda posts as well for some more frugal and unique ideas!
Do you have any other frugal homemade cleaners recipes to share?