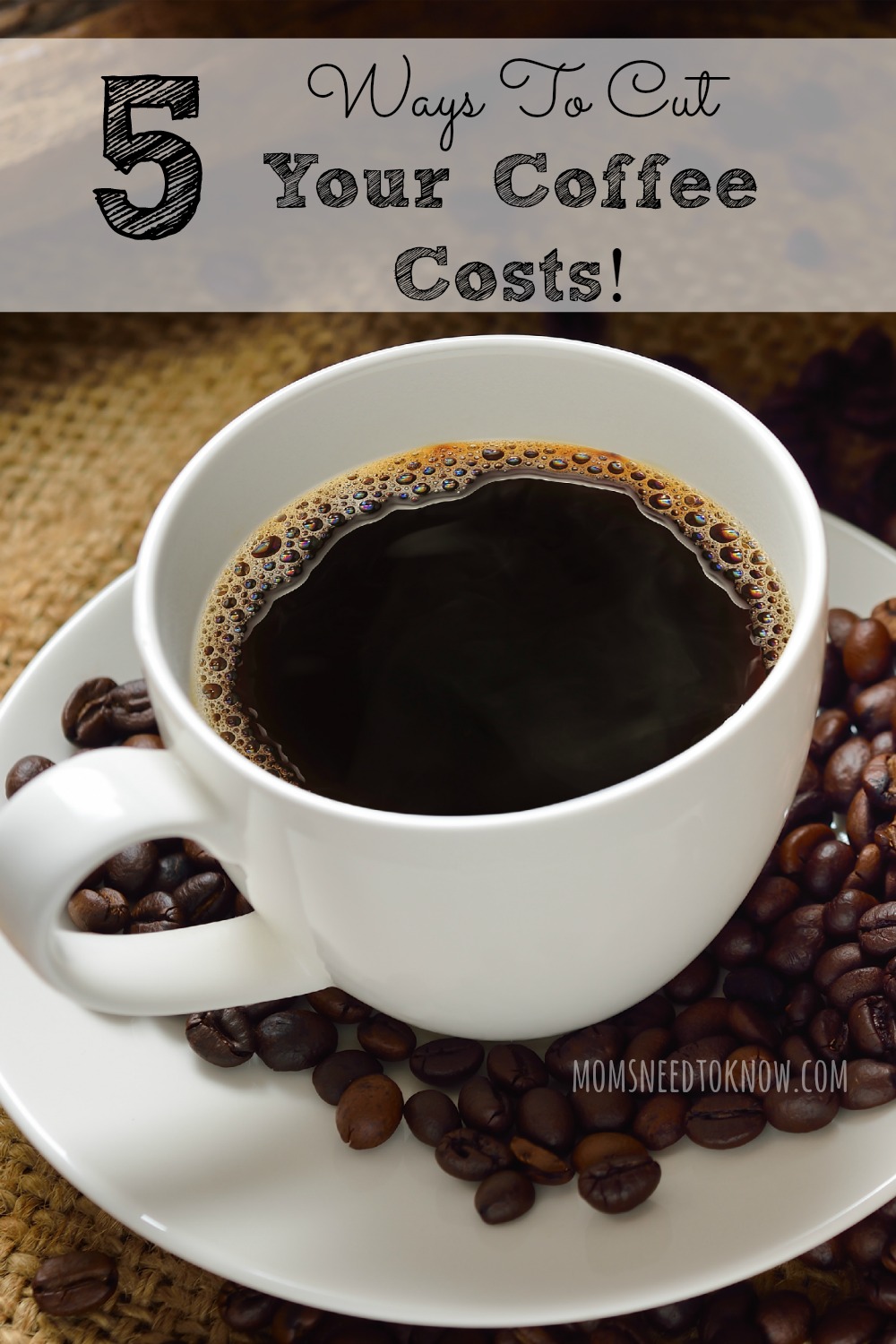 If you love your cup of Joe but hate the costs of Starbucks and other coffee expenses, there are a few ways you can save money. Tighten up your budget with some of these strategies to cut corners and pinch pennies while not losing out on your favorite vice.
Here are 5 ways to cut your coffee costs.
Use a Coffee Maker
I know that it sounds simple, but invest in a plain old coffee maker so you can make your own coffee at home. If you already have one, dust it off and start using it.  I have a Cuisinart Grind & Brew and I absolutely love it (and the price has come down quite a bit since I bought mine). If you want coffee for on the go, spend a little bit of money on one of those nice, insulated and lidded coffee cups so you can take your home brew with you. That will certainly save you a nice chunk of change from stopping at Starbucks or another coffee hot spot on your way to work or wherever you're going.
Search for Great Deals on K-Cups
If those K-Cups are your weakness, you can save money on them with Amazon or by buying at Kohl's (buy them when they are giving Kohl's cash, then turn around and use that Kohl's cash to buy more!). Do some research for the best prices on those babies and save wherever you can. As a general rule, I won't spend more than $0.40 per k-cup. Be sure to check prices and compare them between your favorite stores in your neighborhood so you know which one is the cheapest.  Don't forget that you can always compare prices at almost every grocery and drug store by using the FREE Favado app!
Make Your Own Specialty Coffees
If you have your own coffee maker at home, you can create your own specialty flavored coffees for a fraction of the cost.  I love me a Pumpkin Spice Latte in the Fall, but I don't want to pay $4.50 for a coffee – so I have my own recipe that I make for a fraction of the cost!  Be creative and add to your coffee grounds for some flavoring. You can add things like dried blueberries, citrus peels, whole cloves, cinnamon sticks, toasted nuts (walnuts or almonds), nutmeg or cocoa or even vanilla extract. Do your own experiments to see what works and tastes great and you can easily
Compare Prices at Local Restaurants and Gas Stations
Take a little time to do some price checking around your neighborhood. Get to know which gas station, fast food joint, or coffee shop has the best prices and best deals on your favorite drink. Make sure you try each one out because a really bad cup of coffee that is super cheap isn't a good deal at all.
Stretch Your Coffee Grounds
If you brew your own at home, you can stretch your money by stretching your coffee grounds. When you brew a new pot, instead of throwing out the old coffee grounds, use a mix of half old grounds and half new. This will stretch your dollars without sacrificing quality.
Enjoying your daily cup of coffee can add up. If you're trying to balance saving money with keeping your coffee, making use of some of these tips can help you stretch your dollars while you enjoy your favorite java.