It's that time of year again! The ever-popular Pumpkin Spice Latte is now available in Starbucks, with other coffee shops around the country rolling out their own version of this yummy coffee delight.
But what happens when you are craving one, but don't feel like plopping down the $4 for a coffee? Or you don't feel like drinking the high-fructose corn syrup that is in the flavoring used to make your pumpkin spice latte? Or you simply can't get out right now to your local coffee shop to get one?
Have no fear! That's where my pumpkin spice latte recipe will come in handy and save you time AND money! And unlike the syrups used to create the beloved pumpkin spice latte, my syrup uses actual pumpkin to flavor it!
Does it sound like I am knocking on Starbucks? I'm not really - I do like their coffee, especially the Pumpkin Spice Latte...it's just this is part of my continuing effort to be more diligent about what I am putting in my body...and if I can come up a recipe that tastes just as good, made of ingredients that I can pronounce and is way cheaper? I'm all over that!
The best part of this recipe is that it makes a nice-size batch of the homemade syrup, but you only need 2 tablespoons of it to flavor your coffee. Simply store the rest in an air-tight container (like a mason jar) in the refrigerator!
Need a drink for the kids as well? Don't forget to check out my homemade hot chocolate mix recipe!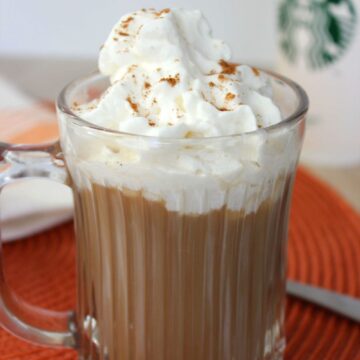 Pumpkin Spice Latte Recipe | Copycat Starbucks Recipe!
It's pumpkin season again! Save some money by making your beloved Pumpkin Spice Latte at home! So easy to make!
Print
Pin
Ingredients
For The Pumpkin Syrup
1½

cup

Water

1½

cup

Sugar

1/3

cup

Canned Pumpkin

NOT pumpkin pie filling!

1½

tsp

Cinnamon

1

tsp

Nutmeg

½

tsp

Cloves

½

tsp

Ginger
For the Latte
8

oz

Milk

4

oz

Strong Coffee or Espresso

2

tbsp

Prepared Pumpkin Spice Syrup
Instructions
Make the pumpkin syrup
In a small pot (preferably non-stick) simmer the water and sugar over medium heat, stirring occasionally, until all the sugar has dissolved.

Add the spices and the pumpkin and continue to simmer for 10 minutes, stirring often.

Allow the syrup to cool and then transfer to an air-tight container and refrigerate
To Make Your Pumpkin Spice Latte.
Heat milk in microwave for 1 minute.

Froth with blender or whisk.

Place syrup in bottom of your coffee mug and and top with coffee and the frothed milk.

Optional: Top with whipped cream and a dusting of pumpkin pie spice.