There is a fine line between enjoying a few drinks each week and drinking too much. How to recognize some of the signs that you may be headed for trouble.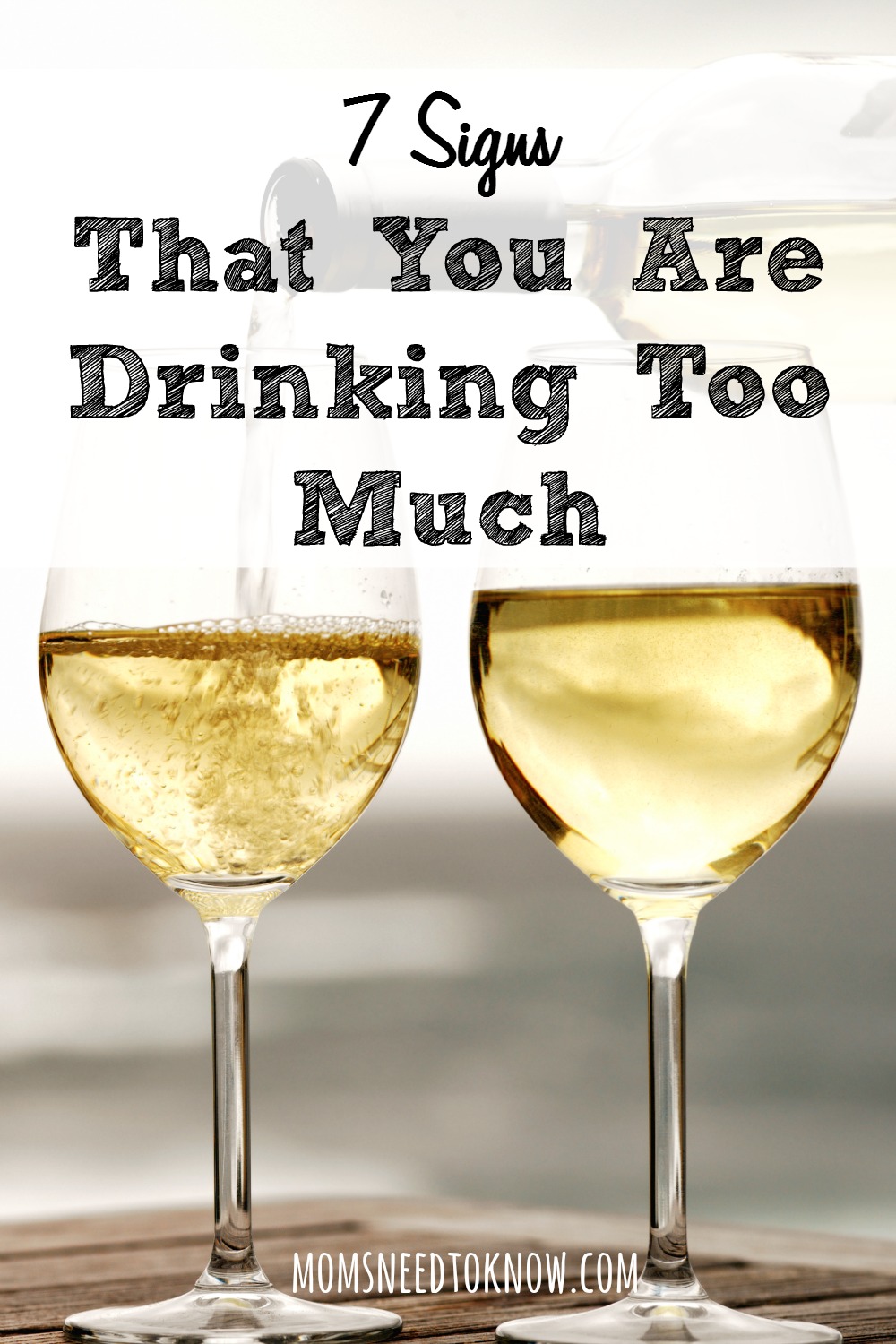 Enjoying a glass of wine here and there isn't necessarily a problem. However, reaching for a glass (or three) each night may indicate that you might be drinking too much.
How do you know if your drinking habit has gone too far?
First - let me be clear - I myself enjoy my wine and my husband drinks beer. I even have a nice collection of wine accessories. But there HAVE been times in my life when, due to stress or even temporary depression, I realized that I was drinking too much and needed to dial it back.
Whether you experience brain fog or being able to consume more and more alcohol without feeling the effects, you need to watch out for signs that you're drinking too much.
1. Fuzzy Brain
Those that drink too much often find that they have trouble thinking throughout the day. You may constantly feel as if you're in a fog. You may also find yourself forgetting more and more simple things. If you find that you're having trouble concentrating, you may be drinking too much.
2. Not Going a Single Day Without Alcohol
If you find that you sit down for a glass of wine each and every night, it may be time to rethink how you relax each evening. Instead of reaching for a glass or wine, reach for a cup of hot tea and a good book. There are so many ways to beat stress that don't involve alcohol.
Now don't get me wrong - I know plenty of people who have a beer or glass of wine every day and do NOT have a drinking problem. But if it is 5:00pm and you realize you are out of Chardonnay and you think to yourself "I need to get to the store before they close"...it might be time to reflect!
3. Bad Choices With Social Media
Do you look over your social media accounts and wonder what you were thinking? If you're drinking quite a bit each evening, you may post things on Facebook, Twitter, or another social media platforms that you really shouldn't have.
4. Justifying Your Choice
You may begin to justify your choice to have an evening drink with your spouse or even yourself. It might be that you've had a hard day or that you need help relaxing. Whatever excuse you're using, if you have to justify the drink, chances are you're drinking too much.
5. Being Excited for That Evening Drink
Do you spend part of your day biting at the bit to get home and have a drink? Do you even make it home or do you stop at a local restaurant or bar on your way home (I'm not talking about meeting some of your friends for a quick drink...I'm talking about sitting at the bar alone and drinking)?
If this sounds familiar, you're definitely drinking too much.
6. Showing Signs of Dehydration
If you wake up with dry eyes and headaches, you're experiencing dehydration. Alcohol dehydrates the body. You should keep an eye on your urine as well. While dark urine first thing in the morning is normal, continuing to have dark urine throughout the day is definitely a sign of dehydration. Your urine should look like water that has lemon juice squeezed into it – very light yellow.
7. Finding That You Can Drink More and More
Last, but not least, if your tolerance for alcohol is increasing, you're probably drinking too much. The more alcohol you drink on a regular basis, the more alcohol it will take to feel the effects. If you're able to really "hold your liquor" you're drinking too much.
"Holding your liquor" was "cute" and fun when we were in college. But once you are a grown-up with a family and real responsibilities...it's just...not good.
Bonus Sign That You Are Drinking Too Much
You got a DUI
Do I really need to explain this? While we can argue about how states have lowered Blood Alcohol rates to unreasonable levels (in some states, I am considered legally drunk after 2 glasses of wine), if you have been convicted of Driving Under The Influence, that should be a HUGE red flag!
It's not necessarily bad to drink alcohol on occasion. However, you may be drinking too much. If you identified with any of the signs listed above, you may need to take a closer look at how much you're drinking.
Finally - if you need help and can't do it on your own, there are plenty of resources out there for you. You can find an AA Meeting near you fairly easily. Many churches even host their own groups for people struggling with alcohol. Some people can do it alone, but not all can!
Do you have any other tips for someone who thinks that they might be drinking too much?