We've all been there. You find a great recipe on Pinterest, try to make it and it's a disaster. Here are 8 possible reasons why that Pinterest recipe failed.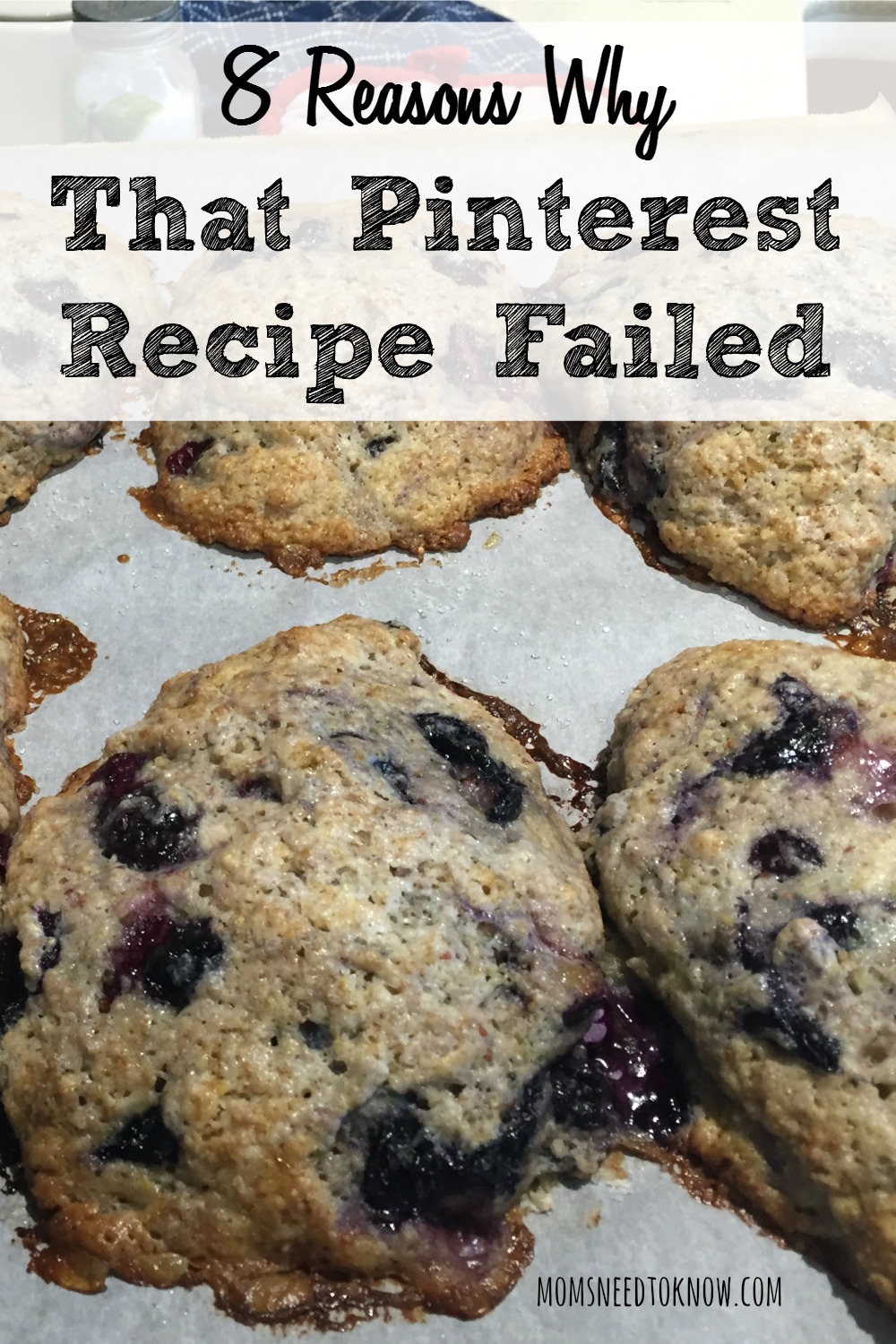 We all see those awesome recipes on Pinterest (are you following me on Pinterest yet?) and think, "Wow, that looks awesome." When we put the recipe together, we end up with a Pinterest fail.
Sometimes it's not our fault, but sometimes it is. If you're one of those people that likes to venture off the original recipe, you may find that the recipe is a flop.
I'm not immune to it either!  The picture above?  Those were supposed to be lemon blueberry scones!
I have a cherry thumbprint cookie recipe on this site, and about twice a month, I get an email or comment that my recipe is a "flop", or "stupid" or "wrong".  I usually try to email them back and ask them a few questions...and without fail, it is because they skipped a step or swapped out an ingredient and they didn't think it would make that much of a difference.
Seriously - it's how I know that Christmas Cookie Season is in "full swing"...because the emails start coming in daily, even though I have never had a problem with them turning out right.
Let's take a closer look at why that Pinterest recipe failed.
1. You Didn't Follow the Directions
Some people jump into cooking without reading the recipe and getting everything together. It's best to read the recipe through at least a couple times so that you'll be prepared. You also want to carefully read the recipe while you prepare it so that you don't miss any of the instructions. More importantly, don't purposefully skip steps. The instructions are the way they are for a reason. Omitting certain steps can make the recipe fail.
2. You Used Margarine Instead of Butter
There are a number of reasons you may reach for margarine instead of butter. Margarine is cheaper and some are under the misconception that it's healthier. Whatever the recipe, using margarine in baked goods will ruin many recipes. Spend the money for the real stuff.
3. You Didn't Use Parchment Paper
Who needs parchment paper? If you're baking, you do. Parchment paper is the absolute best way to ensure that your cookies bake evenly. Parchment paper can also help prevent sticking.
I am a HUGE fan of using parchment paper for cookies and even for recipes like my pumpkin spice squares with cream cheese frosting.
If a recipe tells you to use parchment paper, that means that the recipe was tested using it - and it WILL make a difference!
You can find parchment paper at the grocery store, online or even many "dollar stores". Take the time to pick some up before you try the recipe again.
4. You Under or Over-Mixed the Ingredients
There are some recipes that mention using a stand mixer. There's a reason for that. You can't mix the ingredients properly by hand. On the other hand, there are some recipes that can be over-mixed, such as muffin recipes.
One of the few things I remember from high-school Home Economics Class (I'm old - they used to call it that) was that the easiest way to tell if you over-mixed a muffin batter is that they form "cones" when baked.  If a recipe says to mix "just until combined", don't make it your mission to remove every last lump!
Follow the directions.
5. You Over or Under-Baked It
Did your brownies come out hard? Chances are you over-baked them. While all ovens are different, you want to look at the instructions as a guide. Many instructions will include what to look for to see if the food is done. Start checking your baked goods a few minutes ahead of time if you know that items bake faster in your oven.
6. You Didn't Chill the Dough
There are so many recipes that require that you chill the dough. Pie dough and cookie recipes should often be chilled before baking so that you get the best results. Don't skip this step. Doing so will lead to the recipe not working.
7. You Got Creative
Sometimes it's fun to get creative with a recipe and make it your own. However, you can't blame a recipe for not working when you change it.
Actual complaint I once got about a recipe on this site: "I used regular milk instead of coconut milk and curry powder instead of red curry paste and it was TERRIBLE!  This recipe sucks!".
Gee - I wonder why?
Make it like the recipe suggests the first time. You can then get creative the next time you make it.
8. You Didn't Measure Properly
Last, but not least, when it comes to baking, you must measure your ingredients properly. Not doing so will result in the baked goods having a different texture, not rising properly, or falling apart.
If a recipe tells you to sift the four...do it!
Take the time to carefully measure each item. It helps to measure your items ahead of time so that you have everything ready to go as you make the recipe.
So What Did We Learn?
Sometimes Pinterest recipes fail. While some recipes are poorly written, others are written perfectly.
The key is to follow the instructions. In most cases, following the instructions exactly and using the proper ingredients will result in perfection.
8 Reasons Why That Pinterest Recipe Failed