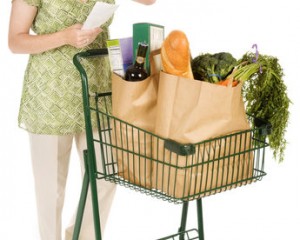 One of the most oft-heard responses that I get, when I explain my couponing ways to a non-couponer is "Oh - I shop at Giant.  They are much cheaper than that store!".
(note:  I'm using my local grocery stores to illustrate my point, but I assume that the same holds true in your area.)
My absolute favorite store right now is Acme.  If you are from the Philadelphia area and reading this, you might think I'm crazy.  Whenever I tell anyone that I get the best deals at Acme, their response is usually "Acme?  But they are so much more expensive than the other stores!".  And the truth is, for many things they are (except meat - don't get me started on SuperFresh meat prices!).
But the other truth?  They have the best coupon policy and the the best Catalina deals (especially since my Giant switched over to those stupid Gas Points!).  But that doesn't mean that I wouldn't drop them like a hot potato if they stopped giving the deals!
As a stay-at-home mom who also lives less than 4 miles from 4 major grocery stores as well as 2 CVS's and a RiteAid (and a Walgreens pretty soon), I realize that I have a flexibility that many others don't have.  But what I don't understand is this idea that one store is better than any other. Even the most die-hard Aldi or Costco shoppers have to admit that there are better deals to be found at other stores when you can combine a coupon with a sale! 
So let's look at some of the arguments for sticking with a particular supermarket:
1.  Yes - checking out 4 different grocery stores(in addition to CVS, RiteAid and Walgreens) each week takes some work.  That's the good things about sites like this and the other frugal blogs out there.  We do the work for you, cutting your time drastically.
2.  I know that there are some people out there who do all of their grocery shopping in one day and spend 6 hours hitting 4 different stores.  I'm not one of them.  I would rather remove my own liver with a ZooPals spork than spend 6 straight hours grocery shopping.  With gas finally being cheaper, it's not as bad to make several trips, especially if like me, you need to go back out anyway each week for more milk, more bananas, etc and combine it with any other errands.  There's no reason that you can't hit one of the other stores when you have to run back out! 
3.  Some people may stay with one store that they perceive to have more "coupon friendly" cashiers.  Frankly, I don't care what the cashiers think about my coupons and I never let myself be treated poorly just because I am using coupons (and this isn't me "looking down" on those in retail...my husband is a retail manager).  This goes back to the idea that so many people have that they are doing something wrong or "cheating" the store by using coupons.  Those people really need to move past this.  As long as I am following both the stores coupon policy and the wording of the coupons, the attitude of the cashier means little to me (besides - you can just kill those sourpusses with kindness!).
The bottom line is:  no one store has the best prices (every day or sale).  When I think of Pantry Items and Meat Sales, I think of Acme.  When I think of every day produce prices, it's Giant (with Genuardi's having the best sale prices).  Right now, Acme holds the favored spot in my heart because they have the best sales and coupon policies. But I can't remember the last time I "bought" toiletries anywhere besides CVS or RiteAid (where I get them for free).
If you are loyal to one store for all of your shopping, I would love to know....Why?