Bacon makes everything better! Smokies wrapped in bacon with a brown sugar glaze are better! This recipe for bacon wrapped smokies makes a great appetizer for game day.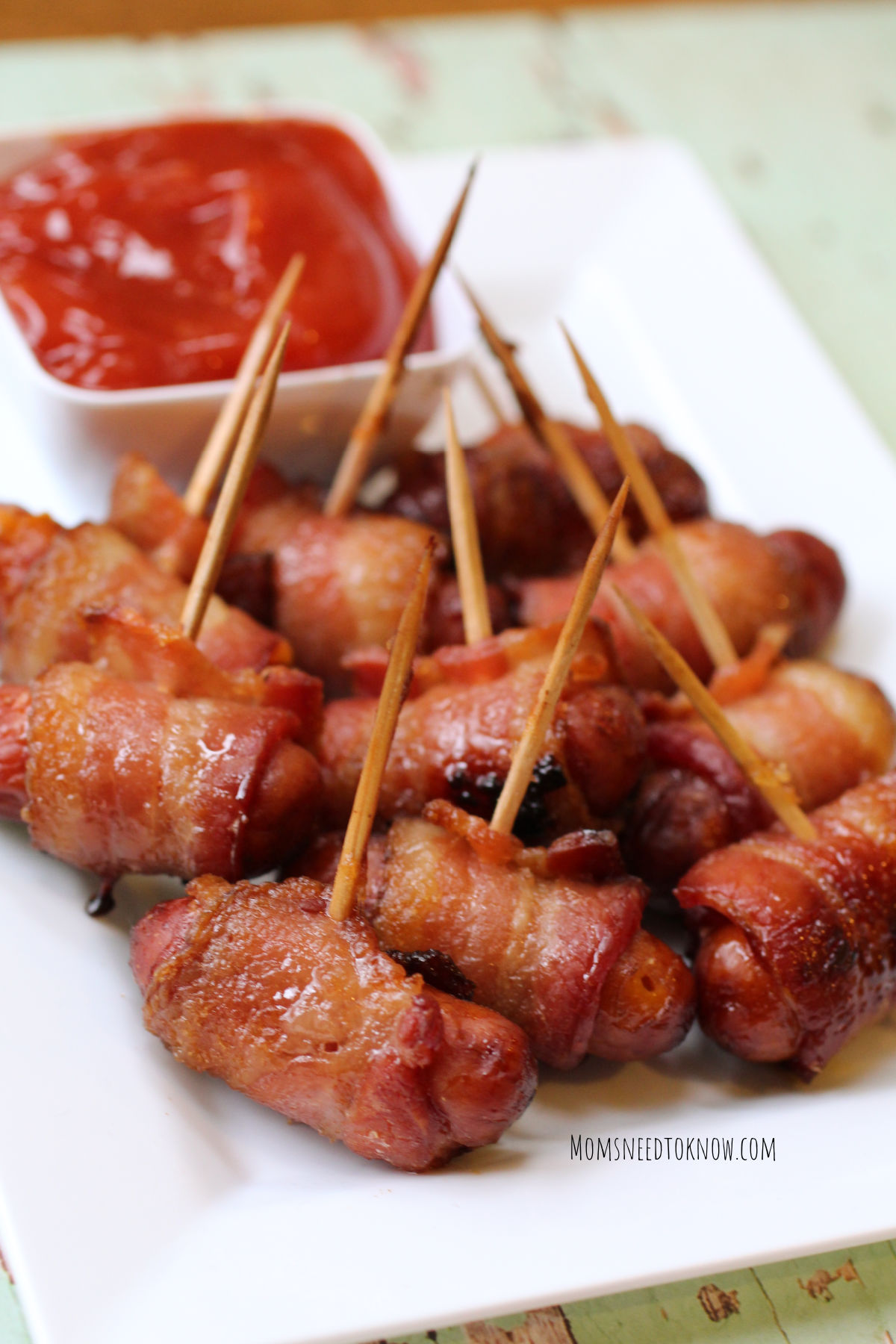 If you are still looking for a recipe for your next party, these bacon-wrapped smokies with a brown sugar glaze are just about one of the easiest things that you can make....and will probably be one of the first to be gobbled up by your guests! The brown sugar glaze is the perfect complement to the saltiness of the bacon and the savory smoky sausage!
I started making these about 13 years ago and now, every time we have a party, people expect them because they are just that darn good! It's not really am imposition...a batch costs me about $10 to make (less if I can get the bacon or smokies on sale by following the sales at the grocery stores. Both freeze beautifully until you are ready to use them!)
Making them is easy....you can even assemble them in advance and pop them in the oven 15 minutes before you are ready to serve (they really are best served hot!).
Oh - one last thing - you can use "regular" brown sugar, but I really like to use my homemade brown sugar (and add a little extra molasses so that it is sort of "between" light brown sugar and dark brown sugar.  I don't know- ever since I started making it myself (usually fresh, for each recipe), I just prefer making brown sugar myself (although feel free to not be as nutso as I am!).
Things you'll need for this recipe
1 pkg (16 oz) Lit'l Smokies (I use Hillshire Farms)
1 pkg (12 oz) thick cut bacon
3/4 cup packed brown sugar
cookie sheets
toothpicks
aluminum foil or parchment paper
Preparation & Cooking
Preheat oven to 400F.
Line a baking sheet with foil or parchment paper (this will make clean-up MUCH easier)
Cut each bacon slice in to 3 or 4 pieces.
Wrap each bacon piece around a sausage allowing for a slight overlap - don't wrap them too tight).
Secure with a toothpick and place in a single layer on a foil-lined baking dish or sheet. Repeat with the rest of the bacon & sausages.
Sprinkle brown sugar evenly over the sausages
Bake for 15 - 20 minutes until the bacon is browned and the sugar is melted.
Serve
I usually just pile them on I don't think that these really need any dipping sauce, but I usually serve them with a small bowl of ketchup or mustard or even my homemade bbq sauce!
Enjoy!
Can you make bacon wrapped smokies ahead of time? Freeze them?
YES! Because both the bacon and the Lil'Smokies are either fully cooked or cured (unless you buy uncured bacon), you can assemble them and store them in the fridge until you are ready to cook them!
If you hit a good sale on both, you can assemble them and and freeze them uncooked until you are ready to cook (as long as neither the smokies or the bacon was previously frozen). Just pull them out of the freezer and let them thaw before you bake!
How to reheat bacon wrapped smokies
In the unlikely event that you have any leftovers, just store them in an air-tight container in the refrigerator for up to a week. To reheat, place them on a foil-lined baking sheet at 350F for about 10 minutes (microwaving them to reheat them will make the bacon soggy)
More Appetizer recipes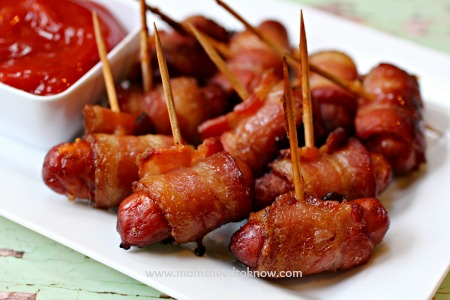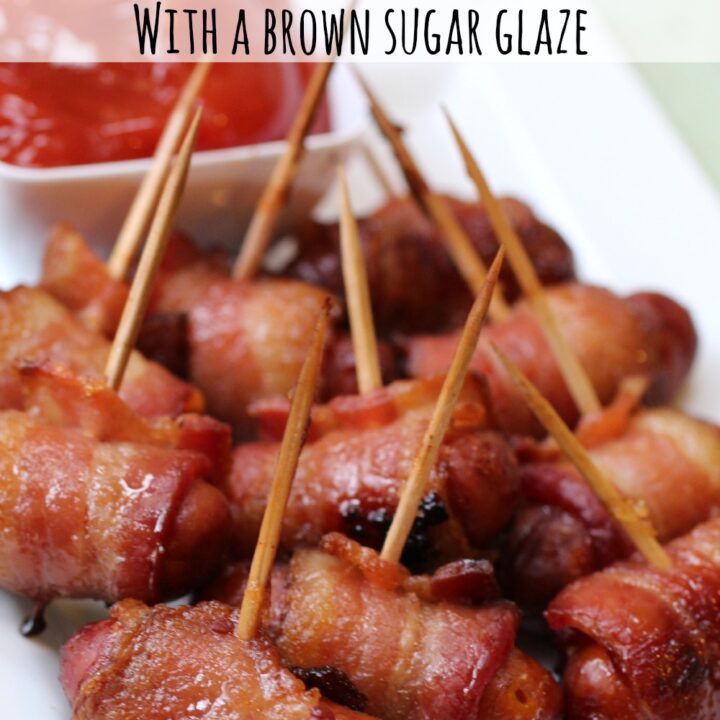 Ingredients
16

oz

Little Smokies

(I use Hillshire Farms)

12

oz

thick-cut bacon

3/4

cup

packed brown sugar
Instructions
Preheat oven to 400F.

Line a baking sheet with foil (this will make clean-up MUCH easier)

Cut each bacon slice in to 3 or 4 pieces.

Wrap each bacon piece around a sausage allowing for a slight overlap – don't wrap them too tight).

Secure with a toothpick and place on foil-lined baking sheet. Repeat with the rest of the bacon & sausages.

Sprinkle brown sugar evenly over the sausages

Bake for 15 – 20 minutes until the bacon is browned and the sugar is melted.

Serve immediately
Bacon Wrapped Smokies with a Brown Sugar Glaze