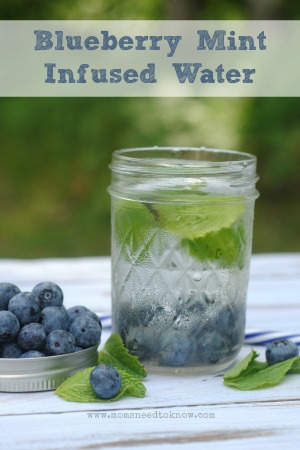 We all know that we should drink plenty of water to stay hydrated and for most people, it is much easier to do in the summer when it is hot. It is even easier when your water tastes delicious and this Blueberry Mint Infused Water can help you do just that!
Even if it isn't a struggle for you to get enough water in to your body, drinking infused water can just lift up your mood. I absolutely love the flavor of mint (and it is good for digestion) and have it growing in my herb garden. Just the smell of it makes me happy so it just makes sense to add it to my water. As for the blueberries? They are chock-full of antioxidents and after they have flavored my water, give me a nice healthy snack!
As for the mason jars? I just like drinking out of them and I think that they make for a nice presentation on any table at a party! My kids prefer to drink out of the "regular mouth canning jars" because they say that it feels more like a regular glass, but I happen to like the feel of the Kerr jars in my hand...it's really just a matter of personal preference (and what you have on hand). Unlike champagne, the shape of the glass won't affect the taste.
Except now that I typed that, I am thinking of infusing champagne with some blueberry and mint....which means that I will need to drink some extra water to counteract the dehydrating effect of the champagne...which means that I will need to infuse some more water.
Hennyway......
This recipe is for a single-serving of infused water but the truth is, I tend to make this by the pitcher and drink it all day long!
Blueberry Mint Infused Water Ingredients:
One 8 oz. canning jar
¼ cup of fresh blueberries, left whole
1/8 cup of fresh mint leaves, rinsed
Directions -
Add the fresh blueberries and fresh mint leaves to your 8 oz. canning jar. Rip the leaves in half or crush with a muddler for more flavor.
Using a spoon or a fork to gently mash the blueberries. This will let the juice out of the fruit to infuse your water.
Fill the jar with water, place the cover on, give it a good shake and refrigerate overnight for the best flavor.
**If you'd prefer to use a larger canning jar, simply double or triple the recipe ingredients and refrigerate overnight.
You might want to try these other drink recipes to help you stay cool this summer: