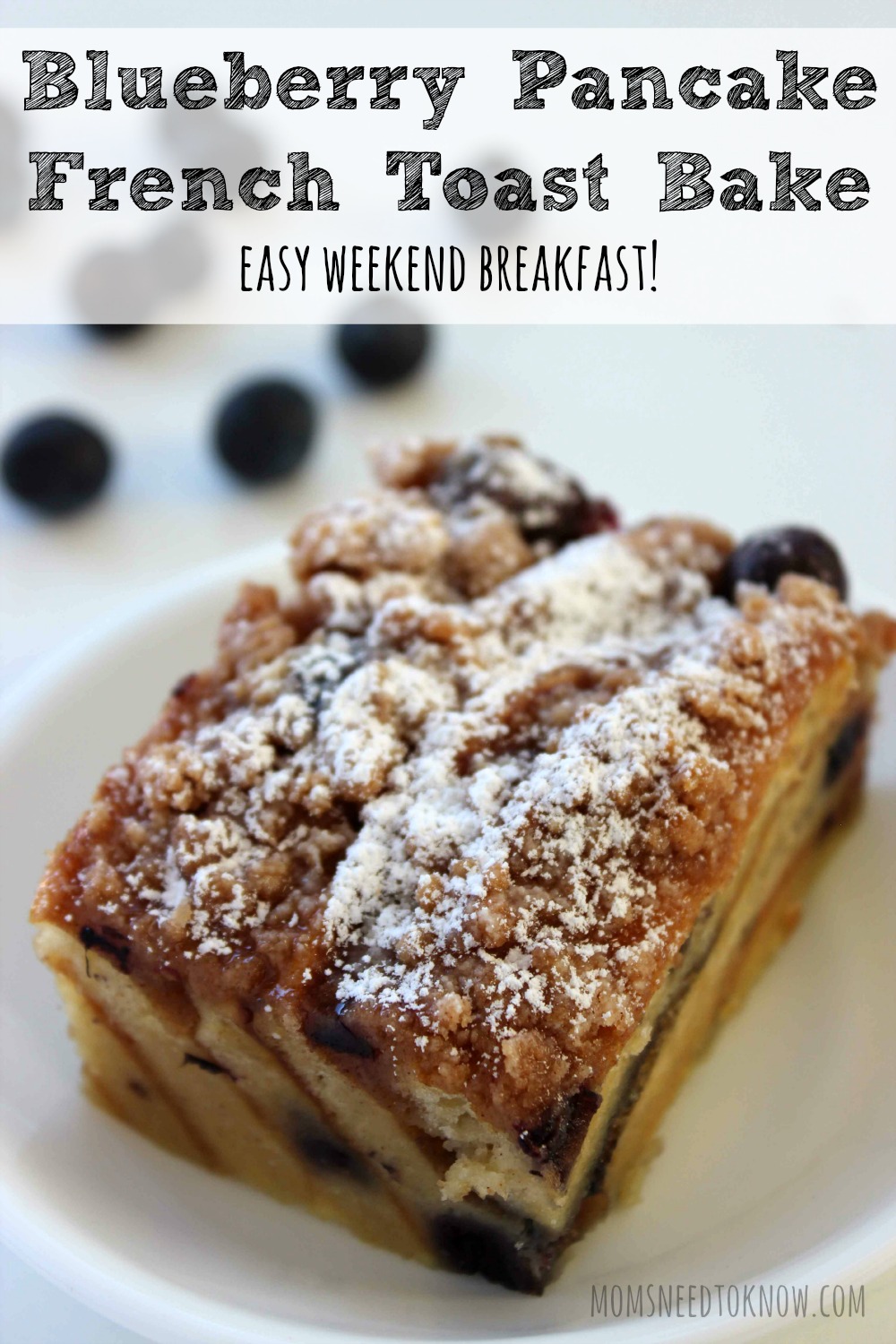 Ok - I have to admit, we don't buy frozen pancakes that often. I prefer to make them myself and freeze them.
But sometimes, we come across a really good deal at the grocery store where, with a coupon and/or the store promotion (Gas Points, Instant Savings, etc), I can pick up boxes of frozen pancakes for about $0.25 each. When that happens, I just CAN'T pass up the deal and will stock the freezer.
It's the same reason that I will use refrigerated cinnamon rolls to make my Cinnamon Roll French Toast Bake as well as my Cinnamon Sugar Donut Holes - because my kids love it and I can usually score a great deal on the ingredients.
I mean - you can just eat the pancakes the way you are supposed to, but why not try to get creative with store-bought frozen pancakes? This Blueberry Pancake French Toast Bake does just that!
This recipe needs to sit for 2 hours after you have assembled it and before you can bake it (so that the egg mixture can soak in). If you are one of those crazy people that actually enjoy getting up early in the morning on a weekend, make sure to allot yourself a total of 3 1/2 hours before you want to serve breakfast.
Anyone who knows me knows that I practically have to be dragged out of bed on the weekends, so my solution is to assemble it the night before and tightly cover it with clear wrap and allow it to soak in the refrigerator overnight. That way, I just wake up in the morning, pop it in the oven and hop in the shower!
Anyway - to make this blueberry pancake French Toast bake, you will need: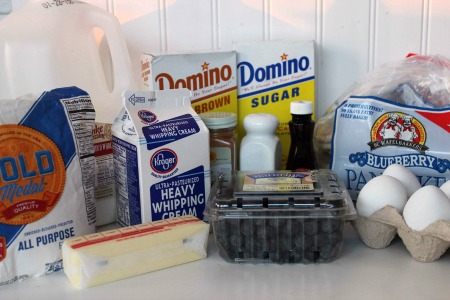 18 Frozen Blueberry Pancakes, thawed
5 Eggs
1 cup Milk
3/4 cup Heavy Cream
1/2 cup Sugar
1 tbsp Vanilla
1 cup Blueberries, divided
1/2 cup Flour
1/4 cup Brown Sugar
1/2 tsp Cinnamon
1/4 tsp Salt
1/4 cup Butter, cold and cut into cubes
Making it is easy!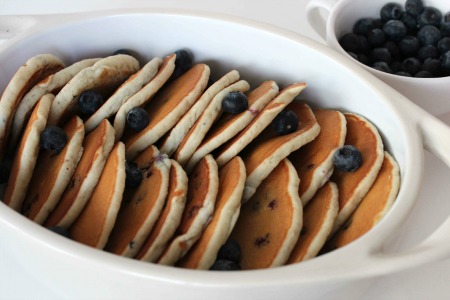 Simply cut your pancakes in half and place them (cut-side down) in a buttered casserole dish, placing about half of the blueberries between the pancakes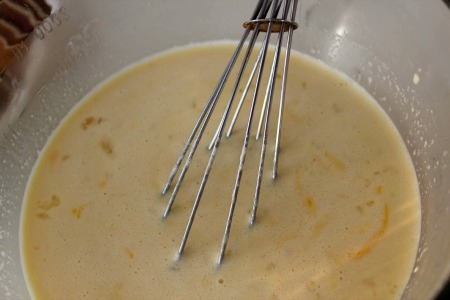 Whisk together the milk, cream, vanilla and eggs and pour over the pancakes, ensuring that all pancakes are coated. Top with the remaining blueberries.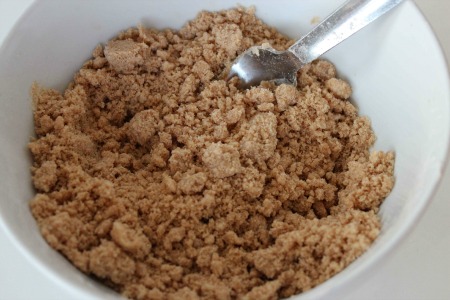 Combine the flour, brown sugar, cinnamon and salt in a bowl. Cut in the butter until you have a coarse crumble.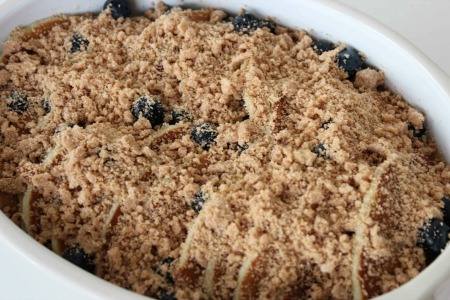 Spread the crumble topping over the pancakes. Cover and refrigerate for at least 2 hours or overnight. Bake at 350F for 1 hour
Scroll down for the complete directions!
Blueberry Pancake French Toast Bake

By Mindi
This blueberry pancake french toast bake is perfect for a weekend morning. Assemble it the night before and just pop it in the oven in the morning!
Yield - 6 servings
Preparation Time - * minutes
Cooking Time - 1 hour
Ingredients
18 Frozen Blueberry Pancakes, thawed

5 Eggs

1 cup Milk

3/4 cup Heavy Cream

1/2 cup Sugar

1 tbsp Vanilla

1 cup Blueberries

1/2 cup Flour

1/4 cup Brown Sugar

1/2 tsp Cinnamon

1/4 tsp Salt

1/4 cup cold Butter, cut into cubes
Directions
Grease a 9x13-inch baking dish with butter.
Cut the pancakes in half and layer in a baking dish with cut side down. As you are doing this, place half of the blueberries between the pancakes
Whisk together the eggs, milk, cream, sugar and vanilla.
Pour mixture over the pancakes, making sure that the liquid coats all the pancakes.
Top with the the remaining blueberries.
In a separate bowl, combine the flour, sugar, cinnamon and salt.
Cut the butter into the other ingredients with a fork or pastry cutter until you have a nice crumb topping.
Sprinkle the topping over the pancakes.
Cover and place in the refrigerator for 2 hours.
Preheat oven to 350.
Bake for about 1 hour, until browned and center is set up.
Allow to cool for 15 minutes.
Dust with powdered sugar before serving.