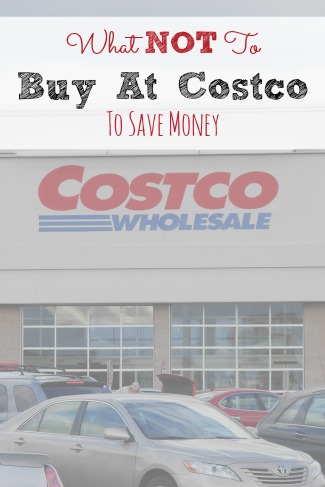 How many times have you walked out of Costco spending WAY more than you intended to spend? If you are honest with yourself, you will say "more than a few times"! It is so easy to overspend at Costco. You walk in to the store just intending to buy a rack of ribs and some muffins and you walk out after spending $300!
If you are getting great deals and can afford to spend the money, then that is fine. However, if you got sucked in by a tasting stand or an impulse buy and ended up spending a fortune...then that is a problem.
As I said in my "What To Buy at Costco" post, we are conditioned to think buying in bulk will save you money but the truth is, Costco is a business too and they need to make a profit. With that in mind, you need to know that some items at Costco just aren't that great of a deal and you should buy elsewhere!
Now - before you say "I shop at Costco because I don't want to have to worry about coupons", let me tell you this: If you simply watch the sales at the grocery stores and stock up whenever there is a good deal and never use a single coupon, you will STILL save money over buying certain items at Costco!
So without further ado, here are the items that you should never buy at Costco:
Soda/pop - while soda prices vary around the country, as a general rule, you should never buy your soda at Costco. I know that, compared to the everyday price of soda in the grocery stores (typically $5 for a 12-pack), Costco prices are pretty good. BUT - you need to keep in mind that soda goes on sale almost every week at grocery stores. During the summer months, I see it as low as $2.25 for a 12-pack, but you can usually get the soda you like (Coke vs. Pepsi) for about $2.50 for a 12-pack about once a month. That is much cheaper than the $10 for a 36-pack at Costco! Simply stock up when it goes on sale and you will save money!
Cereal - even without using coupons, if you just shop the sales and stock up at a good price (not even a great price...just a good price) you will STILL save money on cereal if you take advantage of the drug store and grocery deals!
Bread - check the sales in your area because you can usually always get bread much cheaper at the stores. The one exception to this is gluten-free bread. I have found that the twin packs of Udi's gluten-free breads are a fabulous deal at Costco (more on me going Gluten Free coming soon) !
Toiletries- I have shown you time and time again how you can get free-to-almost free deodorant, toothbrushes, toothpaste, hair care and more at the drug stores.  Some weeks you don't even need to use coupons to do it.
Boneless Skinless Chicken Breasts - this is the protein that we eat the most in my house and I tend to be quite psychotic about it.  If you live near a Wegmans, the price on a similar-sized package is $1.99 per pound every day of the week.  Compare that to the $2.99 per pound price at Costco!  The Costco price is STILL better than the non-sale price at most grocery stores...but just watch the sales at your store because you can often get it cheaper!
Dried Spices - unless you will use up that huge bottle of Oregano within a year, you are better off buying them in smaller quantities.  Dried spices only have a shelf life of about a year and, while they don't "go bad", they will lose most of  their flavor after that.  A better solution? Grow your own herb garden in the summer and freeze the herbs to get you through the winter!
Books/CDs/DVDs - it used to be that Costco had much better prices on these items, and for some books, that is still true.  But these days, you will often find better prices on Amazon.com!
Like I said, Costco does have some great prices and there ARE certain things that you should be buying at Costco.  I just want you to be careful and not overpay for others!
Do you have any other products to add to the list?