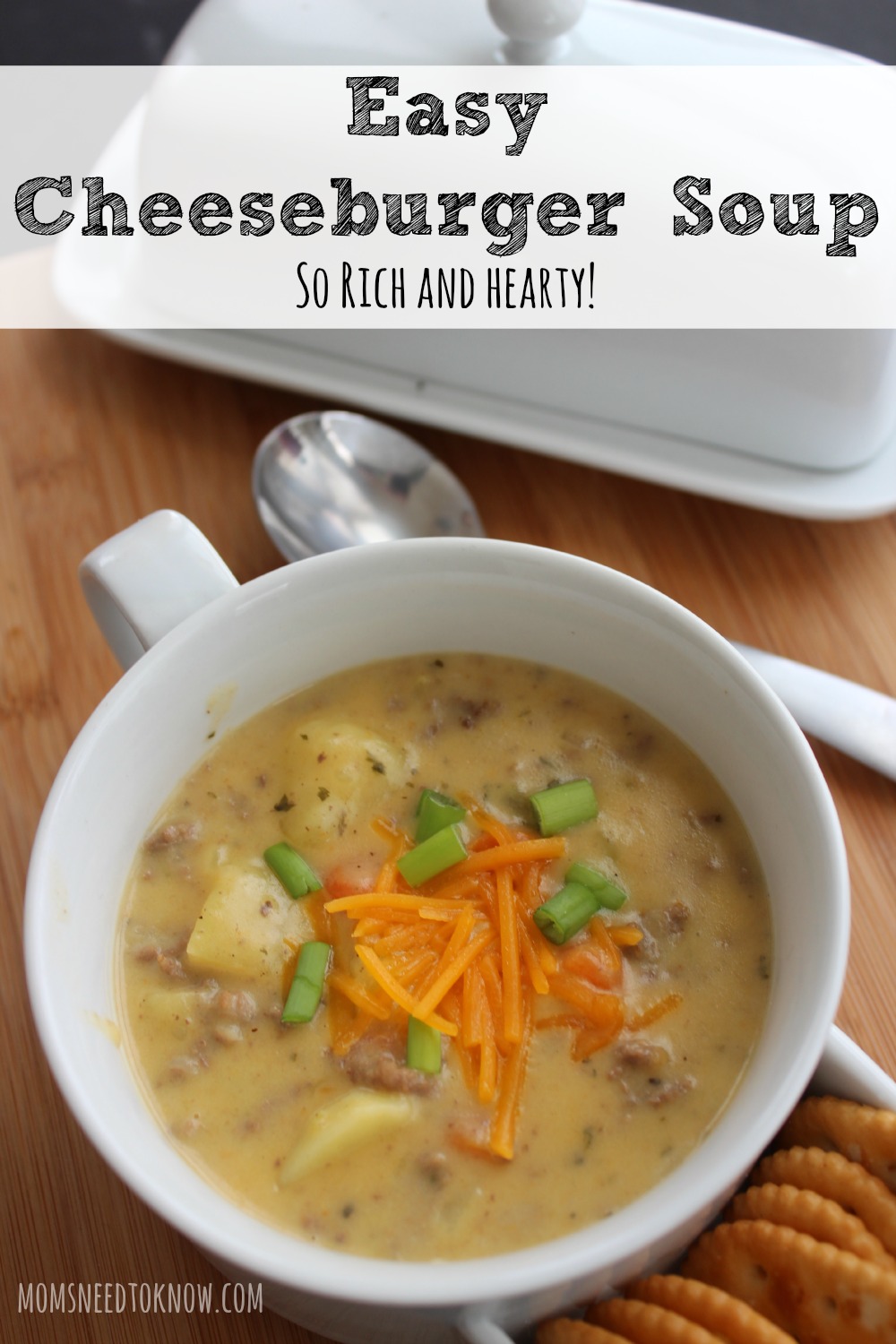 Spring is just around the corner, but we still have quite a few cold and damp days left. The kind of days where you want a nice bowl of soup and this cheeseburger soup is a perfect hearty comfort food that will warm you to your toes.
This soup really only takes a few minutes to throw together and only about 20 minutes to cook once it is boiling. It's really a very easy quick soup recipe as long as you already have all the ingredients on hand!
Of course, if you have a busy day planned, you can easily turn this in to a crockpot cheeseburger soup recipe - just follow the directions below and add everything to your crockpot and set it on low for about 4-5 hours (adding the roux in the the last 30 minutes).
One thing though - any soup with potatoes make in the crockpot tends to thicken more quickly than when made on top of the stove.  If you make this cheeseburger soup recipe in your crockpot, you may not NEED to add the flour/milk mixture ( but you might need to add the extra butter...the flour is a thickener...the butter adds creaminess) and it will really depend on personal tastes. I find that potato soup in the crockpot doesn't need a thickening agent like a roux. But that is just my preference!
If you decide to make this in a crockpot, you will just have to try it to see how it works best for your tastes!
To make this cheeseburger soup recipe , you will need: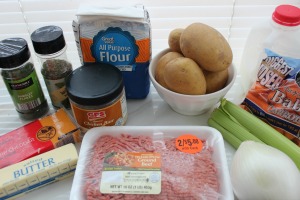 Ingredients:
1 lb Ground Beef
1 cup chopped Onion
1 cup sliced Carrots
3/4 cup diced Celery
4 cup Potatoes diced
1 tsp Basil
1 tsp Parsley Flakes
4 tbsp Butter
3 tsp Chicken Base or 3 cup Chicken Broth
1/4 cup Flour
8 oz shredded cheddar cheese
1 1/2 cup Milk
1 tsp Salt
1/2 tsp Black Pepper
Scroll down for the complete directions!
You might also want to try these other soup recipes:
Title

By Mindi
This hearty Cheeseburger Soup recipe is so easy to make and sure to warm you up on a cold winter day!.
Yield - 6 servings
Preparation Time - 15 minutes
Cooking Time - 30 minutes
Ingredients
1 lb Ground Beef

1 cup chopped Onion

1 cup sliced Carrots

3/4 cup diced Celery

4 cup Potatoes diced

1 tsp Basil

1 tsp Parsley Flakes

4 tbsp Butter

3 tsp Chicken Base or 3 cup Chicken Broth

1/4 cup Flour

8 oz shredded cheddar cheese

1 1/2 cup Milk

1 tsp Salt

1/2 tsp Black Pepper
Directions
Brown the ground beef and drain.
In a medium to large pan, melt one tablespoon butter
Saute onion, carrots, parsley flakes, basil and celery until onion is transparent.
Add the broth, potatoes and beef and bring to a boil.
Reduce heat, cover and simmer about 15 minutes or until potatoes are tender.
In a non-stick skillet, melt remaining butter and add the flour. Cook and stir for 5 minutes or until roux is bubbling.
Add roux to soup and bring to a boil and stir for a couple of minutes.
Reduce heat to low and add cheese, milk, salt and pepper.
Cook and stir several minutes until cheese melts.
Serve and enjoy!