Chicken cacciatore is a one-pot, rustic dish that's comforting and absolutely delicious. And you don't have to be intimidated by the fancy name. It's incredibly easy to make!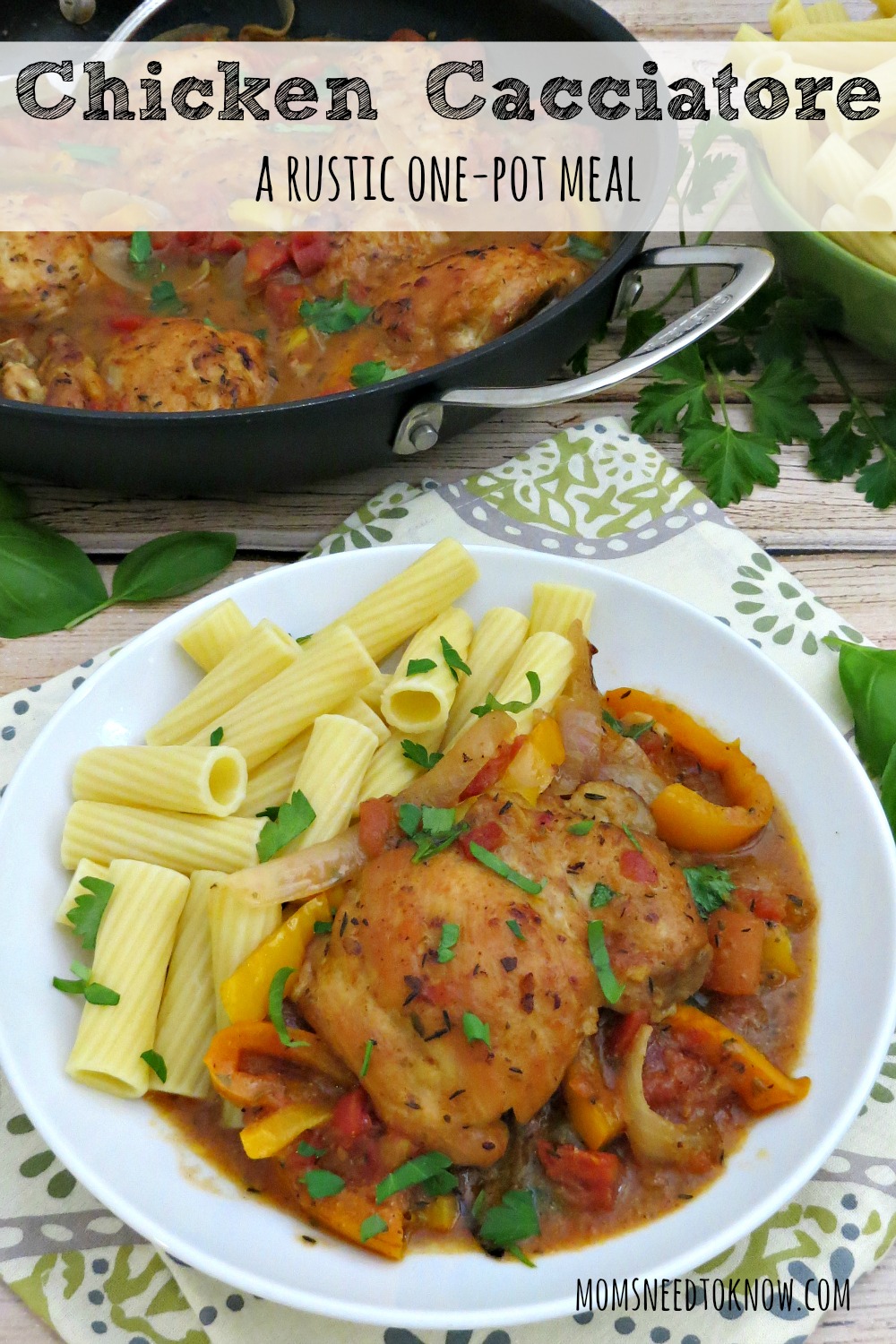 If you haven't figured out by now, we love Italian food in this house and I love 1-pot meals even more (less to clean). This Chicken Cacciatore recipe is one of my go-meals because I usually have everything I need whenever I want to make it and even if I don't have these exact ingredients, it is so easy to customize to whatever you do have!
Like most Italian dishes, you'll find different variations depending on what region of Italy it's from. Traditionally, they don't dredge the chicken in flour, but we like the consistency that it gives the sauce. It's not thick like spaghetti sauce, but it's also not a broth. It's somewhere in between.
As a general rule, I use chicken breasts for most of my chicken recipes, but there are a few times that I will use chicken thighs (like my crockpot chicken tacos).
We like to use boneless skinless chicken thighs because the dark meat gives this a rich, savory flavor. Traditionally, you leave the skin on, but that's totally optional. I grew up with my mom always taking the skin off of the chicken and now I can't stand chicken skin. We prefer to remove it, but feel free to leave it on if your family likes the skin!
Another difference you'll see in cacciatore recipes is the vegetables they use. Some recipes have none at all while others have peppers, onions, mushrooms, carrots, or even olives. I say add whatever you like (and what your family will eat because, let me tell you, if my children even SAW an olive in anything, they wouldn't touch it!
That said, the cooking method is the same. Brown the chicken and veggies, deglaze the pan, add tomatoes, wine, and/or broth, and let it stew until the chicken is done.
The result is a rich and flavorful dish that's delicious over pasta, rice, or even polenta. And some just eat it with a big hunk of bread (like my homemade beer bread)!
Scroll down for the recipe!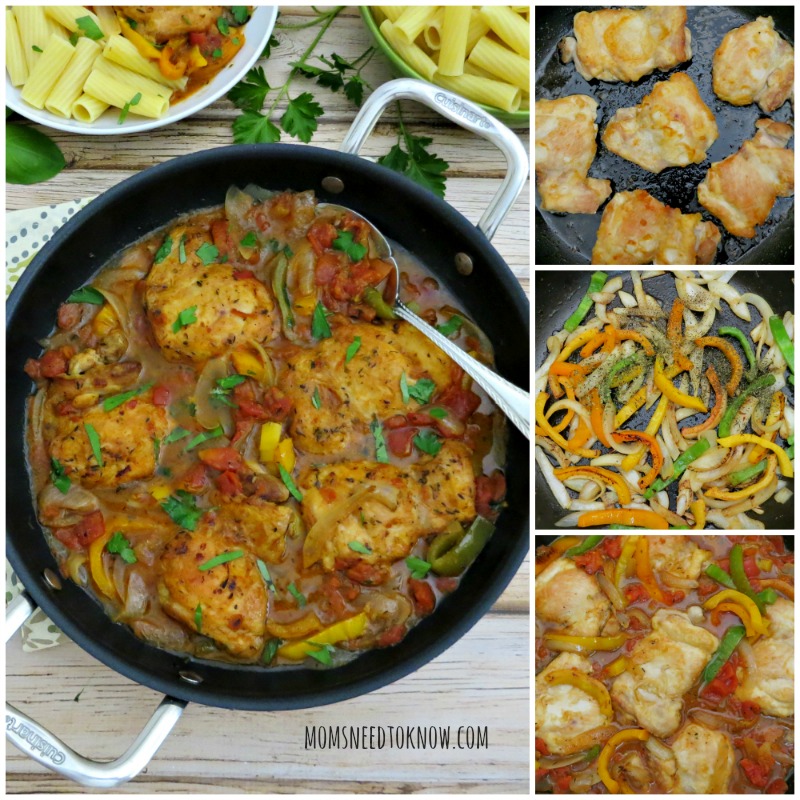 Ingredients
2

tablespoons

olive oil

Flour for dredging

appx. 1 cup

6

boneless

skinless chicken thighs

1/2

green

orange, and yellow pepper, sliced

1

small onion

sliced

1

cup

dry white wine

2

cups

low-sodium chicken broth

2

cups

diced tomatoes

with the juice

3

garlic cloves

peeled and minced

1/2

teaspoon

dried thyme

1/2

teaspoon

dried oregano

Salt and pepper to taste

Small handful fresh Italian parsley

chopped

2

tablespoons

butter

Small handful fresh basil

sliced
Instructions
Trim off all visible fat from the chicken thighs, and lightly dust them with flour. Shake off any excess.

And the oil to a wide skillet over medium-high heat.

When the oil is hot, add the chicken and cook for 5 to 6 minutes on each side or until nicely browned.

Remove the chicken from the pan and set aside.

Add the onions and peppers to the pan and cook for 4 - 5 minutes or until lightly charred.

Add garlic, oregano, and thyme and cook for one minute or until fragrant.

Pour in the wine, and scrape up any browned bits of food in the bottom of the pan.

Let the wine simmer and reduce for about 1 to 2 minutes.

Add the chicken broth, tomatoes, and return the chicken thighs to the pan. Nestle the chicken down in the sauce and spoon some over the top.

Turn the heat down to medium-low, cover the pan, and simmer gently for 30 to 35 minutes or until the chicken is cooked through. You don't want the sauce to reduce too much, so adjust the heat accordingly to keep this at a very gentle simmer.

When the chicken is done and the sauce has slightly thickened, taste the sauce and add salt and pepper to your liking.

Add the butter and parsley and stir to combine until the butter is melted.

Serve over pasta, rice or polenta with the fresh basil sprinkled on top.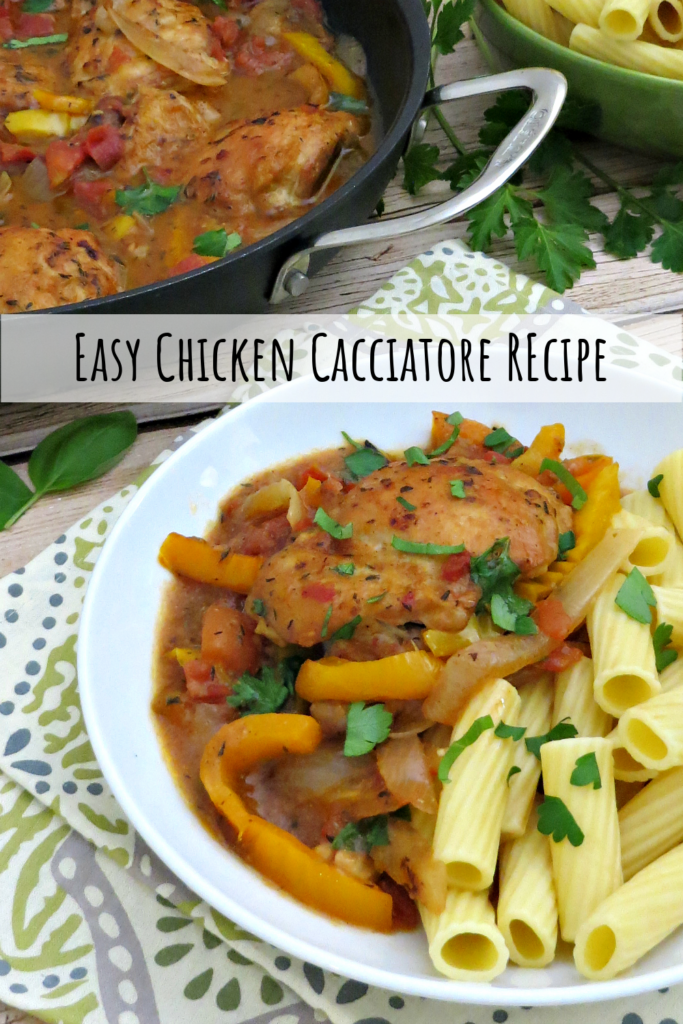 Chicken Cacciatore Recipe