This creamy chicken and vegetables dish is made without the use of processed canned soup.  It's absolutely delicious and made with real foods!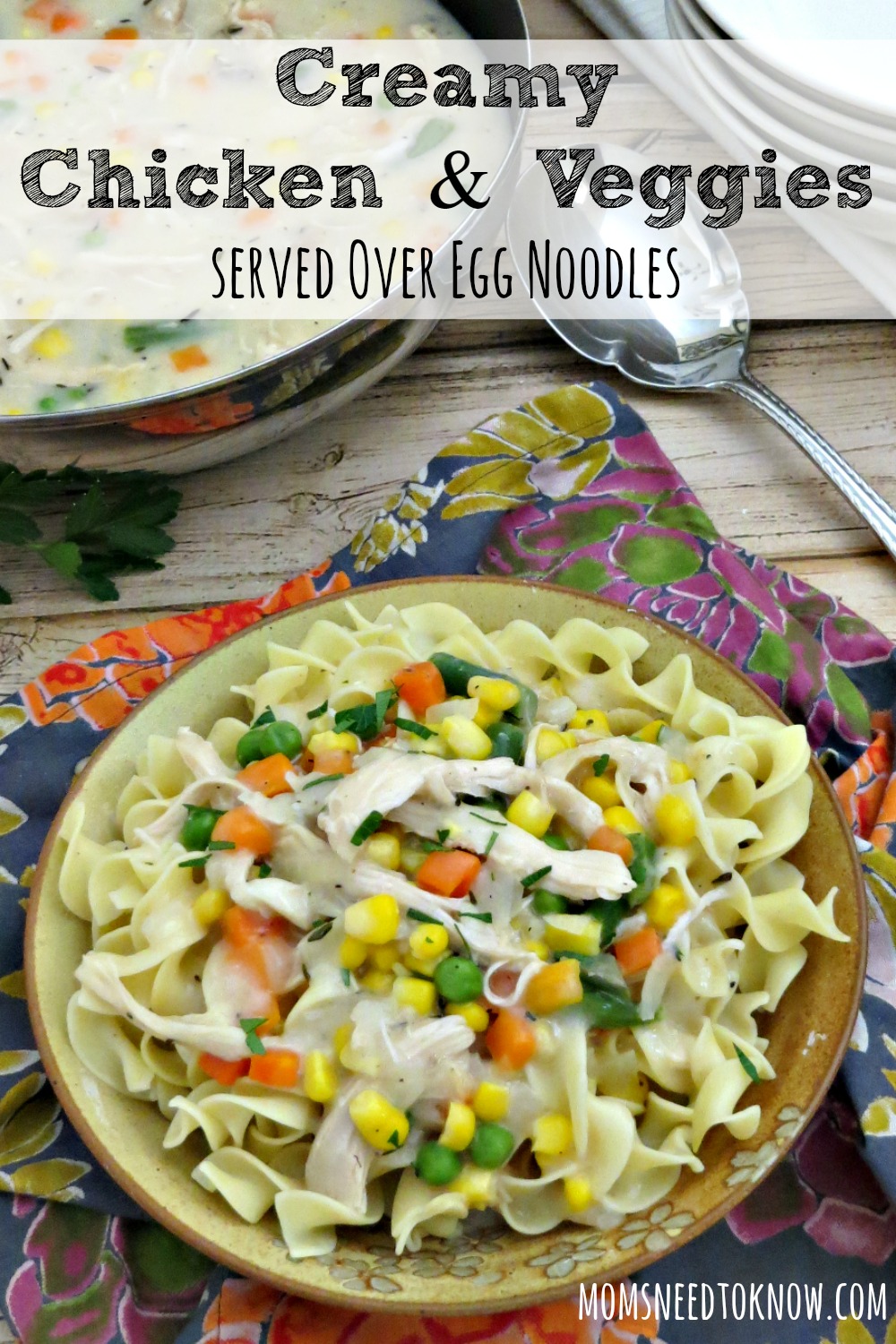 Sometimes you just want something simple and quick for dinner, or traditional "comfort food". The problem with that is that so many of those comfort food classics rely heavily on the use of canned "Cream of" soups. I long ago stopped using and canned cream of chicken soup to flavor my dishes )and I now make own own homemade cream of mushroom soup), but I still like some of those dishes that used the canned stuff.
Fortunately, it is very easy to replicate the creaminess of those soups and this creamy chicken and vegetables dish has creaminess and none of the artificial ingredients.
I really kind of stumbled on to this recipe. With the exception of the Parmesan cheese, this is the exact same sauce I use for my chicken pot pie, which is actually how this dish was born. I was making pot pie one night and realized I had forgot to pick up pie crust (and wasn't in the mood to make pie crust from scratch), so I used egg noodles instead, and my family loved it.
The Parmesan cheese just adds another layer of flavor and also helps to thicken the sauce.
Frozen vegetables make this quick and easy, but you could really use any vegetables you want. If my family wasn't completely anti-mushroom, I would probably add them as well.
We used frozen chicken that was left over from a previous meal, but rotisserie chicken would be great in this and give it even more flavor! It's a great way to use up some leftover chicken (and if you don't have any leftover chicken, you could always just poach a few chicken breasts and then shred the meat)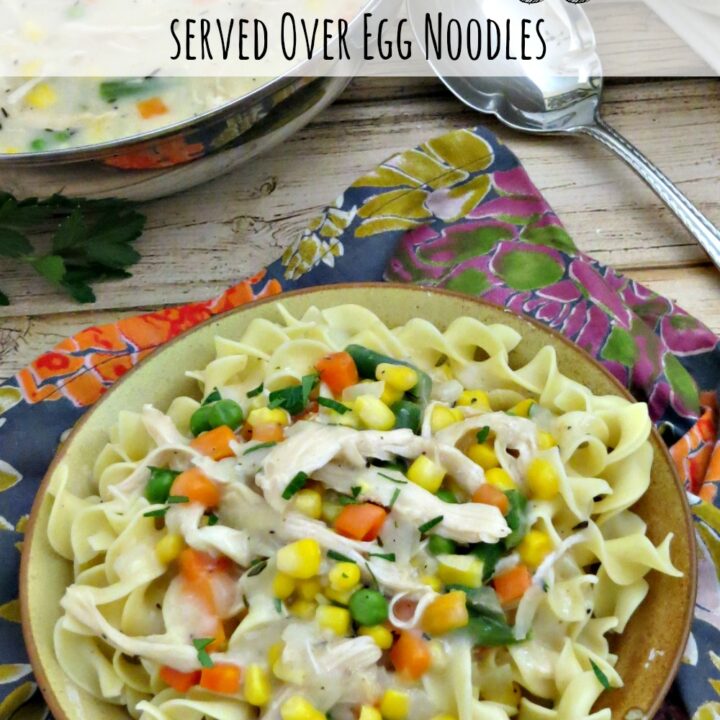 Creamy Chicken and Vegetables | Serve Over Egg Noodles
This creamy chicken and vegetables dish is made without the use of processed canned soup. It's absolutely delicious and made with real foods!
Print
Pin
Ingredients
1

tablespoon

olive oil

1/2

cup

diced onions

1

large garlic clove

minced

1/2

teaspoon

dried thyme

1/4

teaspoon

salt

1/4

teaspoon

pepper

2

cups

shredded chicken

1 10-

ounce

bag frozen

mixed vegetables

32

ounces

chicken broth

1

teaspoon

hot sauce

optional

4

tablespoons

flour

4

tablespoons

Parmesan cheese

finely grated

1 12-

ounce

bag cooked egg noodles
Instructions
Heat the olive oil in a large skillet over medium-high heat.

Add the onions and cook for 3 to 4 minutes.

Add the garlic and all of the seasonings. Cook for another minute or until fragrant.

Add the mixed vegetables, chicken, and the broth, reserving 1/2 cup.

Bring the sauce to a simmer and cook over medium heat for five minutes.

While the sauce is simmering, add the flour and reserved broth to a small bowl and whisk until smooth.

Pour the flour/broth mixture into the pan and stir. Simmer for 3 to 4 minutes to thicken, stirring frequently.

Turn the heat down to low, stir in the hot sauce and sprinkle in the Parmesan cheese, 1 tablespoon at a time. Completely work the Parmesan cheese in before adding more. Adding all of the Parmesan at once may result in it getting "gummy" and clumping up rather than melting into the sauce.

Taste and adjust the salt, pepper, and hot sauce to your liking.

You can either serve the sauce over the egg noodles or mix it all together.

Garnish with minced Italian parsley, if desired.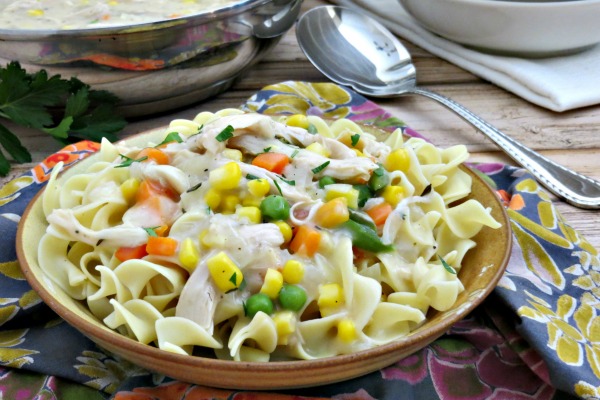 Creamy Chicken and Vegetables