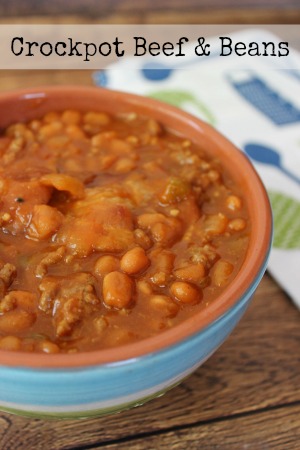 I love baked beans, but they are more of a side dish than anything else.  This crock pot beef and beans recipe takes baked beans from side dish to entree.  Packed with protein, it is very filling and satisfying .  Making it in the crockpot means that you won't be heating up the house (especially important in the summer).  Serve it with a side salad and some bread or biscuits and you have a complete meal!
It's important to make sure that you "half cook" the bacon before you add it to your crock pot. Otherwise, you won't really get the flavor of the bacon in to your beans and it won't cook down and you will just have some slimy pieces of bacon floating in your crockpot!
Anyway, to make this crock pot beef and beans recipe, you will need:
Ingredients:
1 lb lean ground beef
1 lb Bacon
1 medium Onion, chopped
1 green or red Bell Pepper, chopped
4 medium can Pork and Beans (approx 60 oz total)
3/4 cup Brown Sugar
1 tbsp Minced Garlic
2 tbsp Mustard
2 tbsp Worcestershire Sauce
3/4 cup Ketchup
1 cup Barbecue Sauce
There are just a few simple steps to getting this ready
Directions:
In a medium skillet, brown ground beef along with the onion and pepper.

Drain the ground beef mixture and add to crock pot.
Add remaining ingredients except bacon and stir to mix well.
Cut the bacon strips in to quarters and fry until most of the fat is rendered out and the meat is slightly browned.
Add bacon pieces to top of crock pot.
Cook on low for 3-4 hours.
Serve with a side salad and some bread.  Enjoy!
You might want to try these other crockpot recipes: