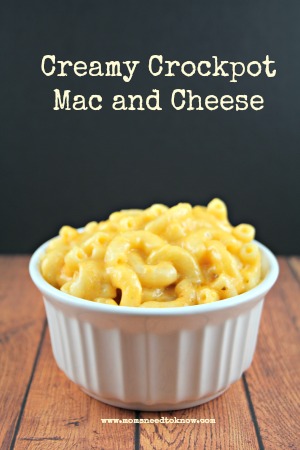 So we have a problem in our house...my daughter eats about 4 foods and won't try anything else. One of those foods is the macaroni & cheese "in the blue box" and I have been on a quest to find a homemade version. Last month I came up with my easy macaroni and cheese recipe and, while my husband and boys loved it, she wouldn't even try it.
Sigh...the quest continues.
We were doing a lot of running around that day and I wanted to give crock pot mac and cheese a try. I had tried it in the past, but had a problem with the cheese curdling or it drying out, but I know that so many people are able to make it. Thanks to Paula Deen, I now have the best recipe for crock pot mac and cheese to add to my lineup!
But my daughter still wouldn't try it.  I think I need to find the pasta that comes in the blue box...and maybe add some orange food coloring for her to try it.  Then again, maybe I can just wait for her to outgrow her picky-eater phase....
Serve this as a side dish or as a meal all by itself (although the next time I make it as a meal, I think I might double the recipe.  My 10-year old was practically licking the inside of the crockpot!).  I paired it with a cup of tomato soup and it was delicious!
One last thing - I am not usually a fan of using slow cooker liners (it's really not that hard to clean my crockpot), but I did use them this time because I was concerned about it sticking too much to the pot.  I'm glad I did because it made clean-up a breeze!
Scroll down for the complete directions!
You might want to try these other crockpot recipes: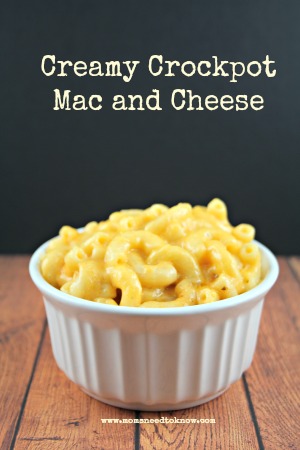 Ingredients
2

cups

uncooked elbow macaroni

4

Tbsp

butter

2 1/2

cups

grated sharp cheddar cheese

1/2

cup

sour cream

1

10 3/4 ounce can condensed cheddar cheese soup

1/2

teaspoon

salt

1

cup

whole milk

1

teaspoon

dry mustard

1/2

teaspoon

black pepper
Instructions
Boil the macaroni in water until just slightly undercooked. Drain

In a medium saucepan, combine butter and cheese. Cook & stir until the cheese melts.

Spray the inside of your slow cooker with non-stick spray (or use a

crock pot liner

Add the cheese/butter mixture, sour cream, soup, salt, milk, mustard and pepper to your crockpot and stir well.

Add the drained macaroni and stir again.

Cook on low for about 2.5 - 3 hours, stirring occasionally
Notes
The original recipe called for eggs (because I was afraid of curdling), but I skipped those and it turned out fabulous!