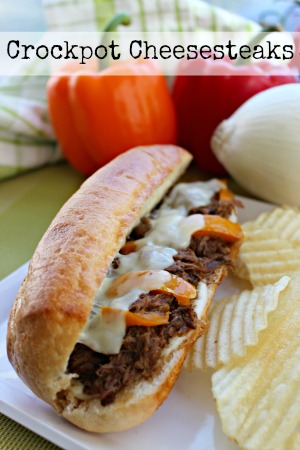 Cheese steak "purists" (and most people from Philadelphia, PA) will tell you that there is no such thing as a crockpot cheese steak recipe and, to some extent, I agree with them. Cheese steaks should be made on a flat-top grill and you should be able to smell them cooking about a block away.
On the other hand, there is something to be said for wanting the flavor of a Philly-style cheesesteak without stinking up your house for days. This crockpot cheesesteak recipe will do exactly that!
Having lived in the Philadelphia area (almost) my entire life and having traveled the country quite a bit and having seen some of the pitiful excuses for cheesesteaks, there are a few truisms about cheesesteaks (even if we can't decide if CheeseSteak is 1 word or 2!):
The roll is everything. Amoroso rolls are absolutely the best (and now available frozen nationwide if you can't find them fresh in your grocery store). If you can't find Amoroso, get a good quality hoagie/sub roll. No hot dog rolls, no ciabatta, nothing fancy. Just a plain old hoagie/sub roll.
You want to trim your roast of all visible fat before you place it in your crockpot. Top Round or Rib Eye is best for an authentic Philly cheesesteak.
There is some debate over whether a cheese steak should be VERY thin slices or meat chopped in to tiny pieces. I can't stand cheesesteaks made with sliced beef. I want my cheese steak chopped! This recipe will allow you to shred the beef in to tiny pieces - you want it REALLY small - almost smaller pieces than ground beef. You can do this easily with 2 forks once the beef is completely cooked.
The cheese: once again - Philly people have their loyalties. Some people prefer provolone (I do) but MANY people prefer Cheez Wiz (including people I know who would never eat Cheez Wiz on anything else except a cheesesteak). And still some people like just plain American cheese. I am going to tell you that you should at least TRY a cheesesteak with Cheez Wiz at least once in your life, but I am squarely on Team Provolone!
Ok - let's get to the crockpot cheese steak recipe! To make it, you will need:
Ingredients: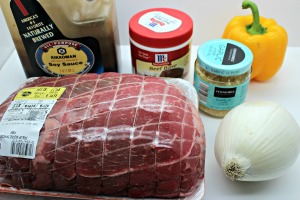 2 lb Beef Roast (top round or rib eye)
1 1/2 cup beef broth
1/4 cup soy sauce
1 tbsp minced Garlic
2 Onions sliced
1 peppers sliced
Provolone cheese
Hoagie or Sub Rolls
Scroll down for the complete directions!
You might also want to try these crockpot recipes: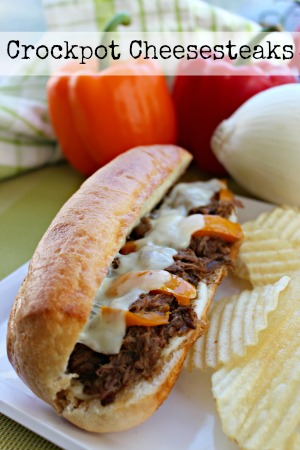 Ingredients
2

lb

Beef Roast

top round or rib eye

1 1/2

cup

beef broth

1/4

cup

soy sauce

1

tbsp

minced Garlic

2

Onions sliced

1

pepper sliced

Provolone cheese

Hoagie or Sub Rolls
Instructions
Place beef, broth, soy sauce, garlic, and 1/2 of the peppers and 1/2 the onions in the slow cooker.

Cook on low about 8 hours.

Use 2 forks to shred the beef in to tiny pieces. Remove any fat particles/pieces that you see.

Add remaining onions and peppers and cook for another hour.

Preheat oven to 350.

Open sub/hoagie rolls and place provolone on each side and heat until cheese is melted and bread is slightly crunchy.

Use a slotted spoon to scoop up some of the meat mixture (letting the juices drain as much as possible)

Top the bread & cheese with the meat mixture and serve!