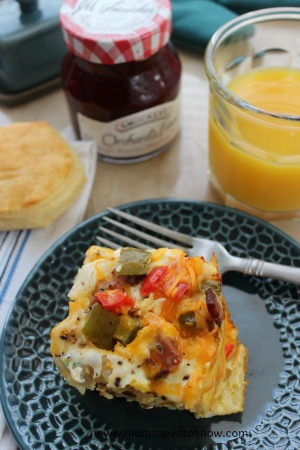 I love my crockpot - that's a fact. If you followed my Freezer to Crockpot series, you know that I spent 10 weeks making 4 meals each week (40 freezer to crockpot meals in total) specifically to go in the freezer for the days that I just want to dump something in my crockpot!
But I have to admit, I am not very good at making breakfast in the crockpot, although I do like a good breakfast casserole recipe. The problem is, most recipes only have to cook for about 4 hours, which means that, if I want to serve it to the kids before school, I need to get up to turn on the crockpot at 2:00am.
That is just.not.happening.
Why did it never occur to me that I could make an egg bake in the crockpot by simply cooking it on the "Warm" setting for 8 hours? It turns out, it will work - and it will still be nice and moist like most dishes in the crockpot.
SCORE!
To make it, you will need: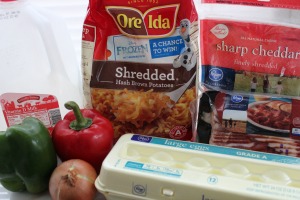 INGREDIENTS
1 bag Frozen Hash Brown Potatoes (32 oz)
1 lb Bacon
1 Small Onion diced
8 oz Shredded Sharp Cheddar Cheese or a Cheddar-Jack blend of cheese
1/2 Red Bell Pepper diced
1/2 Green Bell Pepper diced
12 Eggs
1 cup Milk or Half & Half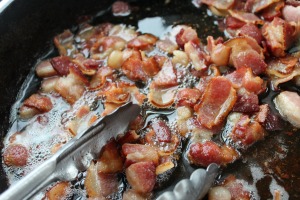 First you are going to want to fry up some bacon. You can even do this at any point during the day (or you can even cook bacon in the oven),  Make sure to get it nice and crispy!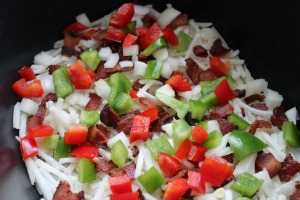 Next you are going to start layering your ingredients (minus the eggs and milk) in your crockpot.  I am using a 4.5 quart crockpot and I wouldn't use one any bigger unless you are going to double the recipe...it will cook just too fast)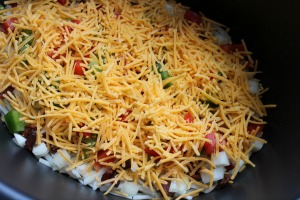 Beat up your eggs and milk together and pour it evenly over your layers.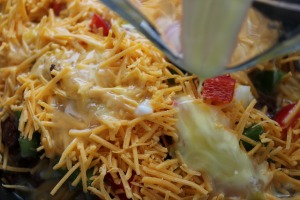 Turn the crockpot on low for 4 hours or warm for 8 hours and in the morning you should have this! Just grab a spoon and start scooping out on plates to serve!
See more detailed directions below!
Try some of these other breakfast casserole recipe: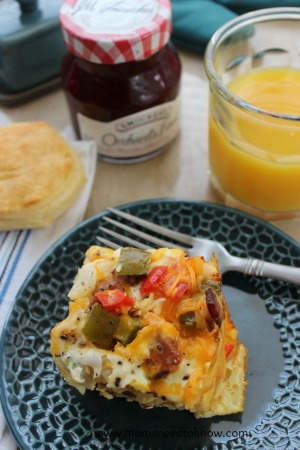 Crockpot Breakfast Casserole Recipe
A delicious breakfast casserole recipe that can be made in your crockpot! Serve with freshly squeezed juice and a biscuit and you have a fabulous Sunday morning breakfast (or even a weekday breakfast to send the kids off to school with full stomachs!)
Print
Pin
Ingredients
1

bag Frozen Hash Brown Potatoes

32 oz

1

lb

Bacon

1

Small Onion diced

8

oz

Shredded Sharp Cheddar Cheese or a Cheddar-Jack blend of cheese

1/2

Red Bell Pepper diced

1/2

Green Bell Pepper diced

12

Eggs

1

cup

Milk or Half & Half
Instructions
Cut bacon in to small pieces, cook and drain (You could use precooked bacon to speed up the process; you can also cook it ahead of time if you don't feel like frying up a bunch of bacon before you go to bed!).

Add half of the bag of hash browns to bottom of your slow cooker.

Top with half your bacon, onions, green and red peppers.

Sprinkle with half your cheese.

Repeat the same order of ingredients with the remaining hash browns, bacon, onions and peppers

In a medium sized bowl beat eggs and milk together.

Pour egg mixture over your casserole.

Add salt and pepper on top.

Cook on Low for 4 hours or warm for 8 hours.
Notes
Cook time is based on cooking it on Low. If you cook it on Warm, your time will be 8 hours.