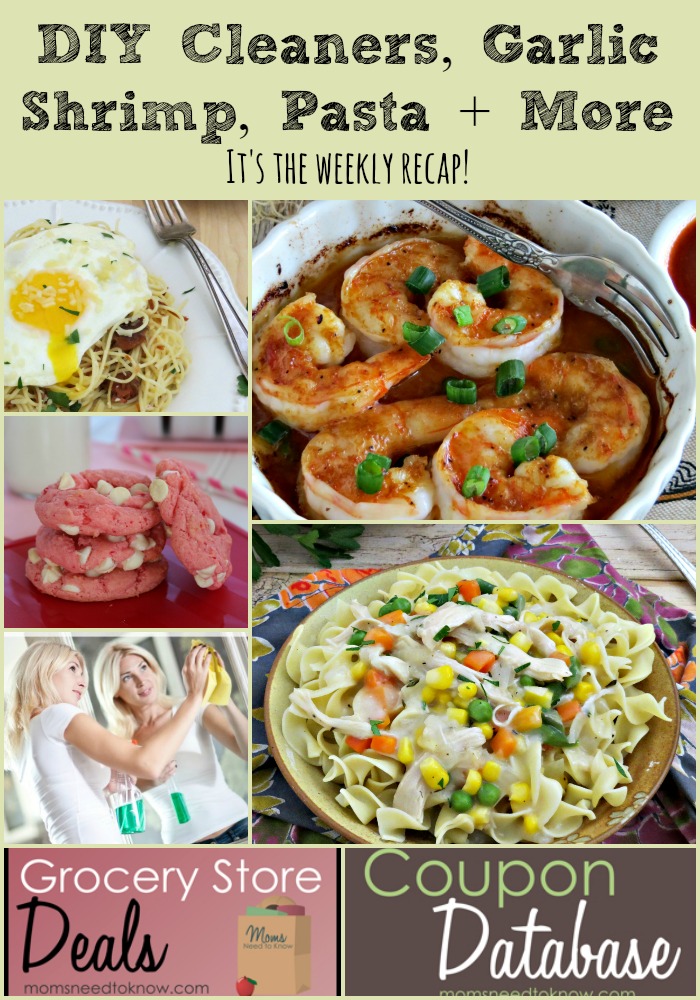 Happy Valentine's Day! I hope that you were able to spend the day with someone that you love!
This was a week full of ups & downs for us. Denver won the Super Bowl, my husband finally shaved off his beard (which I really hate - he has red hair and I always tease him that he looks like the Brawny Paper Towel Guy when he lets it grow) and my nephew left for 6 years in the Navy (2 years of school/training for his specialty and then 4 years of Active Duty)
And while I am so proud of my nephew for stepping up to serve his country, I would like to ask that nobody do anything for the next 6 years to cause a war....'kay? Thanks!
Anyway....
Welcome to our weekly recap of everything that you may have missed on our little corner of the Internets! If you would like to get this weekly recap each Sunday - just subscribe to our weekly email list!
Weekly Recap for February 7 - 13, 2016!
Latest Recipes:
Creamy Chicken and Vegetables Recipe | Serve Over Egg Noodles -  This creamy chicken and vegetables dish is made without the use of processed canned soup. It's absolutely delicious and made with real foods!
Ham and Egg Breakfast Pasta recipe -  Breakfast pasta is becoming more popular and this recipe can be made with ham or bacon. The runny yolk acts as a sauce for the pasta and is so yummy!
Strawberry White Chocolate Chip Cookies Recipe -  This white chocolate chip cookies recipe is made with cake mix and is so easy to make! You can change the flavor of the cookie simply by using any flavor cake mix!
Broiled Garlic Shrimp with Sriracha Sauce -  Perfect as an appetizer or even a light dinner, this garlic shrimp with Sriracha sauce is easy to make and full of flavor. Serve with toasted bread slices!
Featured Posts
Homemade Window Cleaner + More DIY Cleaners! -  This homemade window cleaner costs just pennies to make and can be used for so many other things besides windows - cutting grease, cleaning countertops and more!
15 Amazing Uses For Vinegar -  Vinegar is so inexpensive and has so many uses beyond making salad dressings
Saving Money
Coupon Insert Preview | Week of February 14, 2016 - Find out what coupons will be in the newspaper this Sunday so that you can decide if you will want to purchase additional copies of the paper!
Grocery Deals and Coupon Matchups Updated - find all the best deals for the upcoming week at CVS, Rite Aid, Walgreens, Kroger, Wegmans, Giant of PA and more!
Did you know that you can get the weekly recap by email? This will be great for you current subscribers who get the daily emails because they don't want to miss anything, but would prefer to receive fewer emails. It's really simple! Just head to my subscribe page and complete the form. You will have to confirm your subscription but, once you do, you can expect to get an email with everything you missed every Sunday morning!