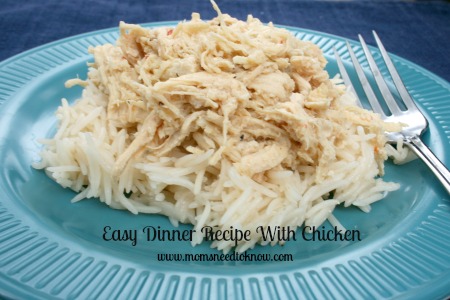 Chicken is really the main meat that we eat in our house and I am always looking for more easy dinner recipes with chicken! The recipe pictured above may not be the prettiest of dishes (I add more "color" to the meal by serving it with a side of spinach, broccoli or leafy greens), but it is probably the easiest chicken recipe that I have in my arsenal of recipes!
There are only 3 ingredients and it cooks in the crockpot (I usually use this 4-quart crockpot for this recipe) in about 4 hours on high. With this recipe, I don't even have to plan ahead and defrost the chicken. I have thrown this together with chicken that was frozen so solid that it would probably injure someone if you threw it at them (although I don't know why you would DO that) and it turned out just as perfect as if I was using fresh chicken that I just brought home from the store! This is a great recipe to have to use up those chicken breasts that you got on sale at rock-bottom prices and threw in the freezer!
I have experimented with many salad dressings for this recipe and what usually goes very best in our house is when I use just plain old Italian dressing. I have also used Balsamic dressing as well as an Oriental Sesame dressing and they turned out well. Just stay away from the "creamy dressings". They won't turn out well!
Anyway - to make this, you will need:
about 1 1/2 lbs boneless skinless chicken breasts (fresh or frozen)
1 small bottle Italian salad dressing
White or brown rice, prepared according to package directions
Directions:
Place chicken in crockpot.  Pour entire bottle (8 oz) of dressing over chicken.
Place cover on slow cooker and cook at high for 4 - 5 hours or until chicken shreds easily with 2 forks
Serve over cooked rice with a green vegetable on the side
I would love to know if you tried this and your family like it!
More easy dinner recipes with chicken: