This easy fried rice recipe is so easy to make and will save you money on the Chinese takeout! It cooks up pretty quick and can easily be customized!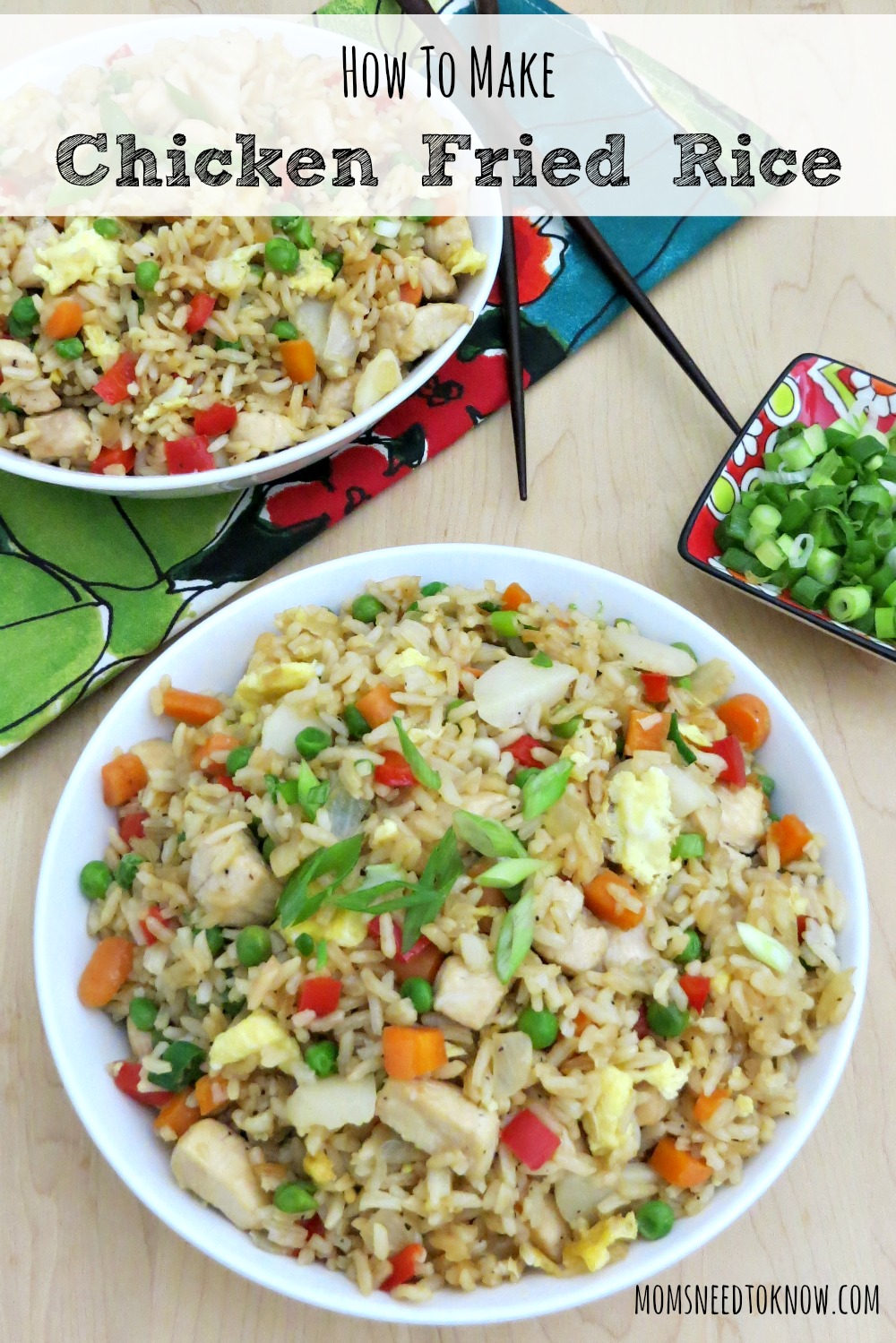 I love making one-pot dinners (my family's favorite is my Chicken Caprese recipe, by we can't live on that alone!) because it makes clean-up so stinkin' easy and this chicken fried recipe is so delicious and fun to make!
This is a perfect one-pot meal, and you can easily adjust it to suit your tastes! You can add or leave out any vegetables you like, and the same goes for the meat. You can easily swap out the chicken for some shrimp, beef or pork (obviously, you would have to adjust the cooking times based on what protein you are using).

And of course if you wanted to make it vegetarian, you could just leave the meat out completely or add some tofu. Even better, without the meat it turns in to a great side dish for my Bang Bang Shrimp recipe!
You'll definitely want to use cold rice for this (leftover rice is perfect). Hot rice still has too much moisture, and it's nearly impossible to get that "fried" rice texture. I usually make mine the day before, because I like it very cold and dry. If you don't have time to do that, you can make your rice and then spread it on a baking sheet to cool and dry out in the refrigerator, which will take 2-3 hours.
My #1 tip for making fried rice is to have everything prepped and ready to go. Once you start adding ingredients to the pan, this goes very quick!  To make this even quicker, you could even buy a frozen vegetable blend and skip the chopping.
I used one large chicken breast, which was about 1.5 cups of meat. If yours are small, you may need two.
Sesame oil has a very strong flavor so if you have never used it before, you might want to start with a half a teaspoon and work your way up. It also shouldn't be heated too much and is actually more of a flavoring than a cooking oil.
Adding a little butter is a trick I learned years ago after noticing that they always fry the rice in butter at our favorite Japanese steakhouse. It may make this easy fried rice recipe a little less authentic, but it certainly makes it taste better!
Scroll down for the recipe!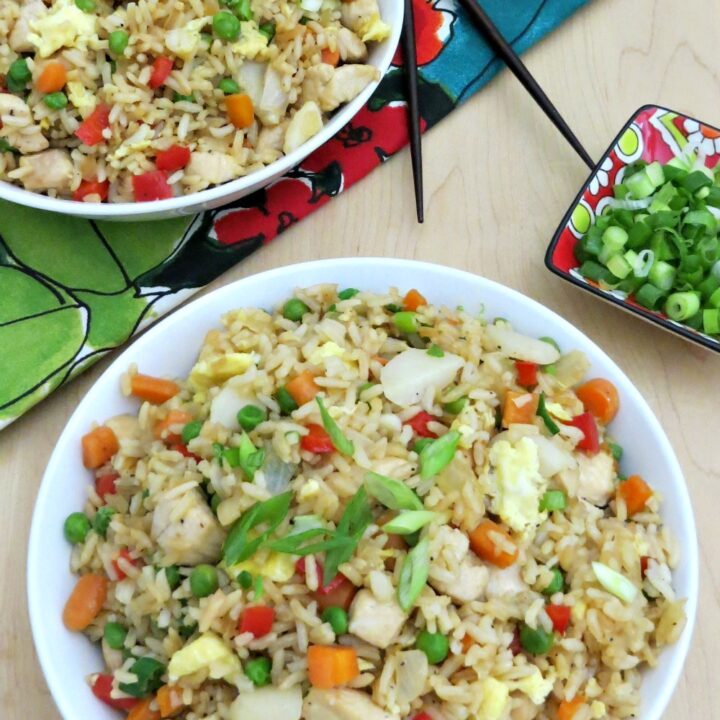 Easy Fried Rice Recipe | Chicken Fried Rice
This easy fried rice recipe is so easy to make and will save you money on the Chinese takeout! It cooks up pretty quick and can easily be customized!
Print
Pin
Ingredients
1

large boneless

skinless chicken breast (about 8 oz)

3

cups

cooked

long grain white rice

2

tablespoons

butter

2

tablespoons

olive oil

2

eggs

beaten

1/2

cup

onion

diced

1/2

cup

carrots

diced

1/2

cup

frozen peas

1/4

cup

red pepper

diced

1/4

cup

canned water chestnuts

drained & chopped

3

cloves

garlic

minced

2

green onions

thinly sliced

7-8

teaspoons

soy sauce

1

teaspoon

sesame oil

1/4

teaspoon

salt

1/2

teaspoon

pepper
Instructions
Heat the olive oil in a large skillet over medium high heat.

Add the chicken and season with the salt and pepper. Sauté until no longer pink, which should take three to four minutes.

Add the carrots, and cook for two minutes.

Add the red pepper and onion, and cook for two minutes.

Add the peas and garlic, and cook for one minute.

Make a well in the center of the pan, add the butter and rice and stir to combine.

Add 2 teaspoons of soy sauce, stir to combine and then let the rice sit for one minute.

Stir and repeat the above step two more times. Each time you let it sit, it will slightly "fry" the bottom giving it that true fried rice texture.

Move all the ingredients to the edge of the pan and make a well in the center.

Add the beaten egg and don't touch it for about 30 seconds to let it set up. Gently stir the egg until it is fully scrambled, trying not to get too much of the rice mixture mixed up in it.

While the egg is cooking, sprinkled the green onions, water chestnuts and sesame oil over the rice.

As soon as soon as the eggs are cooked, turn the heat down to low and stir to everything to combine.

Taste and adjust the salt, pepper and soy sauce to your liking. If you like things spicy, you can stir some crushed red pepper too!
Easy Fried Rice Recipe