This easy eggnog fudge recipe is the perfect way to enjoy the taste of eggnog without the heaviness of drinking it.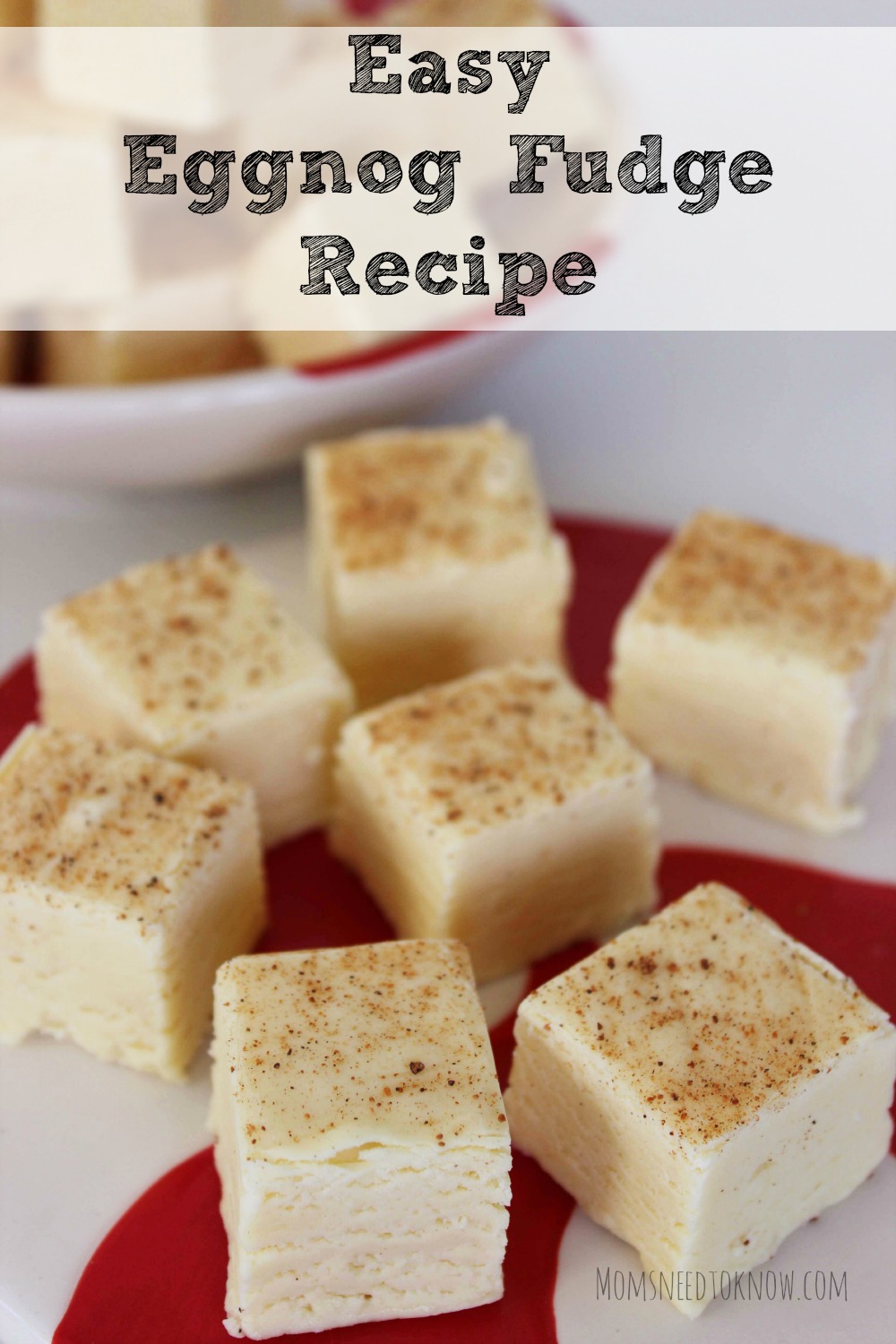 I think that, by now, I have well-established that I love the taste of eggnog. From my homemade eggnog to my eggnog ice cream, I love everything about the taste of it!
But as I have mentioned, my stomach has a different opinion about eggnog....it just can't tolerate me drinking it. I can put a little in my coffee instead of creamer, but any more than that and I get sick.
I know - #FirstWorldProblems
Anyway....I long ago figured out that I can handle eggnog when it has been used to flavor other foods! I started making eggnog cookies several years ago and they are ALWAYS part of my Christmas baking, but this year I decided to give eggnog fudge a try and the results were delicious!
If you have never made fudge before or are afraid to make fudge, don't worry. It really is easy to make. You DO need to make sure that you have a candy thermometer and you cook your fudge mixture to exactly 234 F, but candy thermometers are cheap and you can often even find them in the baking or "gadget" section of your grocery store (especially this time of year!)
Anyway - to make this Eggnog Fudge recipe, you will need: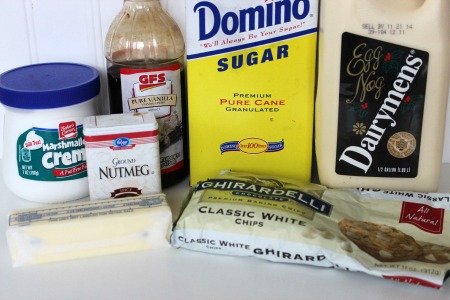 1/2 cup Butter
3/4 cup Eggnog
2 cup Sugar
12 oz White Chocolate Chips
7 oz Marshmallow Creme
1/2 tsp Nutmeg
2 tsp Vanilla
Scroll down for the complete directions!
Easy Eggnog Fudge
By Mindi
This easy eggnog fudge is the perfect way to enjoy the taste of eggnog without the heaviness of drinking it. A perfect addition to your Christmas cookie trays!.
Preparation Time - 10 minutes
Cooking Time - 15 minutes
Ingredients
1/2 cup Butter

3/4 cup Eggnog

2 cup Sugar

12 oz White Chocolate Chips

7 oz Marshmallow Creme

1/2 tsp Nutmeg + additional nutmeg for dusting.

2 tsp Vanilla
Directions
Line an 8x8 pan with foil allowing some to hang over the sides of the pan; butter the bottom and sides of the foil.
Combine butter, eggnog and sugar in a pan and bring to a boil over medium heat.
Cook until temperature reaches 234F.
Remove from heat and stir in white chocolate until completely melted and incorporated.
Stir in Marshmallow creme, vanilla and nutmeg until smooth.
Spread into prepared pan.
Dust top with a little more nutmeg.
Allow to cool completely before removing from pan and cutting.